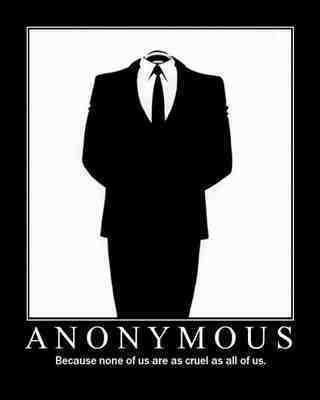 Hacker-activist group Anonymous have openly struck against the Westboro Baptist Church after a week of rumors claiming that the hacktivists had brought down several of the Church's websites. One Anonymous member, who agreed to a live radio interview on Thursday with a WBC spokeswoman, spontaneously hacked one of the Church's websites while on-air.
The WBC, apparently convinced that Anonymous was behind the attacks, issued a statement calling the group "crybaby hackers" and telling them to "bring it," according to the Washington Post.
On Thursday, an Anonymous member went on the David Pakman Show for a live interview with Church spokeswoman Shirley Phelps-Roper. During the interview, the Anonymous member said that the group had tried to respond "maturely" to the Church's allegations, but that members had grown frustrated with the Church's response. Phelps-Roper chided the hacktivist and told him he was going to hell. As she said this, Anonymous apparently hacked Downloads.WestboroBaptistChurch.com and posted an official response.
Writes The Register, "The statement, headed 'This domain has been seized by Anonymous under section #14 of the rules of the Internet', derides the Church for attempting to 'goad' Anonymous into attacking it for describing them as 'crybaby hackers'. The statement went on to say Anonymous had bigger fish to fry, such as campaigns involving Libya and managing the fallout from its hack against HBGary." (Screenshot)
ComputerWorld reports that Phelps-Roper later responded thus: "What they did was break into one server. They tried mightily for four days. They got nothing."
Check out a video (below) of the radio interview, during which an Anonymous member purportedly hacks the WBC site while Phelps-Roper rails against the hacktivist group.
WATCH:
A previous version of this post attributed the Dove World Outreach Center's call for a "Burn a Koran Day" to the Westboro Baptist Church. We regret the confusion.
Related
Popular in the Community