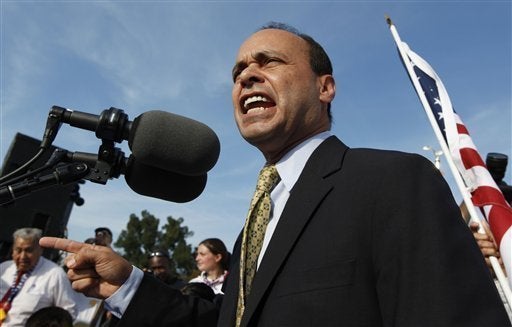 In the meantime, one Chicago congressman has a suggestion for his constituents as to what they can do about Arizona: don't go there.
"Why would you want to contribute to a group of people that clearly are engaged in a discriminatory act?" said Congressman Luis Gutierrez, a Democrat, according to Chicago Public Radio.
To that end, Gutierrez believes the new Arizona law, which requires police to question anyone they had reason to suspect was in the country illegally, has a silver lining:
"The legislative overreach by Arizona Republicans to inject harsh anti-immigrant politics into the brewing Election Year stew is focusing the President's attention on the need for the federal government to take charge" on immigration reform, Gutierrez said in a statement.
Gutierrez was in Phoenix on Sunday, where he joined Arizona congressman Raul Grijalva in a protest at the state capitol. At a joint press conference in Washington before the rally, the two representatives decried what Gutierrez called a "civil rights catastrophe that Republicans in Arizona are unleashing on immigrants and all Latinos in the state."
As he encouraged his constituents to steer clear of Arizona, the Chicago Democrat urged them to pressure Congress for serious immigration reform. He expressed faith that the new law would lead to meaningful change on the federal level.
"Arizona Republicans have kicked a hornet's nest on immigration," Gutierrez said, "and it will come back to sting them."
Related
Popular in the Community