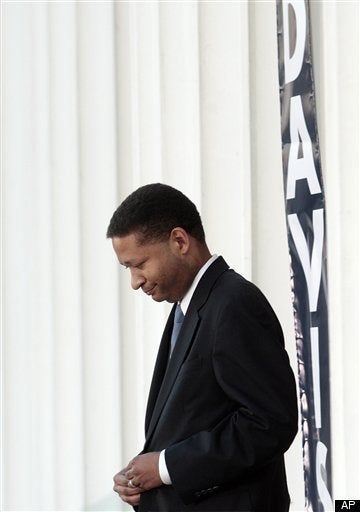 Rep. Artur Davis' stunningly lopsided loss in the Alabama gubernatorial primary has been attributed, in large part, to his unwillingness to court the Democratic base and, in particular, black voters, who seemed completely un-enthused by the notion of electing the state's first African-American governor.
The strains between Davis and the black community, indeed, ran far deeper than conventional wisdom ever held. So much so that Roland Martin, a prominent CNN analyst, syndicated columnist and television talk show host felt compelled to email the Huffington Post a withering critique of the Alabama Democrat for ducking African-American media.
Davis lost, Martin said, because "he was arrogant as hell."
Davis pointedly refused to do black media. He turned my TV One show down six times; he didn't do Tom Joyner's show, with 8 million listeners - TJ is a Tuskegee native; he turned down dozens of requests from Joe Madison of Sirius/XM; and he didn't do many others.

He assumed because of his skin blacks would flock to his campaign. Sparks outhustled him and worked black voters in a major way.

Any smart politician knows to shore up their base. He was advised by top Democratic strategists, from the White House on down, to solidify his base. He never did that.

National media types were perplexed and shocked because they coronated him as a rising black star. Those of us who follow black politics closely were not shocked.

I hope national media outlets would stop lifting up black politicians as future stars. They have to earn it. Going to an Ivy League school doesn't guarantee success. Black voters are like anyone else: you must speak to them, work with them and not take them for granted.

He did. And lost. Badly. He deserved to lose for running a tone deaf campaign that ostracized and minimalized black voters.
Martin's is a remarkably pointed and filter-free critique, made all the more acidic by Davis' drubbing in Tuesday's primary election.
The extent to which the black community went sour on Davis is, indeed, remarkable. And, as Martin notes, it's an indictment of the (predominantly national) press corps for not recognizing this development before the election took place.

Calling all HuffPost superfans!
Sign up for membership to become a founding member and help shape HuffPost's next chapter