Astoria Characters: The 5-Bark Barista
A chocolate Chihuahua, leading a leash-holding woman, prances into Chateau le Woof.
Rocky, for that is his name, is a regular. He's coming to meet his girlfriend, Lola, who's sitting pretty in a sweet sweater on the sofa.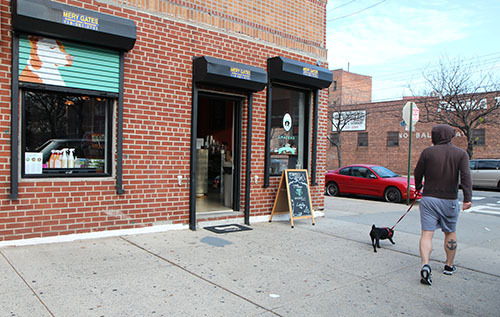 Photo by Nancy A. Ruhling
Follow the barks to Chateau le Woof on 14th St. at 30th Ave. Photo by Nancy A. Ruhling
In puppy love, they romp around and run in circles while everyone coos and oohs at their coy cuteness.
Soon, they are joined by a parade of pooches who have come to the chic countertop café for some doggie down time.
Chateau le Woof, which Natassa Contini opened in September, is designed to go to the dogs (and the select humans they deign to invite to their five-woof watering hole).
The canine clientele allows its people to stop in for Parmesan pound cake and macchiato cortados as long as they bring home doggie bags -- pet food and treats.
When the café closes, the bowwows have their playtime and parties.
Natassa, a longtime dog owner, came up with the idea when she was out walking King, her 13-year-old pitbull rescue.
She recently acquired Lola, who is only 4 months old, from someone in the neighborhood who was moving out of the country.
"I had to go a half mile to a mile to get a decent cup of coffee," she says. "It sounds silly, but the idea for the café came to me in a dream. And the name just popped into my mind."
Chateau le Woof was a natural for Natassa because she has made her career in the restaurant/nightclub business.
She and her fraternal twin, Jenifer, were born in Greenwich Village. Their mother, who is from Brazil, and their father, who hails from Brooklyn, divorced when they were 5.
"My parents had a great friendship," Natassa says. "My dad lived around the corner, so we saw him all the time."
At 12, their mother moved them to Honolulu, Hawaii, where the family frequently spent vacations.
"We traded the Big Apple for the Pineapple," Natassa says.
The remark makes the customers sitting at the counter laugh. (The joke apparently doesn't translate into Doglish for the canines don't utter a single bark.)
Natassa, petite, perky and perpetually smiling, has one part-time helper, but today, she's working solo. That means nonstop.
When she rings up a cappuccino, she gives the customer a sample packet of Natural Balance's rabbit and potato dry-food formula.
"This is good if your dog has food allergies," she says.
Where were we? Oh, yes, when Natassa graduated from high school, she returned to New York City, taking up residence in the East Village.
"I had an apartment that wasn't really an apartment," she says. "It was a utility closet that was converted into an apartment. I lived alone and slept on a mattress on the floor."
She soon started a career in nightclubs and restaurants, working as a coat check, waitress, bartender and manager.
In fact, that's what she had been doing for 17 years when the vision of Chateau le Woof, her French poodle café, came to her.
The corner space announces itself with dog portraits painted on its metal gates and traditional French tunes like La Mer and La Vie en Rose that waft out into the street.
Natassa's eclectic menu ranges from Brazilian cheese bread and spinach ricotta puffs to homemade chocolate chip cookies.
The canine choices include Natural Balance, Orijen, Blue Buffalo and Weruva. Flavors -- poulet et canard, poisson and agneau -- are written in French on the chalkboard behind the café counter.
Natassa sees Chateau le Woof, which hosts music and arts events, as a community center for people and pups.
"I'd like to open one in Hawaii with my sister," she says. "And maybe one in Brooklyn."
Between now and then, though, she'll fill hundreds of coffee cups and play with scores of dogs.
Amid the dogfest, a canine-less customer comes in.
"Ain't it good to have a place you can bring your dog to," he says as he stoops to get a sloppy, wet kiss from Lola.
Nancy A. Ruhling may be reached at Nruhling@gmail.com; nruhling on Instagram.
Copyright 2016 by Nancy A. Ruhling
Related
Popular in the Community