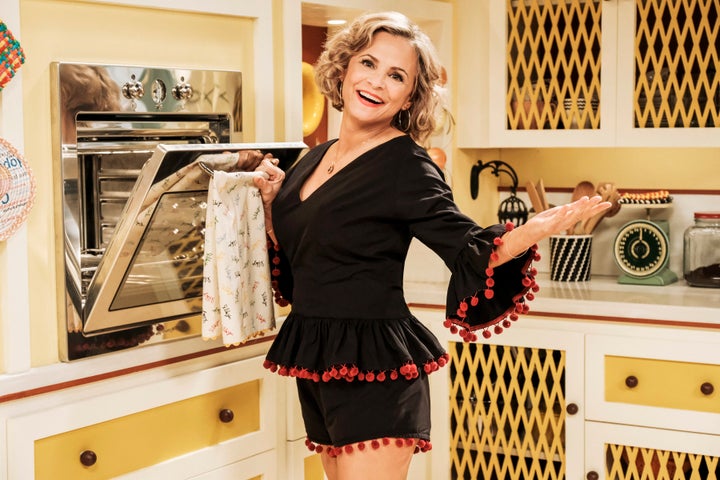 "I like you," declared Amy Sedaris' 2006 book on entertaining, a wacky tome that included pantyhose crafts, rabbit care tips and menu ideas for when a rich uncle comes to visit.
For those who knew the actress from her Comedy Central cult hit "Strangers with Candy," where Sedaris played the ever-grimacing Jerri Blank, the book was an extension of her pitch-perfect character acting, slightly deranged and inherently lovable. For those who had yet to become acquainted, I Like You was an entrance into the grown-up Holly Hobbie aesthetic that Sedaris would parlay into a second book — Simple Times: Crafts for Poor People — a fabric line, a housewares line and now a full-fledged TV show, "At Home with Amy Sedaris."
During a panel discussion at Tribeca TV Festival this September, the actress said "At Home," the truTV show she made with "Strangers with Candy" alum Paul Dinello, was inspired by the series she used to watch growing up, "hospitality-type shows where someone did some cooking, did some crafting, they would interview local artists."
"I remember when I was little, saying, 'Oh, I'm gonna do that show when I grow up,'" she said.
As Sedaris explained during the Tribeca pane, she originally intended "At Home" to be a straightforward, PBS type of program, but it eventually evolved into the frenetic, joke-a-minute final version, in which the actress flips the notion of domestic goddess on its head. Sedaris told The Hollywood Reporter that, to combine homemaking and comedy, some instructional value had to get cut.
"I had to let go off some of the real stuff, which can get a little mundane and boring after a while," she told the outlet.
The real-life Sedaris might not craft or entertain nearly as much as she once did — "I was so obsessive" before I Like You came out, she told The New York Times Friday — but her on-screen self tackles subject matter, however wacky, with a level of authority on par with Martha Stewart or Nigella Lawson. Her world lacks the pair's pristine place settings, perfectly risen soufflés and floral arrangements, but there are still rules to follow. Sedaris will show you how to prepare a meal and set up for a party, with a focus on dysfunction over form.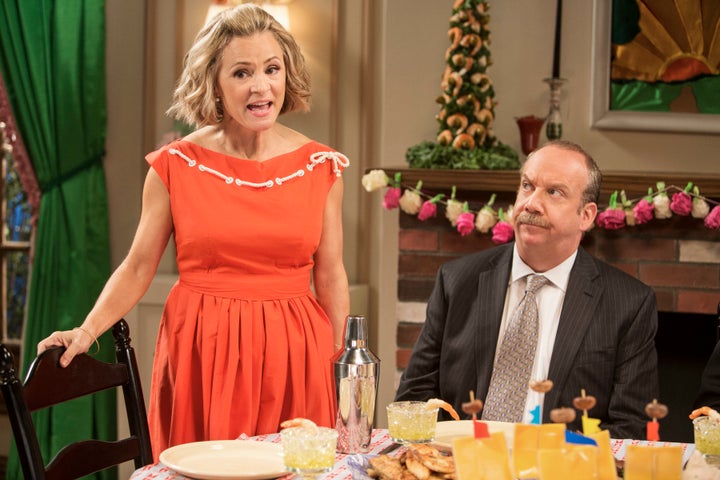 Helping her along in the first season of "At Home" ― which premieres on Tuesday ― is a stellar lineup of guest stars, including Justin Theroux, Stephen Colbert and Nick Kroll. Theroux, Sedaris said, will appear as a gay astronaut. "We decided in the middle of the scene he was gay," Sedaris said at Tribeca.
The show's first episode takes on the ever-present challenge of serving a nautically themed meal to a group of businessmen. "Fish," she explains over ominous-sounding music, is "a strange, cold-blooded and limbless creature that thrives in the stuff we drown in. A thing of nightmares. But when battered and pan fried — scrumptious!" The quick change in tone is punctuated by a twinkling sound effect, a wink at the darkness that one guesses must lurk under any perennially smiling television visage.
The show format feels close to "Portlandia," in that brief standalone sketches pepper an overarching narrative of sorts, but Sedaris makes it all her own. Her "house" is a set decorator's dream, full of bright hues and kitsch from floor to ceiling — basically, her first book brought to life. Her kitchen is marigold, her toaster red, her shrimp cocktail tree a bright green.
Sedaris' wardrobe matches her exuberant, singular style. While serving her fish dinner, she wears a dress with a rope detail around the collar, a sequel outfit to the sailboat apron she'd donned during meal prep. Sedaris revealed during the Tribeca panel that a lot of the outfits are handmade, while others come directly from her closet.
Throughout the episode, Sedaris explains the types of fish available for serving, discusses knife sharpening tips, and gets an assist on lamb chops from Patty Hogg over at the Divot Hills Country Club (also played by Sedaris). Later, the businessmen (Paul Giamatti, Todd Barry and Josh Hamilton) arrive for an extremely uncomfortable dinner, complete with Salty Scallywag gin cocktails and outdated, misogynistic chatter among the suits, perhaps a nod to the retro gender roles associated with homemaking.
As part of her nautical stylings, Sedaris debuts "Potato Ships," or baked potatoes fashioned into miniature sailboats with the help of American cheese slices and a wooden skewer. It's a craft so simple to make, the hostess claims, that she completes it with fake nails Scotch-taped to her fingers.
In an age when no craft truly exists in the world unless it's perfectly lit and displayed on Pinterest or Instagram, Sedaris, in her books and on her new TV show, pays no mind to making things look traditionally good. Her creations, like her characters, are appealing in a different way, suggesting a world in which imperfections are given center stage and the off-kilter is embraced. Come as you are, the show seems to say, and make sure to remove the plastic wrap from your cheese slice before diving in.
"How adorable is that?" Sedaris asks while affixing the mushroom-cap "crow's nest" atop a gluey paper flag, the icing on her first episode's very inedible-looking cake. You may never want to eat — or even create — a Potato Ship, but you'll certainly never forget it.
"At Home with Amy Sedaris" premieres Tuesday, Oct. 24 at 10:30 p.m. ET on truTV.

You can be highbrow. You can be lowbrow. But can you ever just be brow? Welcome to Middlebrow, a weekly examination of pop culture. Read more here.
Popular in the Community