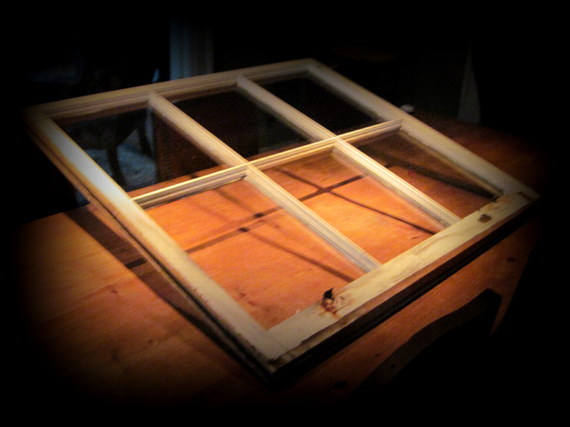 This window may not look like much to you... but it's one of the best presents I have ever gotten.
When I was growing up, my grandparents had a cottage on St. Andrews Bay, built in the '40s, in Panama City, Florida... rustic, surrounded by woods of magnolia, live oak and hickory... with all rooms facing the bay. Five generations looked out of this window... it survived hurricanes, blistering heat... as we looked out at enormous ships... the Intracoastal Waterway was only 300 yards out, the white beaches... the cottage was a place of refuge, fun, sanctuary, and a place that memories were made... a place I miss.
It occurs to me that these windows were also watching us, as we grew, laughed, fought, slept... and while the cottage has been sold and changed, the windows removed and replaced by something finer, as I look through the original, I think of the changes it sees back in me... from a tow-headed tot to a 57-year-old man with gray hair... but somehow the years seem to fade away as I look through the window again. I am thankful for my brother who rescued an important part of my past and gave it back.
Do I want it all back? Of course... but in actuality, it is still there, planted deep in my memory. And that is something that won't change... no matter the color of my hair, or how old I get to be. It's still there... but it also makes me realize that the things I remember, while looking through this window may not be the same thing that others do.
How we look at this wonderful thing we call life is just going to be different from every person we meet... we may look at it through the same window, just at a different time, place or perspective... we need to remember that and respect it.
But today I am once again about 9 years old, it's early in the morning, and I am impatiently waiting for the adults to get up so that I can run out into the woods and water and play... and I am having a good time doing it.
Related