In the real world, anonymous street artist Banksy is about as close to a masked superhero as there is. Only instead of saving the world, he critiques and satirizes the ugly truths of contemporary life with graphic imagery that will make you laugh before leaving you with an uneasy feeling in your stomach. 
For years, civilians have fancied themselves amateur sleuths after his true identity, offering up one potential name after another, most of which were discredited after a short spurt of internet chatter. 
Except this time, Banksy's identity was alluded to by a slip of the tongue. And the accidental nature of the information coming out gives the impression that this grand Banksy reveal may actually be the real thing. 
The news came during a podcast interview between English musician DJ Goldie and poet and musician Scroobius Pip on Pip's podcast Distraction Pieces on Tuesday. Goldie, when discussing the street artist, said this: 
Give me a bubble letter and put it on a T-shirt and write 'Banksy' on it, and we're sorted. We can sell it now. No disrespect to Robert, I think he is a brilliant artist. I think he has flipped the world of art over.
The name Robert raised eyebrows, immediately recalling journalist Craig Williams' theory, published in 2016, that Banksy was in fact Robert del Naja of trip-hop group Massive Attack, a friend of Goldie's born and raised in Bristol.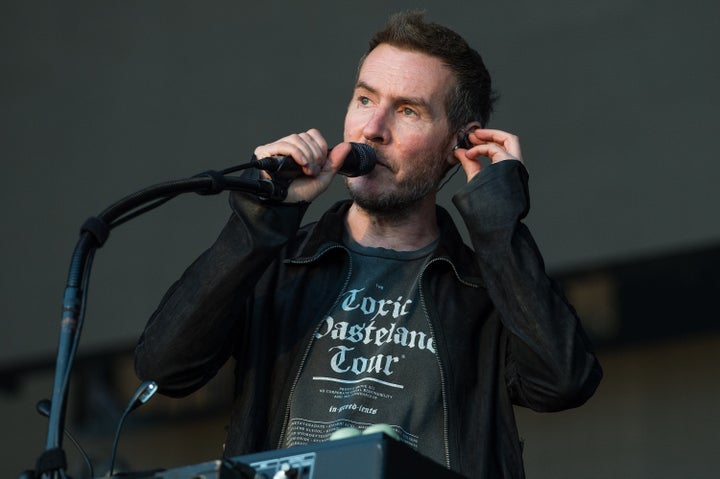 To corroborate his theory, Williams traced Banksy murals and exhibitions as they popped up around the world, noting that most emerged just before or after Massive Attack performed at a destination close by. For example, when Banksy's work appeared in Australia in 2003, Massive Attack was touring the country.
Further evidence: Del Naja was known to be a graffiti artist himself ― at least allegedly ― eventually leaving visual art behind to pursue music. According to Williams, Del Naja "is held in high regard as one of the pioneers of the stencil graffiti movement, helping to bring hip-hop and graffiti culture to Bristol in the 1980s. And his work has been featured on all of Massive Attack's record sleeves to date."
If Del Naja is indeed Banksy, he's certainly an overachiever, being not only one of the greatest musicians of all time ― at least according to Rolling Stone ― but also perhaps the most hyped visual artist of the contemporary moment. 
In 2016, Del Naja responded to the flurry of Banksy rumors by cryptically telling a concert crowd "We are all Banksy."
We are still waiting for his response this time around.
REAL LIFE. REAL NEWS. REAL VOICES.
Help us tell more of the stories that matter from voices that too often remain unheard.
BEFORE YOU GO