A SurveyMonkey poll of adults nationwide shows twice as many rate Bannon unfavorably (42 percent) as favorably (20 percent), although more than a third say they don't know him well enough to rate him (34 percent) or do not answer the question (3 percent).
The percentage who have a strongly unfavorable rating of Bannon (34 percent) is four times the number with a strongly favorable rating (8 percent).
Bannon's profile is similar to that of other well known Trump advisers, such as Press Secretary Sean Spicer, Chief of Staff Reince Priebus, Senior Adviser Kellyanne Conway and former National Security Adviser Michael Flynn. All have favorable ratings of between 19 and 26 percent, and unfavorables in the mid-40s.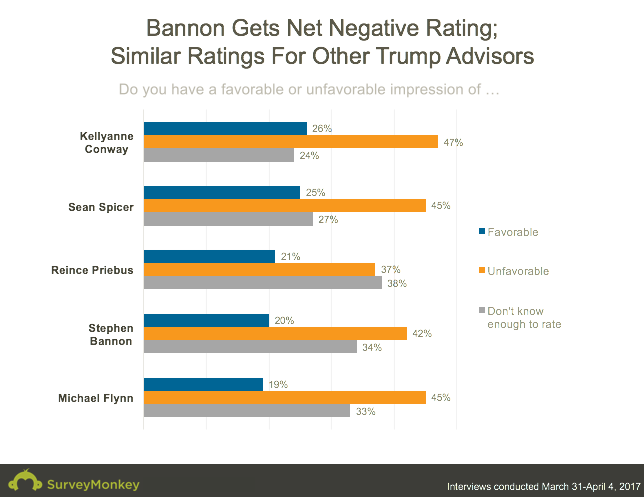 Conway, the best known among the advisers tested with 73 percent able to rate her, also has the highest percentage who rate her unfavorably (47 percent).
Not surprisingly, Democrats and independents who lean Democratic are Bannon's biggest detractors. Just 3 percent rate him favorably, and 69 percent rate him unfavorably. Remarkably, most of the Democrats and Democratic leaners who rate Bannon unfavorably feel strongly about it – 60 percent overall. There is very little middle ground on Bannon among Democrats.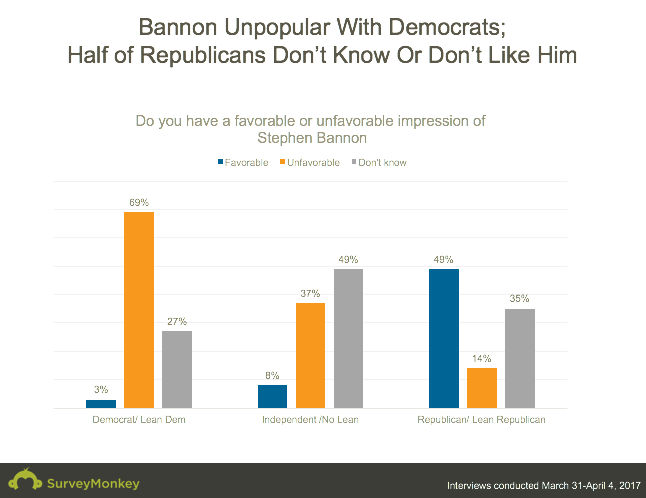 Although most of those who like Bannon are Republican, even there the sentiment is far from unanimous. Bannon earns a favorable rating from slightly less than half (49 percent) of Republicans and Republican-leaning independents, with 14 percent unfavorable and 35 percent who do not know enough to say.
Not surprisingly, independents who lean to neither party are least able to rate Bannon, with more than half who do not know enough to say (49 percent) or who do not answer the question (5 percent). Yet even among these least partisan Americans, those who know Bannon are overwhelmingly negative (8 percent favorable, 37 percent unfavorable, with 29 percent strongly unfavorable).
Methodology: This SurveyMonkey Tracking poll was conducted online March 31 – April 4, 2017 among a national sample of 2,264 adults ages 18 and up. Respondents for this survey were selected from the nearly 3 million people who take surveys on the SurveyMonkey platform each day. Data for this week have been weighted for age, race, sex, education, and geography using the Census Bureau's American Community Survey to reflect the demographic composition of the United States. Full topline results and detailed demographic breakdowns can be viewed here. This article is cross-posted to the SurveyMonkey Election Tracking blog.
Calling all HuffPost superfans!
Sign up for membership to become a founding member and help shape HuffPost's next chapter