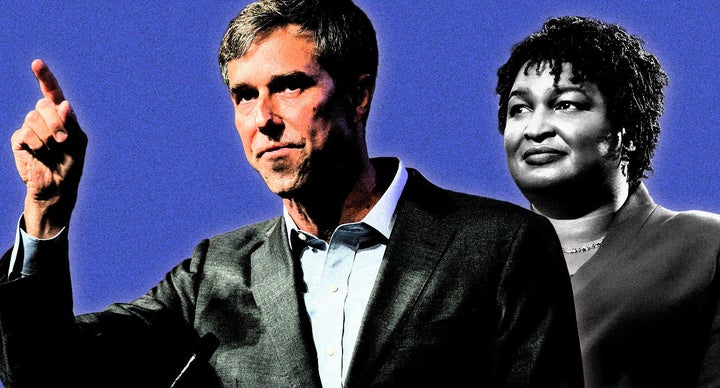 One was a three-term congressman known for once playing in a punk band, riding a skateboard and giving an answer about structural racism that went viral.
The other was the leader of her party in a Deep South state with a long history of racial discrimination who had spent years mobilizing people of color to register to vote and whose opponent was overseeing the election while erecting numerous obstacles to voting that disproportionately affected her supporters.
If one of these résumés seems more impressive than the other, you'd be forgiven for wondering why Texas's Beto O'Rourke, the politician with the decidedly thinner personal story, became a national sensation while Georgia's Stacey Abrams did not.
O'Rourke was the biggest political story of the 2018 election. His campaign to unseat Republican Sen. Ted Cruz brought in a stunning $70 million, despite his refusal to take corporate money. Beyoncé and LeBron James promoted him and, despite losing, he is now the buzziest name in the speculation about which Democrats will run for president in 2020.
Abrams didn't go unnoticed in her quest to win the governorship of the Peach State. But while Oprah Winfrey and other big names campaigned for her and Abrams got plenty of national media attention, she never became the kind of cause célèbre that O'Rourke did, raising a respectable $26 million. She is occasionally mentioned in the 2020 conversation but is generally expected to run for statewide office again in her home state.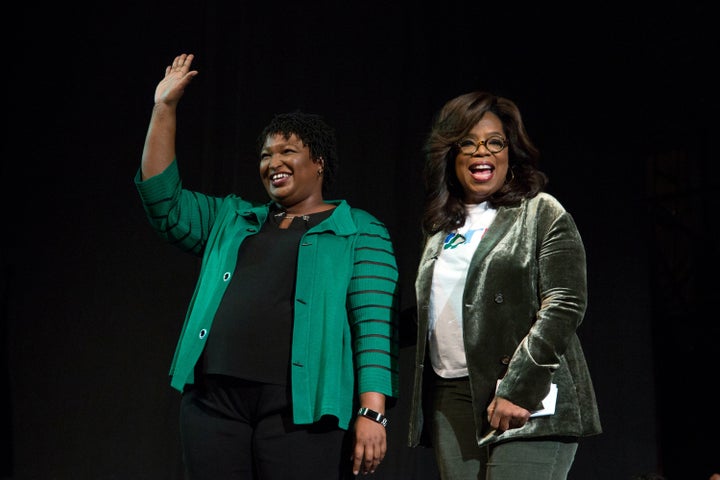 Why is that? If the Democratic Party was going to fall in love with an up-and-coming politician in their mid-40s, why didn't it rally around Abrams? She'd been minority leader in the Georgia House of Representatives since 2011, working with Republican Gov. Nathan Deal on education reform, transportation and other issues. And she'd built a statewide movement of newly registered voters of color, plugging away at this task, election cycle after election cycle.
The narrative around Abrams's race was also cinematic. She had jousted for years over voting rights with her opponent in the governor's race, Brian Kemp. So what happened?
People love to hate Ted Cruz
"Beto O'Rourke can thank his lucky stars that he ran against Ted Cruz. That is what catapulted him into the national discourse," Roland Martin, host of Roland Martin Unfiltered, told Yahoo News.
Cruz became a nationally known figure when he ran for president in 2016 and became Donald Trump's chief competitor in the Republican primary. Not beloved by Democrats or many members of his own party, Cruz's caustic demeanor became a focal point in 2016.
So Democrats were going to be eager to unseat Cruz in 2016 regardless of who their candidate was. And national media attention does fixate on Senate contests more than on governor's races, since the political media is based in Washington and New York and the battle for control of the Senate is a perennial fixation.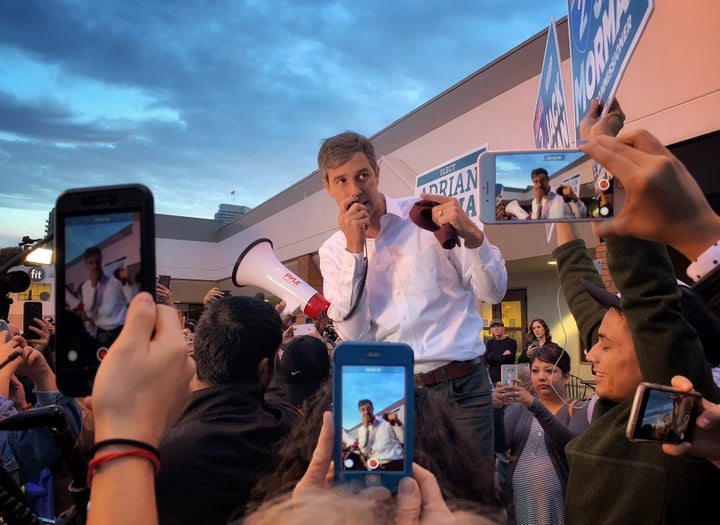 All that said, if Democrats were looking for an easily caricatured villain, Kemp seemed straight from central casting. He ran a series of cartoonish TV ads in which he arrayed guns around himself as if they were floral decorations, detonated explosions in a field and boasted that he would round up undocumented immigrants himself in his pickup truck.
Beto goes viral
O'Rourke's penchant for live-streaming himself skateboarding in a fast food parking lot, cooking in his kitchen or reclining in his dentist's chair all set the standard for the field of Democratic presidential hopefuls. Rep. Alexandria Ocasio-Cortez, D-N.Y., has also drawn attention for relentlessly sharing such unscripted moments via social media.
O'Rourke's comfort level in that arena certainly distinguished him from Abrams. He has a more outgoing charisma, whereas her personality is more low-key and all-business. While her campaign leveraged social media to communicate with voters, she wasn't live-streaming herself brushing her teeth in the morning.
But this difference between the two may belie another contrast that is actually in Abrams's favor. Oversharing on social media is essentially a gimmick, and while it can be a useful one, it can sometimes elevate politicians into the spotlight for no other reason than that they are good at performing.
One Democratic operative who did not want to be quoted by name said that O'Rourke's candidacy was launched nationwide at a very specific moment, when his answer to a question about NFL player protests went viral.
"The tumbleweed structure of our media and content ecosystem helped turn that one viral moment into more eyeballs, more clicks, more supporters, more money and more media coverage. And that's how Beto became the sensation he was," the operative said. "Abrams never experienced such a moment, despite running a very good campaign, being a very compelling candidate and engaging even folks like Oprah and other celebrities in her effort. Some of it is structural sexism and the expectations we have of men versus women, and the definitions we have of charisma in politics. But others of it are byproducts of a media and political system that so quickly chases the already shiny thing."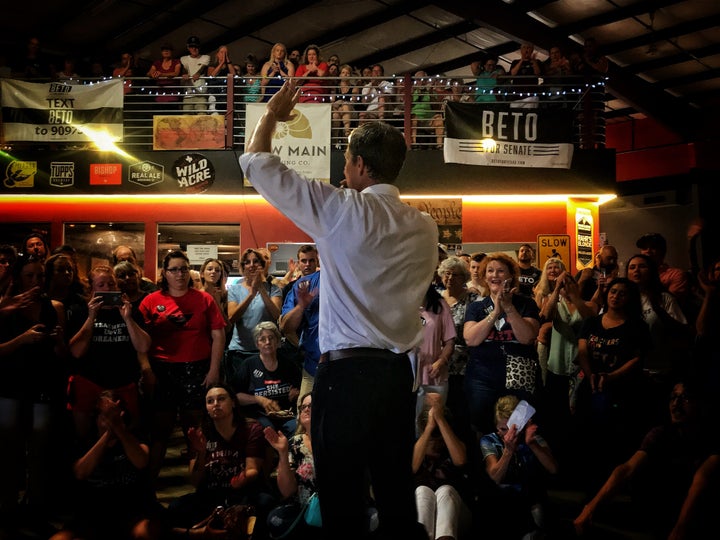 Charisma has always mattered in politics. Many skilled politicians have limited themselves by presenting themselves as hyperrational to voters rather than as people moved by emotion and passion as much as by information.
But the way that virality influences politics often gives charisma and celebrity too much of an upper hand over substance and experience.
Leadership still 'looks' a certain way
"He is someone we recognize as a leader and she is not," Jennifer Palmieri, communications director for Hillary Clinton's 2016 presidential campaign, said in an interview. "We understand his story. Her story is something new. We're pushing against all of human history, not just American history."
Throughout the midterm campaign, there were endless comparisons made between O'Rourke and Bobby Kennedy, and in a party where the dream of resurrecting the glory days of the Kennedy presidency still lingers for some, that has resonance.
"It's easier to feel that way about a person who they recognize and can place into a historical perspective," Palmieri said. "It's harder for Abrams because she's a woman and a black woman. There's not as many models for that."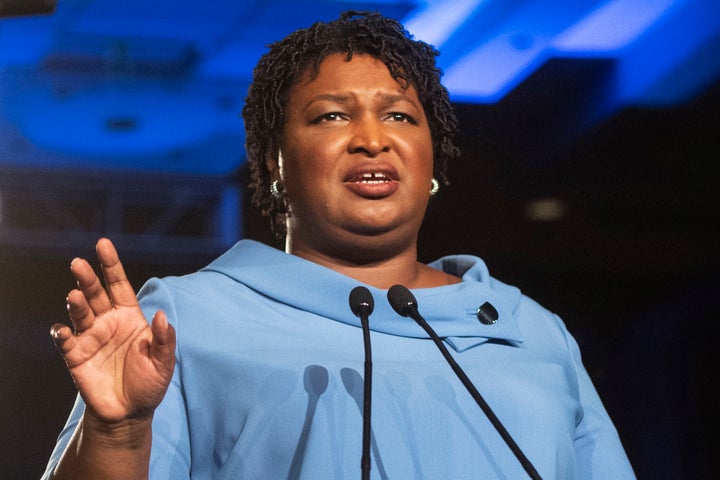 Roland Martin agreed: "He's open. He's young. He's energetic. He's thin. He reminds people of Bobby Kennedy and of how Obama made them feel."
One staffer to a Democratic governor who was not allowed to be quoted by name said, "We have a very narrow mindset of what electable means, and a tall, white dude who is semifluent when speaking to minorities checks all of those boxes."
"Stacey Abrams is the opposite of everything we count as electable: She's black, she's a woman, she's in debt and honest about it, has incarcerated family," the staffer said.
Teddy Goff, who worked for both Obama campaigns as a top digital adviser and also advised Clinton in 2016, tweeted more than a week before the election last fall: "I love Beto, but Stacey Abrams is the most talented Democrat running this year and we would all be talking about her (even) more if so many people didn't tacitly view women and people of color as having less potential or being less 'presidential.'"
"You look at Beto, and it's easy to slot him into a framework of being president. It's not to his discredit to wonder why don't we think of President Stacey Abrams," Goff told Yahoo News.
The politics of race and beating Trump in 2020
"There is a real belief among Democrats that only somebody white and only somebody male can beat Donald Trump," Martin said. "Why do you think they're saying Joe Biden is the best bet because he can best appeal to those white Democrats in Wisconsin and Pennsylvania?"
"Joe's too old. But guess what? We've got this young white guy who can sound like Joe, but he's 30 or 40 years younger. And he's like Obama. He's thin like Obama. He's embraced digital like Obama. He's turning out numbers like Obama," Martin said.
Ilyse Hogue, president of NARAL Pro-Choice America, wrote an op-ed this week rebutting the notion that a woman might not be able to beat Trump.
"No doubt that beating Donald Trump is first, second, and third priority, so many are willing to suppress desire for a woman president if they are led to think that is necessary to beat Trump," Hogue wrote on Medium. "But not giving the women in the 2020 field a fair shot because of these fears would be a grievous error."
Palmieri also said she has heard "some people" voice the concern about a woman being unable to beat Trump. "I don't hear that from the most knowledgeable or experienced people in politics. Hillary sort of proved that a woman could beat Trump. She did get 3 million more votes."
Palmieri added that the crowded Democratic field for 2020, with multiple women and multiple people of color, will force vigorous competition among the candidates that will keep anyone from relying solely on their biography or background.
"The times when Democrats have taken the White House back from the Republicans in the last 50 years — '76, '92 and '08 — it ain't been a frontrunner who's done it," Palmieri said. "It's been a primary process that has a lot of candidates. The times we had a frontrunner — Hillary, Kerry — we didn't win. That's why I feel good about the big old field."
Of course, one downside of a big field is that — like the Republican primary in 2016 — a candidate may only need to win about 30 percent in many states to be the leader, which opens the door to some who may not be ready for the job.
This was Palmieri's one concern about O'Rourke's sudden rise as a 2020 contender. "It's possible he could come in and run the table, and I think that would be bad," she said. "I think we need someone with experience bridging divides and working to get stuff done. … I think it's really important that the next president not be a divisive figure."
Read more from Yahoo News:
Popular in the Community