Co-authored by Zan Dubin-Scott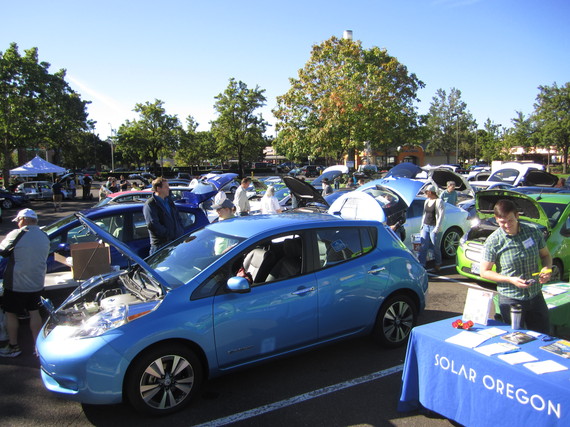 Photo Above: Crowds browse EVs at Wilsonville's drive electric week event. Photo courtesy of Allison Kerley in Wilsonville, OR.
In mid-September, more 130,000 people in 187 cities attended 196 National Drive Electric Week events featuring more than a dozen plug-in vehicle models for sale on the mass market today. This means the fifth annual National Drive Electric Week arguably constitutes the largest mass mobilization for clean energy in the U.S. to date this year.
National Drive Electric Week was founded on the idea that nothing converts gasoline-car drivers to electric vehicle (EV) owners faster than conversations with existing EV owners and test-drives in these quiet, powerful and clean vehicles. At events across the country and around the world -- we're looking at you, Canada, Hong Kong and New Zealand - people did just that. At charging station ribbon cuttings, block parties, parades, test rides and festivals, EV owners talked to the EV curious about the increasing availability, affordability, reliability and convenience of electric cars.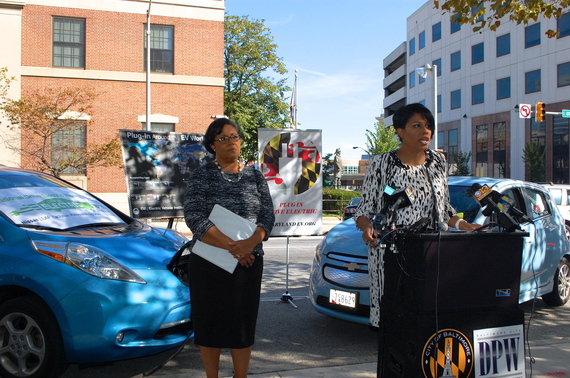 Photo Above: Baltimore Mayor Stephanie Rawlings-Blake at Baltimore's drive electric week event. Photo courtesy of Carling Sothoron in Baltimore, MD.
This year's attendees took more than 9,000 test rides. With more than 25 mayors, and dozens of city council members and state policy-makers taking part, the governors of Washington, Vermont, Connecticut, and Oregon issued EV proclamations in honor of the occasion. U.S. Congressman Paul Tonko even made a surprise visit to the Albany area event. All told, the events generated nearly 250 television, print, radio and digital media hits.
At the Los Angeles event, upwards of 1,000 people took ride-and-drives, the 2016 Nissan Leaf made its world debut, and the Chevy Bolt EV concept car, with anticipated 200-mile range, made its West Coast debut. At a non-Drive Electric Week event the day before, Mayor Eric Garcetti announced a commitment to lease 288 EVs for city department fleets -- including 100 to the Los Angeles Police Department.
In Kent, Washington, event-goers rooted for their favorite EV in an all EV drag race. The cities of Torrance, California, Jacksonville, Florida, and Durham, New Hampshire, as well as the Plimoth Plantation museum and Colorado State University, announced installation of dozens of new EV charging stations. Despite a forecast of thunderstorms, more 300 came out in St. Petersburg, FL, including Mayor Rick Kriseman, who enjoyed his Chevy Volt test ride. You know EVs are starting to reach the mainstream when more than 250 people turned out to the event in the small town of Waukesha, Wisconsin.
A few celebrities joined in this year, too. Modern Family's Ty Burrell and race-car driver Leilani Munter, who owns a Tesla Model S, checked out the array of available EVs at the Los Angeles event. Ford, in conjunction with National Drive Electric Week, gave out plug-in cars to lucky guests on the Ellen DeGeneres Show.
And these events weren't just fun -- they're proven to work. National Drive Electric Week events are linked to increased plug-in vehicle sales, which have jumped by as much as 23 percent the month after National Drive Electric Week.
But you didn't have to attend the events in person to experience the fun of National Drive Electric Week. Our YouTube page has video footage from almost 30 events.
An analysis by NerdWallet, done in honor of National Drive Electric Week, shows that owning or leasing the electric Nissan Leaf is significantly cheaper over a five-year period than the gasoline-powered Toyota Camry or the hybrid Toyota Prius -without even factoring in federal tax credits and state rebates. In Los Angeles, $0.60 of electricity can take you as far as one $4 gallon of gas. And with fewer moving parts -- no mufflers, catalytic converters, or even oil changes -- EVs are not only cheaper to fuel than any gas car, but cheaper to maintain.
Even factoring in the emissions associated with electricity used to charge, EVs are also significantly cleaner than conventional vehicles (and of course charging with solar power is the cleanest choice). EVs only get cleaner over time as we shift to more renewable sources of power.
We at Plug In America, Sierra Club, and the Electric Auto Association could not have put on National Drive Electric Week without the hundreds of volunteers and dozens of partner groups at the local level and national sponsors including our exclusive automotive sponsor Nissan, plus ClipperCreek, SunPower, Schneider Electric and PlugShare.
Whether it's in the U.S. or across the globe, we hope to see you at a National Drive Electric Week event next year: September 10-18, 2016.
Note: This post has been corrected by the authors. The original post inadvertently left off the words "this year" from the sentence about "the largest mass mobilization for clean energy in the U.S. to date."
Popular in the Community