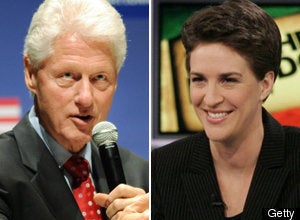 Bill Clinton struck back at Rachel Maddow Monday without even using her name.
While speaking alongside Tony Blair at the National Constitution Center in Philadelphia, Clinton took exception with comments Maddow made on her program in March.
"One of the leading television commentators on one of our liberal cable channels said I was the best Republican president the country ever produced, which would come [as] quite a surprise to the Republicans, half of whom still think I'm a closet communist," he said, according to Politico.
"What she meant by that was I didn't necessarily follow their 'conventional wisdom,'" he said. "I said, 'What do you mean?!'"
In March, Maddow said, "What we ended up with is what we ended with, in my opinion, is the two terms of the Clinton administration, which is that Bill Clinton was probably the best Republican president the country ever had, if you look at the policies that he passed."
Maddow made the comment during a segment about how President Obama had been moving to the right on health care and expressing her worries that Obama's presidency was beginning to look like Clinton's.
Calling all HuffPost superfans!
Sign up for membership to become a founding member and help shape HuffPost's next chapter