BIRMINGHAM, Ala. ― No one wants to get rid of the violence in the streets of Birmingham, Alabama, more than the residents themselves.
The fifth stop of HuffPost's Listen To America bus tour was in the city, where we held a panel dedicated to this issue, entitled "Overcoming and Surviving Inner-City Violence in Birmingham." We encouraged locals to come out and express their feelings on how to address problems in the city's streets ― and come out they did.
They brought thoughtful questions and made impassioned speeches on people they've lost, and proposed more than a few ways to turn things around for the home they love.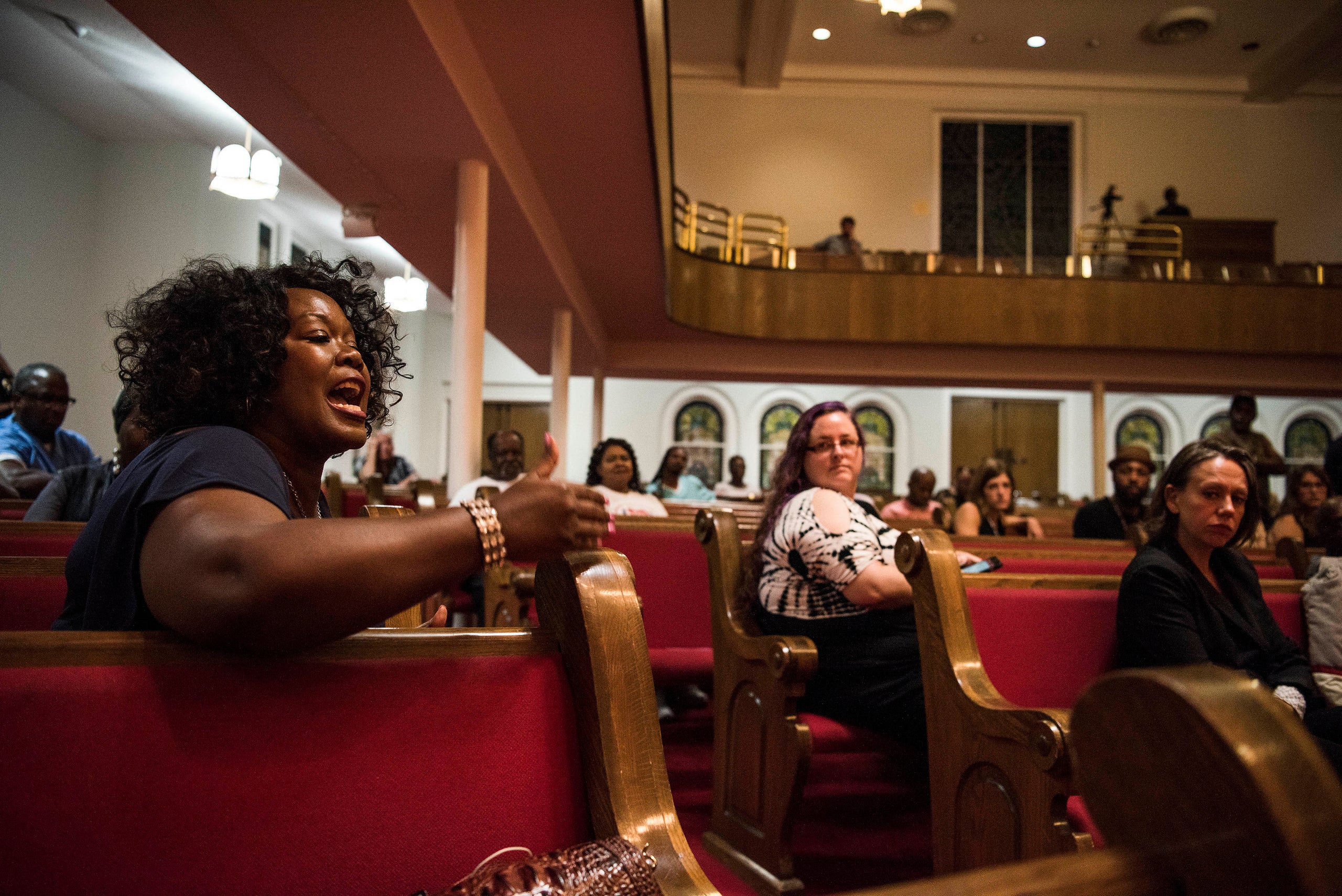 The event was held at the historic 16th Street Baptist Church on Sept. 19, just days after the 64th anniversary of white supremacists murdering four girls in the church's basement. WBRC Anchor Sarah Verser moderated the panel, which included District Attorney Danny Carr, Birmingham Police Deputy Chief Henry Irby, Birmingham Violence Reduction Initiative manager Jarralynne Agee, and community activist Carolyn Johnson.
"This is a problem that is the result of a combination of things, including environment ― that's home life, poverty, unemployment, lack of education ― but we're here to push past excuses of what's not been done, to what we have the power to do as a community together," Verser began. "Each of us hold some part of what it would take to really stem this in Birmingham."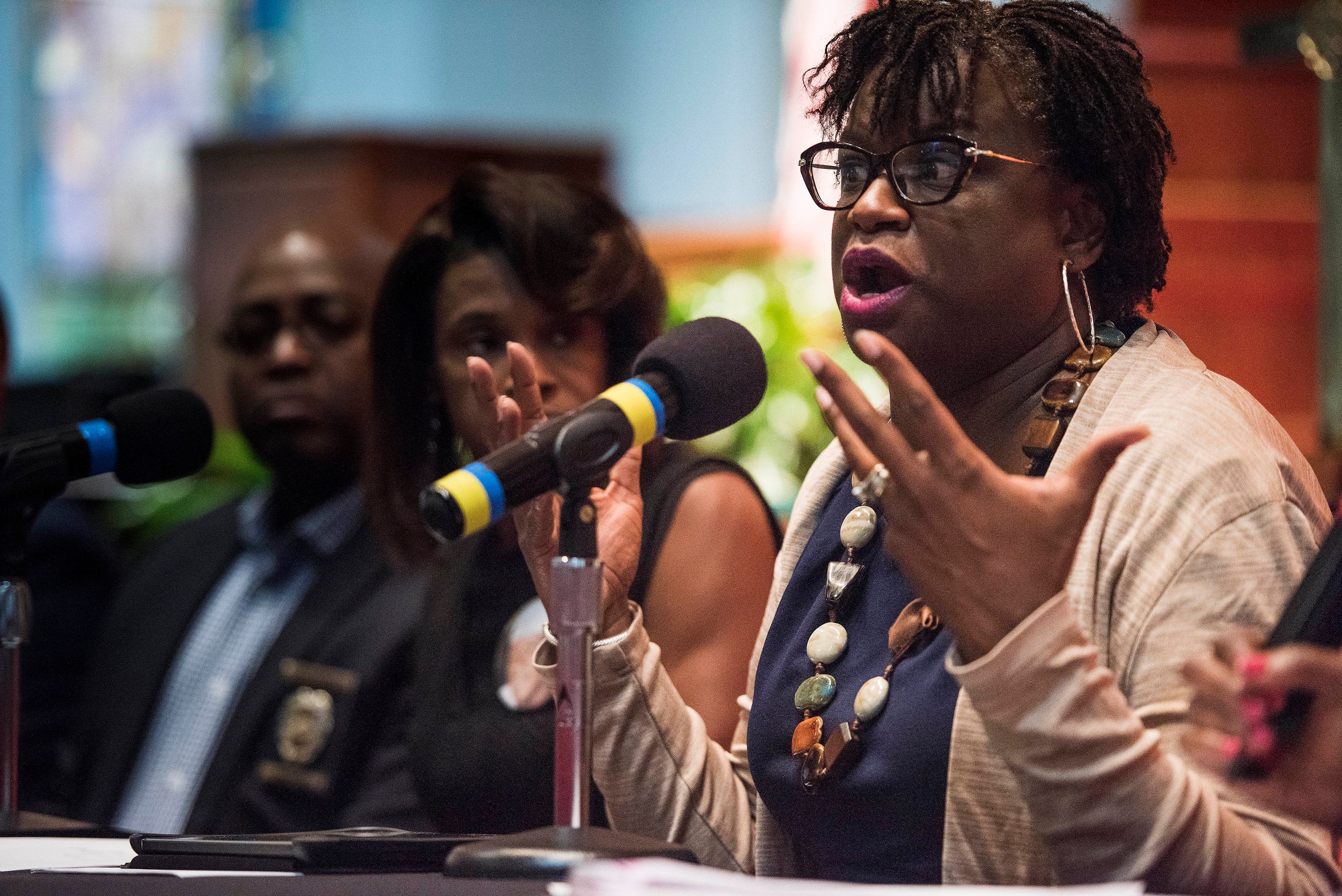 Agee fielded the first question on what people in Birmingham can do right now to combat the problem.
"If you watch the news, read the news, you might get the idea that Birmingham is the Wild, Wild West or that there's mayhem all over the city," Agee said. "But that's not true at all. A very small percent of our community is committing a large percent of the crime."
Agee went on to say that the most high-risk group in the city to watch ― those who both commit and are victims of crime ― are boys and men of color, ages 16 to 24. Additionally, the women who love those men ― that's mothers, grandmothers, sisters ― are also often co-victims of these crimes and need to be protected. So, how do we prevent it?
Agee suggested empathy was where the community could start to make change ― showing these individuals, who have possibly experienced trauma in their youth, that they are understood and cared for, which could shift their ways of thinking away from violence.
"Tomorrow's shooters are last year's victims," Agee said.
Empathy can be taught at home, but it can also be taught in schools at a young age. David Levine, an educator and author of Teaching Empathy, told NPR empathy training is effective because "when someone feels that sense of emotional safety in their classrooms and their hallways, the feeling that teachers and other adults really care about them, that will enable them to focus and do better academically."  
Attendees also heard from Carr, who talked about the loss of his brother and how "violence found him."
"The violence will find you. The question is, how do we isolate and protect our youths?" he said.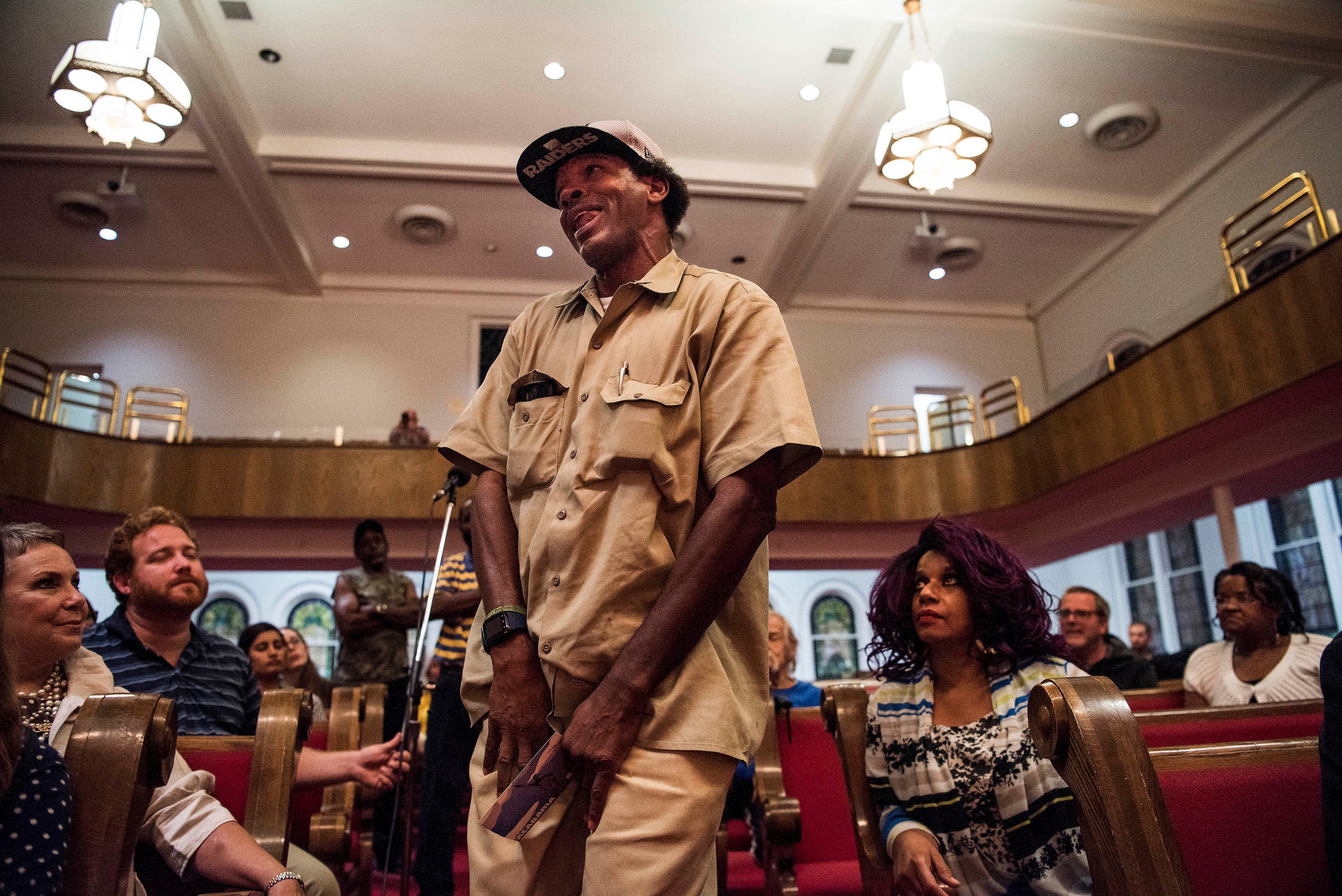 As the discussions continued, the tension built, punctuated by the rising voices of Birmingham's passionate community members. They included many mothers, as well as an engineer, a barber, a preacher, a military veteran, and others who make the city thrive and only want it to be better. 
"There has been too much talk about the violent crime in this city," said local Keith Williams. "But when are we going to sit down in a group and discuss why there is violent crime?"
Johnson, Agee and Verser proposed that attendees make a list of people who'd like to gather together to do just that, and nearly a dozen people signed up.
A.J. Johnson, another attendee, suggested the solutions can't be discuss without addressing parenting, saying "you can never have strong children when you have weak parents."
"Parenting is our No. 1 problem in this city," he said. "We are our worst enemy at large."
"We have to change the culture," he added. "We have to stop being afraid to talk to these young people."
HuffPost is hitting the road this fall to interview people about their hopes, dreams, fears ― and what it means to be American today.
HuffPost interviewed several of the individuals who came to the panel and shared their questions with the panelists. You can see their portraits below and hear their thoughts ways to make the city less violent:
"If you really care ... you drive to every one of these high schools. You sit down in the auditorium with all these young ― they say the perpetrators of these violent crimes are between 16 and 19 years old ― there you have them. You have them right there. You sit down and tell them about conflict, conflict resolution, anger, anger management. You tell them how in life there are going to be disagreements ― men in suits or men in jogging pants. They have disagreements, but there is a way to handle it without taking someone's life."
― Harry "Traveling Shoes" Turner, 48, postal service worker
"We have to go to where the trouble is going on at ... We got to bombard and go into these communities, you know what I mean? We can't just go in when one dies after their body hits the ground. We got to go and be proactive. Get involved on a daily basis."
― Cedric Hatcher, 52, preacher
"We're always on the street doing ... talking violence, eulogies, vigils, all that stuff. The rest of them don't do anything. My son's been gone 10 whole years. And I have not yet found out who killed him ... Nothing yet has been done."
― Wanda Stephen, 58, preacher
"All the time we get the problem, but we never get the solution. Sometimes we do, but it tends to go in one ear and out the other."
― Eric Craig, 37, works in masonry
 "I came here to get a solution and what I can do as far as helping resolve all this crime ... I got some information as far as people going into the neighborhood. When my son was murdered, I went to the neighborhood myself to find out. I knew who did it and I wanted to talk to the young man myself."
― Jacqueline Jones, 48, works in biomedicine
 "Education, economics is a major faction of the misunderstanding and the miseducation of the misdirected child. The misdirected child has no place to hone his or her skills because they have no skills. The child has no way of breaking loose from everything that has succumbed him or her."
― A.J. Johnson, 50, engineer
"We've got to change our mindset. We got to start thinking about things that's more important. ... I was raised up dirt poor and, as a dirt poor child, I didn't know it. Because mom and dad supplied the necessary needs for me and I was happy. So, it's not an economical problem. This thing is in the household and it's got to be dealt with one on one, parenting. It's got to be dealt one on one with the teaching. ... It's a village issue. We've all got to come together and bring this thing to a head, because the violence is out of control in my city and I hate it. I hate it so much."
― Eddie Pollnitz, 48, barber
"What I hope would come out of the meeting is that we will all come together and start the dialogue to empower people and enrich our community for the betterment of all," Johnson told HuffPost via email after the panel.
"The issue of violence is so broad that it is going to take people of all levels to get involved and be committed to make a difference. We know what the real issues are, so now, it is time to step up and take on the hard challenge to rectify the issues."
We're popping our bubble and dare you to do the same. Follow our bus tour across America to find out how much you really know about the state of the nation. Sign up for our email.
REAL LIFE. REAL NEWS. REAL VOICES.
Help us tell more of the stories that matter from voices that too often remain unheard.
BEFORE YOU GO
PHOTO GALLERY
Shocking Domestic Violence Statistics