 One year ago this week, a Congressional committee held a hearing about whether women need access to birth control -- and called panels that did not include any women speaking in favor of it. The Committee Chairman, Representative Darrell Issa, refused to hear testimony from a Georgetown Law student named Sandra Fluke. A week later -- after she had been insulted in front of the entire nation, first by a congressman and then by a radio talk show host -- Sandra finally got her chance to testify, thanks to Minority Leader Nancy Pelosi. Sandra spoke for millions of young women when she talked about the economic benefits of affordable birth control, and the significance it plays in women's lives.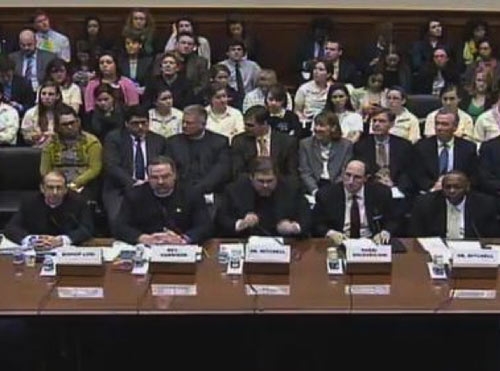 One year later, new data released this week by the Centers for Disease Control and Prevention (CDC) confirm what Sandra told Congress a year ago, and what most American women have known for decades: almost all women (99 percent) have used contraception at some point in their lives, regardless of their background or religious affiliation.
This data underscores the importance of the Affordable Care Act, which gives women coverage for birth control without co-pays. The data also shows that more women than ever are using emergency contraception, highlighting the importance of expanding access to it.
The Affordable Care Act's birth control benefit makes a real difference for women and their families. Before the birth control benefit went into effect last August, women spent up to $600 on birth control every year -- that is now money saved. And thanks to regulations developed by the Obama administration, your boss or school won't decide whether you can have birth control.
Generations of women have fought for equity in health care access, and the Affordable Care Act was no different. In fact, when Congress was negotiating over the Affordable Care Act, we had to fight to include women's health. I'll never forget Senator Jon Kyl arguing that the law shouldn't require insurance plans to cover maternity care because he doesn't need it. (I'll also never forget Sen. Debbie Stabenow quickly responding, "I think your mom probably did!")
Women's preventive care -- including birth control -- is basic health care. This shouldn't be a revolutionary idea, but unfortunately it is to some.
Currently there are 18 for-profit companies -- almost all owned by men -- suing the federal government so that they don't have to include this expansion of birth control access to their employees.
Seven in ten Americans (70 percent) believe that health insurance plans should be required to cover the full cost of birth control -- just as they do for other preventive services -- yet these men and a vocal group of politicians are fighting the birth control benefit. They're trying to chip away at access to birth control at the federal level, at the state level, and in the courts.
These relentless attacks continue after voters -- both men and women -- spoke loud and clear in the election, saying that they do not want politicians to interfere in women's personal health care decisions, one year after the memorable (and viral) image of the all-male birth control hearing and two years after the Tea Party leadership in the House tried to eliminate critical federal funding for Planned Parenthood health centers and take away preventive health care from millions of women -- including birth control information and services.
We know birth control works -- both to help women plan whether and when to have families, and to help ensure a measure of equity for women. That's what Sandra Fluke was trying to say a year ago, and it's what Margaret Sanger said 97 years ago when she started Planned Parenthood. But we also know that it only works when women have access to it -- no matter where they work or how much money they have.
Calling all HuffPost superfans!
Sign up for membership to become a founding member and help shape HuffPost's next chapter