This is the second installment of a three-part series highlighting a few of the many Black Christian leaders I've had the privilege of learning from throughout my career. (See the first installment here.) We shouldn't wait until the month of February to celebrate black leaders who are changing the face of global Christianity. These leaders are prayer warriors, spiritual giants, and world changers. Please feel free to highlight the leaders who have inspired you in the comment section, and check back soon for the third installment! Thank you for joining me in this celebration of African American History Month (http://www.africanamericanhistorymonth.gov/)!
Dr. Barbara Williams-Skinner is considered one of the most influential Black Evangelicals in Washington. Together with her late husband Tom Skinner (listen to his famous speech at Urbana in 1970), she founded the Skinner Leadership Institute in the early 1990's. The mission of the Skinner Leadership Institute, is to create and empower leaders in the church, among youth, and nationwide. Dr. Williams-Skinner was the first female Executive Director of the Congressional Black Congress (1974-1981). In addition to continuing to serve as president at the Skinner Leadership Issue, she also co-chairs the National African American Clergy Network, and is a member of the White House Faith Council. She also serves on the President's Council of Faith-Based and Neighborhood Partnership, where she works on the issue of global human trafficking. Dr. Barbara's Mordecai prayer ministry involves walking the halls of Congress and praying for our elected officials (1 Timothy 2:1-3).
I had the pleasure of working with Rev. Adam Russell Taylor when he served as the Vice President of Advocacy at World Vision. Now the Lead for the Faith-Based Initiative at the World Bank Group, Rev. Taylor has a long history of social justice work, beginning with his work as an Associate at the Harvard University Center for Human Rights and as an Urban Fellow in the Department of Housing Preservation and Development in New York City. Since then, Rev. Taylor co-founded and served as executive director of Global Justice, an organization that educates and mobilizes students around global human rights and economic justice. He also served as the Senior Political Director at Sojourners and wrote the book Mobilizing Hope: Faith-Inspired Activism for a Post-Civil Rights Generation . I have often told Adam that his leadership and call for hope has been a personal inspiration!
Rev. Dr. Brenda Salter McNeil is an Associate Professor and Director of the Reconciliation Studies Minor Program at Seattle Pacific University's School of Theology. She is also an Associate Pastor at Quest Church in Seattle. Dr. McNeil has dedicated over 25 years working towards racial, ethnic, and gender reconciliation. Before SPU, she spent 14 years serving as the Multiethnic Ministries Specialist for InterVarsity Christian Fellowship in Southern California and Chicago, Illinois. Dr. McNeil has authored several articles and books, and she tours regularly. In 2012, she was featured as one of 50 Women You Should Know by Christianity Today. Dr. Brenda's powerful voice and ministry of reconciliation is not to be missed!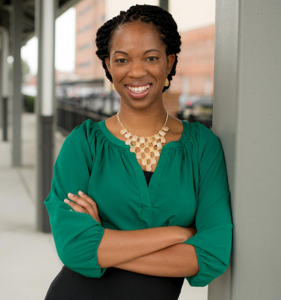 Natasha Sistrunk Robinson is a leader, speaker, writer, and anti-human trafficking advocate. She recently graduated cum laude with Master of Arts in Christian Leadership from Gordon-Conwell Theological Seminary, and she works at Gordon Conwell's Center for the Development of Evangelical Leadership. Natasha regularly contributes to a number of publications , and blogs at A Sista's Journey. She is currently working on her first book, to be released by Zondervan Press in 2016. Natasha is just getting started, and I have no doubt she will continue to do great things!
Rev. Efrem Smith is the President and CEO of World Impact, an urban ministry organization. I got to know Efrem when he was the superintendent of the Pacific Southwest Conference of the Evangelical Covenant Church. In that role, he provided leadership to 160 churches within California, Arizona, Nevada, Hawaii, and Utah. Efrem issues a brave call to rethink evangelicalism without marginalizing the marginalized. He was the founding pastor of The Sanctuary Covenant Church in Minneapolis, and co-founded and served as President of The Sanctuary Community Development Corporation. He has written four books, the most recent The Post Black, Post White Church was released in 2012. Efrem regularly blogs about the role of the church in Urban communities and social justice at his website, EfremSmith.com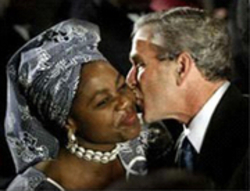 Princess Kasune Zulu is a true testament to human resilience. She lost both of her parents and two of her siblings to AIDS when the epidemic came to Zambia in the 1980's, and she is HIV-positive herself. After her parents died, Zulu had to leave school to take care of her family. She talks about her family's struggle in her book, Warrior Princess: Fighting for Life with Courage and Hope . Zulu is a tireless advocate for HIV-positive and AIDS patients around the world, and she has made great strides: in 2004, her advocacy was instrumental in convincing President Bush to commit $15 billion to fight AIDS . Zulu is currently living in Chicago and has both a Masters in Nonprofit Administration and a Masters in Divinity from North Park University.
I continue to be inspired by each of these individuals and I am honored to share their work with you. Check back next week for the final installment, and feel free to share the leaders who have inspired each of you in the comments so that we may learn together as we celebrate these amazing brothers and sisters in Christ.
Related
Popular in the Community