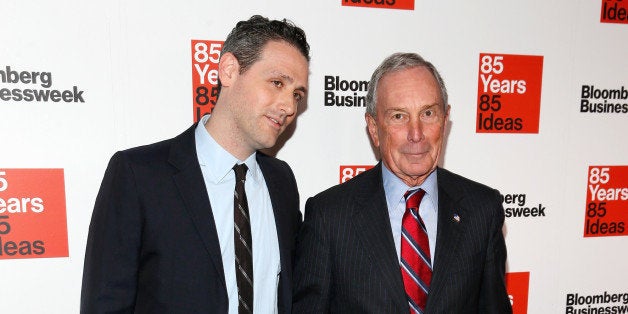 NEW YORK -- A Bloomberg News reporter on Tuesday sent a memo to high-ranking company executives in New York that outlined numerous concerns among Washington bureau staffers about management, editorial standards, reporting priorities and more.
The memo, written by a reporter in the Washington bureau and said to be the product of conversations with colleagues, was obtained by The Huffington Post from a source with the sender's name removed. It described "low morale," "high employee turnover," a "leadership void" and an atmosphere that's less hospitable to female employees. Recent layoffs and demotions in the bureau, it noted, have helped foster a "climate of fear and mistrust."
It is the latest evidence of a news operation plagued by infighting and still grappling with how to grow a flashy political presence on the Web after years of focusing on business and financial news through its highly profitable terminals.
Bloomberg management has been aware of escalating tensions between its New York headquarters and its Washington outpost. Many in the company feel that Bloomberg's operation in DC has been marginalized by last year's launch of Bloomberg Politics, led by Mark Halperin and John Heilemann and based in New York. In addition, some Bloomberg News journalists who have long written for the company's subscription-based terminals feel left behind as management in New York seems increasingly focused on its new consumer-focused web operations like Bloomberg Politics and Bloomberg Business.
In April, Bloomberg Editor-In-Chief John Micklethwait assigned Chief Content Officer Josh Tyrangiel and Senior Executive Editor Marty Schenker to deal with the issues between New York and Washington. "I have yet to meet anyone in this organization who thinks we have come close to our potential," Micklethwait wrote to staff at the time. "We will now fix this -- and I expect you all to help."
Both Schenker and Tyrangiel have been traveling to the Washington bureau for meetings with staff. They were most recently there on Monday to launch a new campaign finance reporting team.
Yet numerous concerns remain, as outlined in the memo. A Bloomberg News spokesman declined to comment.
The memo, which was sent Tuesday to Schenker and Tyrangiel with Washington staffers copied, addresses cultural and structural concerns and proposes several solutions.
Washington staffers perceive a "lack of clear direction from New York," the memo says, noting a desire for a leader who has the confidence of top management. Bloomberg management is said to be currently seeking a Washington-based executive to oversee the bureau, according to sources familiar with the discussions.
The memo also suggests that female staffers in Washington are passed over for stories they would have expertise in and describes a sense that male managers look out for other male employees.
Bloomberg has faced questions before about female representation in positions of leadership. When selecting a new top editor in December, chief executive and company founder Michael Bloomberg hired Micklethwait from The Economist instead of promoting in-house front-runner Laurie Hayes. She has since left the company. Still, several large Bloomberg bureaus worldwide -- London, Paris, Moscow, Toronto, Sao Paulo and Frankfurt -- are run by women, and the company recently hired Kathy Kiely as Washington News Director for Bloomberg Politics, a new position designed in part to serve as liaison between New York and Washington.
There's confusion, the memo says, over what stories are desired given the "dueling newsrooms" focused on the terminal and the Web. The memo suggested that terminal writers are more than willing to write for the Web and proposed that Web editors utilize those reporters' talents before hiring from the outside.
The memo also addresses editorial standards in reporting. The launch of Bloomberg Politics, helmed by Halperin and Heilemann -- two prominent journalists best known for writing election books filled with anonymous sources -- sparked internal questions about standards. Traditionally, Bloomberg reporters are not permitted to use blind quotes from unnamed sources in articles and can only reference anonymous sources if they first get clearance from senior editors.
The memo described "resentment" among Washington journalists due to a perception that employees working for Bloomberg Politics and Halperin and Heilemann's show, "With All Due Respect," are less constricted by the long-standing editorial guidelines.
"No one liked our old writing restrictions, or even believed many of them made sense," the memo reads. "But many feel the pendulum has swung a little too far with the web site and the new political show."
The memo recommends that reporters not be compelled to write the names of confidential sources in emails to senior editors seeking clearance to use the sources' information, and suggests giving "more latitude" in this area to more experienced reporters. The implication is that Bloomberg reporters are always required to put the names of anonymous sources in emails, a practice that the memo notes could dissuade future sources from coming forward. However, sources told HuffPost there's no single standard requiring Bloomberg reporters to identify sources in emails.
In addition, the memo proposes that standards be made consistent, that corrections be treated similarly on terminals and on the Web and that inaccurate stories not simply be deleted. (Bloomberg Politics deleted a story about Nancy Reagan in April that turned out to be a hoax.)
Duplicative coverage -- multiple teams covering similar ground for the terminals and Web -- is addressed as well. The memo also raises concerns that reporters are not given enough autonomy, resulting in lost scoops.
"Trust your reporters," the memo says. "This is why you hired them."
Related