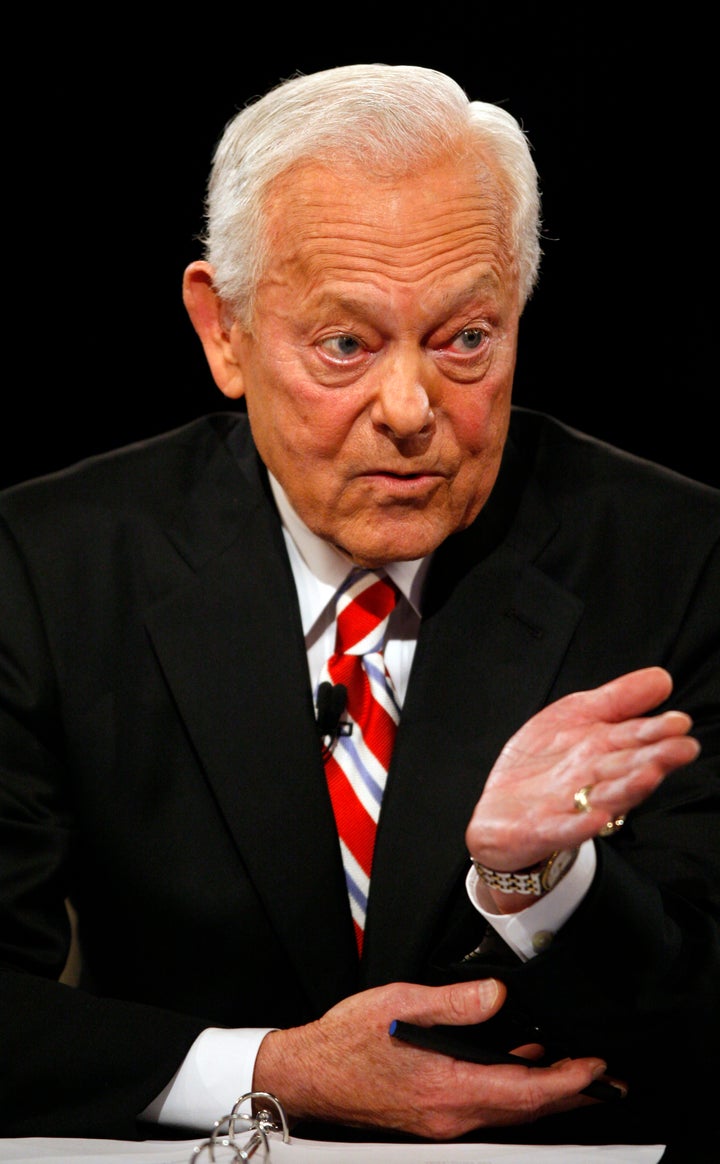 NEW YORK -- Bob Schieffer was still "in shock" several hours after breaking the news on air Sunday that CBS's "Face the Nation," the longest running show in television history after NBC's "Meet the Press," will grow to an hour-long broadcast in April.
"I've been trying to do this for 20 years, the first year I came to 'Face the Nation,' Schieffer told The Huffington Post. "I said, 'you know we ought to go to an hour.'"
Schieffer, however, couldn't convince the network brass two decades ago. He watched the late Tim Russert get that extra half hour and go on to dominate the Sunday show ratings with "Meet the Press." Both ABC's "This Week" and "Fox News Sunday" broadcast for an hour, as well; CNN's "State of the Union" airs for an hour at 9 a.m. and another at noon.
But two factors helped Schieffer get the extra half hour: CBS's renewed focus on hard news under chairman Jeff Fager and president David Rhodes, and improved ratings that have vaulted the show into a weekly battle with perennial ratings leader "Meet the Press."
Last week, "Face the Nation" ranked first in total viewers in the key age 25-54 demographic. Schieffer described the Sunday show ratings race as "very fluid right now."
The expansion of "Face the Nation" comes amid uncertainty at ABC's "This Week," following a Friday New York Post report that host Christiane Amanpour may assume a different role as "global affairs anchor," a position that would play to her strengths as a long-time foreign correspondent.
ABC sources confirmed to The Huffington Post that rumors are indeed flying around the news division that previous "This Week" host George Stephanopoulos, who currently co-hosts "Good Morning America," may be asked to pull double-duty and host both shows. The network may also look to Jake Tapper or Jonathan Karl for the influential Washington D.C.-based position.
Regardless of whom Schieffer faces in the spring, the 74-year-old journalist isn't planning to tinker with the show's DNA. "We're not going to change this very much," Schieffer said. "There's no bells and whistles here. Turn on the lights, get on the key newsmakers, and ask questions."
Schieffer said there several advantages to getting an extra half hour to work with, such as being able to "book guests much earlier, and if something happens, move them to the second half of the program." He can also offer newsmakers more airtime, which is the equivalent of "gold" on television. And Schieffer said there will be more time for the roundtable, which will regularly include CBS News political stars like Norah O'Donnell and John Dickerson.
The 2012 election has been the dominant story on "Face the Nation" in recent months and Schieffer said he expects that to continue through next November. He'll be heading to Iowa in the coming weeks and will broadcast from New Hampshire before that state's primary in early January. Schieffer said he hopes to host the show from South Carolina and Florida before their primaries as well.
So far, Schieffer has not been able to interview two Republican presidential contenders: Rick Perry and Mitt Romney. That's not surprising, since both the Perry and Romney campaigns limited their exposure to the national media early on in the race, each adopting more of a frontrunner strategy.
But now both candidates have fallen behind Newt Gingrich and are doing more national media. Perry appeared this past weekend on "Fox News Sunday," and Romney will head to the program, hosted by Chris Wallace, on Dec. 18 for his first Sunday show sit-down of the campaign.
"I don't know why Romney has been so reluctant to do a Sunday show," Schieffer said. "I think he's very good in that format."
Schieffer said he guessed the Romney campaign had declined past invitations because he "was the frontrunner for so long and they didn't think they needed to." But if Romney plans to start hitting the Sunday show circuit going forward, Schieffer said he'd like to have him on.
Calling all HuffPost superfans!
Sign up for membership to become a founding member and help shape HuffPost's next chapter