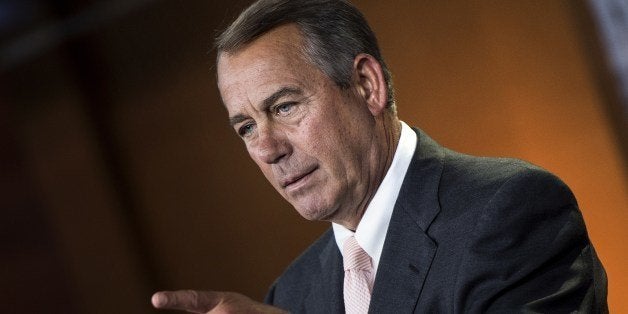 Speaker of the House John Boehner now seems pretty committed to his effort to bring a lawsuit against President Obama. This is ridiculous on a number of different levels, and a majority of the American people already see it as nothing more than a political stunt (which is good to hear, since that is exactly what it is). If Boehner keeps to the timetable he's set out, this sentiment may even grow right before the midterm election. The Republicans believe that suing Obama will excite and turn out their base voters, and they're betting that this benefit will be larger than any political blowback (which would excite and turn out Democrats and Independents to the polls to vote against Republicans). Whether they're right in this political calculation or not remains to be seen. But what is undeniable is that, so far, this lawsuit is nothing short of laughable.
To date, Boehner has only said that the House Republicans will be suing over President Obama's delay of the "business mandate" in Obamacare -- no other subjects have been admitted to publicly, at least (this could always change, though). A quick review of the facts is in order: Obama announced (a while back) that he would grant a one-year delay for the implementation of the Obamacare business mandate, mostly because he had been pressured to do so by the business lobbyists. They wanted another year to prepare for the new system (even though they had already had a number of years to do so). Obama granted this one-year delay, which meant that the businesses didn't have to comply last October (when the exchanges went into operation), but could instead wait until this year's open enrollment period (which will start in November). The business lobby was happy enough with this extension.
So the first question is: who was harmed by this decision? It's a very important question, because it determines "standing" in court. You can't sue unless you were in some way harmed by an action or event. But the business lobby is not suing (why would they, since they got what they wanted from Obama), nor are the employees of such businesses suing (people who would have the clearest legal standing of any group, because they were denied Obamacare-level insurance for another year). But how does the House of Representatives show standing? They were not harmed by Obama's decision, after all. So the most likely outcome of this whole political stunt is that Boehner's lawsuit will be thrown out of court before it even begins (what some might call "being laughed out of court," in fact).
There's a second question of standing to consider, as well. The courts have famously shied away from refereeing political struggles between the legislative and executive branches. The judge could just as easily dismiss such a lawsuit by noting that these questions are best resolved at the ballot box in the American system. The precedents all point to this outcome (although with today's Supreme Court, who knows what the ultimate ruling would be). If the courts are dragged in to every political question raised in Washington, then the government would get even more gridlocked, hard as that now may be to imagine. Judges know this, and will likely rely on prior rulings to immediately dismiss Boehner's case.
Even if through some miracle (in front of some staunch Republican appointee, perhaps) the House does manage to achieve legal standing to file such a lawsuit, the lawsuit's reasoning is beyond illogical. It actually crosses the line into farce. Consider, if you will, that Boehner and the Republicans were never against the concept of pushing Obamacare deadlines out -- they were in fact all for such an idea, which is easily proven by any number of votes they held on this very question. Republicans went on the record time and time again in an effort to not just push back the deadline for businesses, but to do so for everyone. They wanted to indefinitely delay all of Obamacare from ever becoming reality. In fact, they even shut down the government in an attempt to roll back Obamacare deadlines for a year. They did not succeed, but there are mountains of evidence showing the Republicans have always been on the side of "delay Obamacare, as long as possible, for everyone." So how are they going to claim -- in front of a judge, and with a straight face -- that they are now shocked and outraged that Obama delayed the business deadline? Republicans wanted businesses to not be affected by Obamacare. So how can they now complain of a one-year delay? It defies credulity, to put it mildly.
Even if, through some further miracle, they were able to convince a judge not only that they had standing and that their topsy-turvy stance on delaying Obamacare is somehow now heartfelt, the case is laughable because it will likely only be resolved after Obama leaves office. If they file the case at the end of the summer, there is absolutely no way it will be heard until (at the very earliest) after the midterms. No matter what the initial ruling may be, it wouldn't be expected to arrive until (again, under lightspeed conditions) early next year. Factor in appeals all the way up to the Supreme Court, and maybe (again, this is if it moves with blinding speed) by the middle of 2016 they could get a Supreme Court ruling. If there are any delays at all along the line (which would be almost guaranteed, in the federal court system), the case wouldn't be resolved until after the next president is sworn in.
I saved the biggest and funniest thing about Boehner's case for last, though. Let's just ignore the speed of the federal courts and enter Fantasyland for a moment. Say the House Republicans were granted standing, and did manage to convince a judge or jury that their upside-down political stance is now somehow valid. Pretend that they win the case, and win so big that the Obama administration doesn't even bother to appeal it. Picture this all happening before the midterms (hey, I said it was Fantasyland).
In this magical courtroom, just imagine a judge reading a ruling which gives the Republicans everything they want. But what, precisely, would that be? Say the case is decided (again: Fantasyland) by the end of this October. What injunctive relief can be given? What could the judge possibly rule should then happen to fix things? The judge has just agreed that President Obama shouldn't have pushed the business mandate deadline back, and was totally wrong to do so. So what, exactly, can he force President Obama to then do about it?
No judge can turn back time, or the calendar. To put this another way, no ruling is possible which returns us all to October, 2013. The facts on the ground are the facts on the ground, even if Republicans win their case. The only possible relief the judge could offer the House Republicans is to invalidate the delay in implementation, which would have the result of forcing all businesses to immediately comply with the Obamacare mandate, ahead of the pushed-back deadline.
But here's where it gets hilarious: the pushed-back deadline is actually mid-November. Even in Fantasyland, no sane judge is going to rule "the federal government must immediately implement something that is already going to take place within a few (days/weeks)." Even assuming the Obama administration wouldn't appeal (which is indeed laughable to assume), the deadline will be staring everyone in the face -- including the judge. And, outside of Fantasyland, there is no possible realistic chance that the case will be decided before the new deadline has already passed by. In fact, it's hard to imagine what injunctive relief the House Republicans even could ask for. What judicial ruling would make things right concerning a deadline that got moved in the past and will soon become reality anyway? Absent the ability to turn back time, there simply is no realistic answer to this question.
This is the final proof that this entire lawsuit is nothing more than a joke. It's a political ploy, plain and simple. The Republicans are suing over something they have not been harmed by, when the people who might have been harmed actually welcomed the change, and they expect the judge to do what, exactly?
Of course, there is a political case to be made. The political case, properly stated, might be: suing Obama over this matter will make him think twice about doing anything like it ever again. Sort of a pre-emptory lawsuit designed to raise the political cost for Obama to do anything the House Republicans don't approve of. This, as I mentioned, is entirely political (not legal) reasoning, and while farfetched at least has a certain logic to it: taking a shot across Obama's bow might soften him up for the next two years.
What's really laughable about the whole situation, though, is that House Republicans are the ones who can usually be found clutching the Constitution to their chests, professing undying love for the "original language and intent" all the while. Of course, if they bothered to actually read the document in their pocket, they would learn that even if one party controls one house of the legislature, suing the president is not seen as an option to solving the problem of presidential law-breaking. There are two measures explicitly laid out in the Constitution to solve such a constitutional crisis, though. The first is for Congress to exercise the "power of the purse" and just refuse to fund something they don't approve of. The second is for the House to impeach the president and the Senate to try him.
If John Boehner really does think President Obama was acting lawlessly, then he should draw up articles of impeachment. He is, in fact, duty-bound to do so (if that's really what he believes) by the oath of office he swore. Boehner, however, knows this is never going to work. He knows that the Senate will never vote to convict on such flimsy grounds, and he knows full well what happened to Republicans the last time they tried this (Bill Clinton's approval rating shot through the roof). Boehner is trying to appear less extremist by only suing the president, rather than impeaching him. Personally, I think he's miscalculating in two big ways. The first is that the political backlash might not be as big as what happened during Clinton's impeachment -- but it will likely be a lot bigger than the House Republicans expect or foresee. And the second is that by even bringing such a lawsuit, it is only going to increase the cries from House Republicans (Tea Partiers, especially) to just go ahead and impeach Obama. What this all means is that this lawsuit isn't going to satisfy much of anybody, no matter how it turns out.
Except, perhaps, late-night comics. They're going to have a field day over all the laughable aspects of the case they can point out. That is pretty much guaranteed.
Popular in the Community