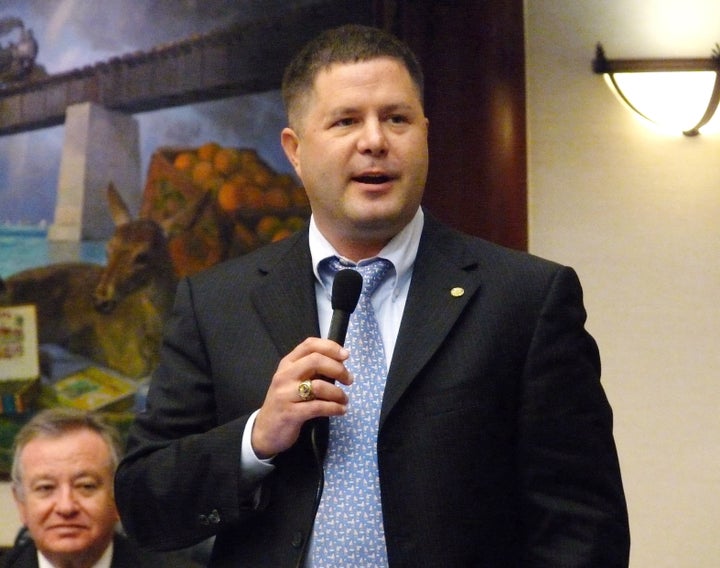 Here's a piece of legislation you don't see every day. One Florida state Rep. is proposing a big change to the way his state handles executions. Brad Drake, a Republican, filed a bill Tuesday to eliminate lethal injection and bring back executions by electrocution or firing squad.
"We still have Old Sparky. And if that doesn't suit the criminal, then we will provide them a .45 caliber lead cocktail instead," he said in a press release.
Florida retired its electric chair in 2000 after several inmates caught fire during executions. Inmates may request the chair in lieu of lethal injection. However, Florida last used the chair in 1999. Under Drake's bill, electrocution would be the primary mode of execution, but inmates could request a firing squad.
According to the Florida Current, the idea came to him in a local Waffle House. He reportedly overheard a constituent say that "they ought to just put them in the electric chair or line them up in front of a firing squad."
"There shouldn't be anything controversial about a .45-caliber bullet. If it were up to me we would just throw them off the Sunshine Skyway bridge and be done with it," Drake told the Current.
Florida recently made headlines for the execution of Manuel Valle using a controversial lethal injection drug. He was the first Florida inmate executed using pentobarbital, a drug commonly used to destroy animals, as the first drug of the three-drug injection. The Supreme Court had temporarily delayed the execution over the drug's legality.
Drake expressed frustration over how long the process took. "I am sick and tired of this sensitivity movement for criminals," he said. "Every time there is a warranted execution that is about to take place, some man or woman is standing on a corner holding a sign, yelling and screaming for humane treatment."
"I am so tired of being humane to inhumane people," he said.

Popular in the Community