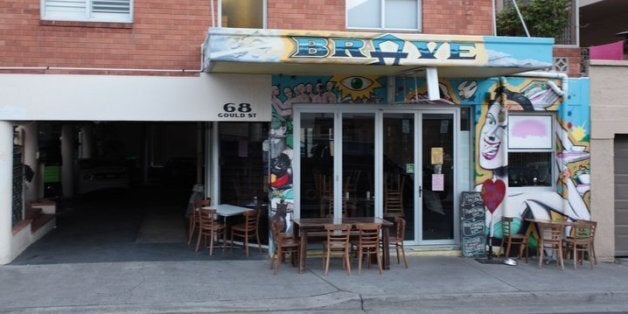 Negative restaurant reviews are a dime a dozen. Negative customer reviews? Not so much. Or so we thought. Brave Cafe, a restaurant in Sydney, Australia, may be disrupting the status quo.
The Bondi Beach cafe's owner launched an epic exchange with customer Paul Martin on December 2 after Martin wrote a few negative words about the place. "Dirty. Ants. Burnt food. Extortionate prices," Martin wrote on December 1st on Brave Cafe's Facebook page and in a review of Brave Cafe on his blog, Paul in Oz.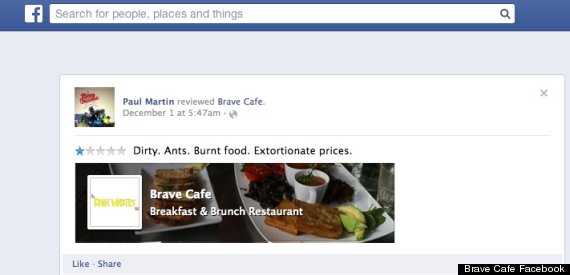 The next morning Martin woke up to a vicious response via Facebook from Brave Cafe owner Benjamin Hewitt, which Martin then published on his blog.
"Paul, I'm shocked to hear that you didn't love the food and enjoy the vibe," the message started. It quickly spiraled out of control from there. In response to Martin's complaint that there wasn't enough maple syrup on his pancakes, Hewitt wrote:
Your table said that you weren't happy with the amount of maple, for instance. Well, for one, we actually use REAL maple syrup at $50 per litre! But why not just politely ask for some more at the time instead of waiting until 10pm that night to take revenge?
And then there was this outburst:
Do you know how to/can you simultaneously manage ten, gen Y part-timers, so well, that you are able to ubiquitously catch every sloppy act of laziness (and there are more than you can ever prepare or train for these days), across a menu that has so many components and potential pit-falls-before they are almost certainly pounced upon by the average, 'scarcity-based, pumped-up, myopic consumer-come-casual-social-media-activist-OUTRAGE-readied-advocate' for unreasonably great food, at unreasonably cheap prices, in impossible time frames??? Well, if you haven't, I don't really recommend it.
In defending the price of Brave Cafe's organic gluten-free pancakes, whose flour is "6 times more expensive than the regular crap bleached flour you would get anywhere else," Hewitt wrote:
Thanks for throwing it on just to kick our business, even although the price is right and that what happened was out of my control. No, really. Thanks Paul.
Martin handed it back to Hewitt on his blog, addressing each point, from ants -- he flicked off 8-10 from his table -- to the burnt pancakes -- so hard you could use them as a hammer. He suggested Hewitt "invest in a people-skills course."
We haven't seen an online meltdown like this since Amy's Baking Company lost its sh*t after the owners appeared on Gordon Ramsay's "Kitchen Nightmares" and caused Ramsay to walk off his show for the first time ever. When accusations surfaced over how owners Amy and Samy Bouzaglo yell at their customers and steal tips from their employees, the Bouzaglo's responses on Facebook were nothing short of insane.

Brave Cafe's response to some negative feedback may not have reached Amy's Baking level, but it was colorful nonetheless. Owner Benjamin Hewitt concluded with an olive branch, of sorts. He claimed to be a forgiving person and invited Martin back to his restaurant for another trial. But only if Martin was "prepared to eat like a man!"
Would you return to a restaurant that gave you an offer like that?
Related
Before You Go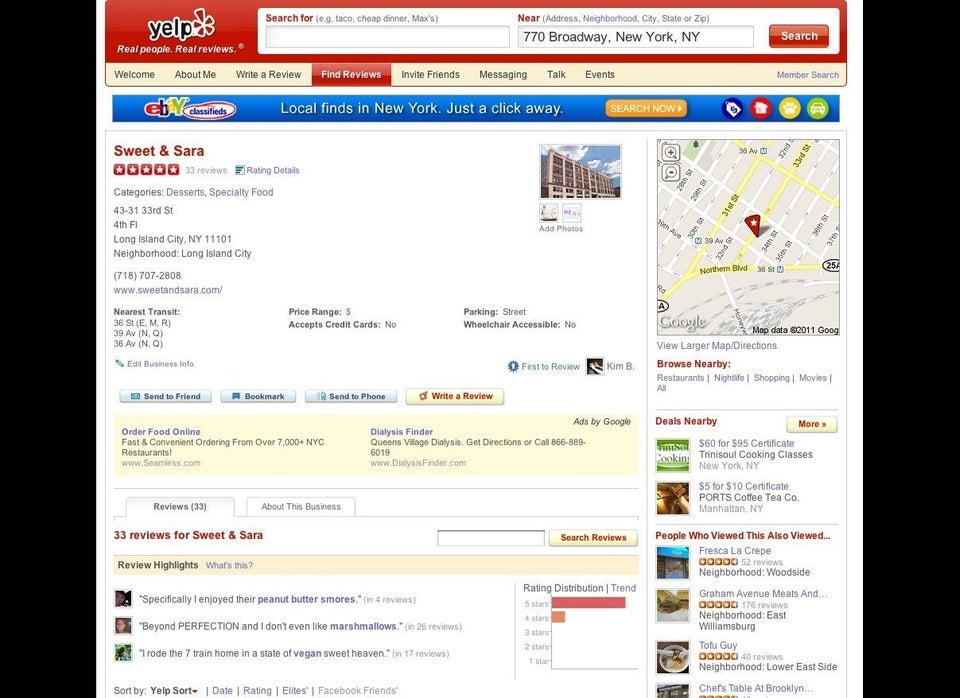 Top 9 Reasons You Can't Always Trust Yelp
Popular in the Community