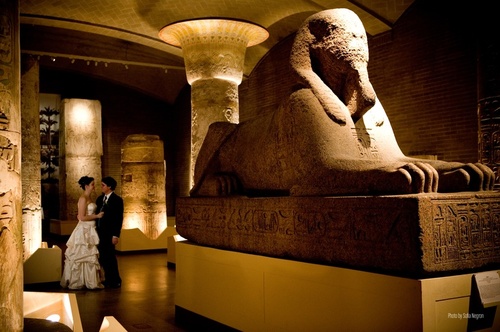 Back in the day, if you didn't want to get married in a church your options were pretty much limited to: city hall, an old firehouse, a cookie cutter hotel, or maybe a park. Now, with a little creativity and an open mind, your low budget wedding could end up at a breathtaking event space.
Below I have highlighted some of my favorite event spaces in Philadelphia that are incredibly unique, accommodating, and very inexpensive to rent for your wedding ceremony;
Philadelphia Magic Gardens
Why you should rent this space: You should consider renting Philadelphia Magic Gardens (PMG) if you are looking for a truly unique and fantastical environment to say "I Do". PMG is a staple in the Philadelphia art community as an incredible evolving folk art piece by Isaiah Zagar. It has the added bonus of being located on one of the most famous streets in the nation, South Street, which provides you and your guests will numerous post-ceremony restaurant and bar options.
Cost: $150-$350 per hour, depending on the day of the week and time of year
Capacity: 75
Pros: Aside from the obviously gorgeous pictures that you will take away from your big day, PMG will provide you with seating and tables as needed.
Cons: Parking is definitely difficult in this area, and PMG does not have a parking lot. There are however, numerous options for public transportation and South Street is a hub for taxi cabs. Also, if you are expecting over 50 guests and you want to serve refreshments, you must use their exclusive catering partner.
Why you should rent this space:
Penn museum is without a doubt, one of the most gorgeous and versatile places to say your vows in all of Philadelphia. If you want to get married next to a Sphinx (pictured above), in the stunning Chinese Rotunda, or in a simple garden ceremony, Penn Museum can make it happen.
Cost: Typically, Penn Museum is not the most budget- friendly of spaces to rent; however, they have rolled out a new Weddings: Simple and Sweet package, that will make your jaw drop.
For only $350, the museum will provide you with your choice of a unique space, chairs and a sound system.
Pros: On top of getting married in your choice of gorgeous rental spaces, Penn Museum is working on partnering with local restaurants to provide budget friendly options for reception dinners. This package provides all the necessities to make your ceremony happen.
Cons: This package is only offered on weekdays during museum business hours. Also, the capacity is small, as this option is truly meant as an alternative to city hall.
American Swedish Historical Museum
Why you should rent this space:
If you are looking to make a grand entrance into your ceremony, look no further that the ASHM Grand Hall. The staircase is nothing short of incredible. If you are looking for a more intimate setting, take a look at one of their many exhibit spaces that are also available to rent.
Cost: $350 per hour, they are also quite inexpensive for all day rentals
Pros: Parking is free and included! They are adjacent to a public park, and therefore, noise restrictions are a non-factor. Their rentals fee for 5 hours is only $1500, so you could continue the festivities out on their grand lawn or any of their other spaces. They have multiple exclusive caterers to choose from and they can provide tables and chairs.
Cons: As with any museum, you cannot control what exhibits might be on display at the time of your nuptials, but if you are not picky this shouldn't be a huge deal. I suggest meeting with the museum staff well ahead of time to see what they have scheduled to happen in the museum during your event.
As an events manager and blogger in Philadelphia, I have been exposed to some pretty amazing event spaces. I know for certain that many museums, art galleries, and theaters would jump at the opportunity at hosting a wedding. One key thing I have learned in this business is; "You don't know what is possible until you ask".

Hot Tip: Why pay for an officiant? Here in Pennsylvania, there is an option to obtain a "self-uniting" marriage license. This means that you can have a friend or family member tailor your ceremony without the hassle of obtaining a license. For more information on getting married in Philadelphia visit;http://secureprod.phila.gov/wills/marriagelicense.aspx