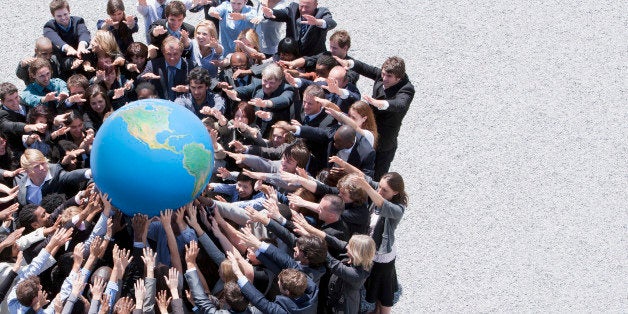 Happiness stems from the quality of our relationships, not the quantity amassed on the Internet. A huge Facebook community delivers plenty of scenes of domestic bliss, exclusive mountain vistas and the occasional "I-just-published-a-highly-acclaimed-book-and-so-here-I-am-on-a-floating-cabana-in-the-Caribbean" post.
While keeping abreast of classmates and friends in faraway places in carefully crafted, real-time technicolor is valuable, it can feel empty too. Virtual connection doesn't necessarily translate into a supportive community that generates happiness.
But certain things do and they don't require a screen or Wi-Fi connection. My elderly next door neighbor who walks our dog regularly because she's an animal whisperer and wants to stay healthy. Our backyard neighbors whose children build forts and craft elaborate plays together with ours. The neighbor who secretly delivered May Day flowers with the kids to nearby houses until she became too sick. Another one who offers summer art classes in her basement.
I'll take this line over any Facebook post: "Want to come over for strawberry shortcake after you've finished your dinner?"(Who wouldn't?!) Or even this one: "Carrie, did you realize your sunglasses are sitting crooked on your face?'" (Since no complete stranger would ever say that. Neither would a Facebook friend five states over, since I would never post a picture of myself wearing crooked sunglasses.)
The problem: Life goes so fast as we all try to do so much that we often don't build in enough time to develop a supportive community.

"People don't necessarily recognize the investment of time and effort needed to build relationships with the people around them," said Hyeyoung Woo, a Portland State University assistant professor of sociology, who explained, "We have to get to places in a shorter amount of time and get things done in a limited amount of time ... It's not necessarily easy to recognize what's important."
Portland, Oregon is known for its tightly-woven communities. The city has put time and money into supporting and growing its 95 neighborhood associations and seven neighborhood district coalition offices over the years. But you don't have to live in Portland to build better community. Below are four simple things anyone can do anywhere to create stronger connections and deeper roots in the place called home.
1. Organize a block party. Portland has roughly 500 permitted block parties each year where people shut down a section of street. Residents of my block have lugged out chairs, tables and grills to share a meal together while kids toss water balloons and paint each other's faces. We've even convinced Portland Fire Department's Engine 13 to stop by and let the kids explore the truck!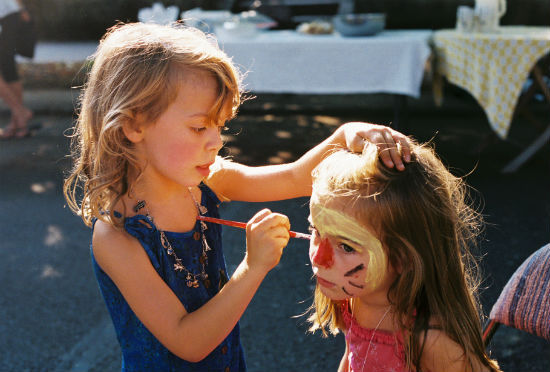 But block parties don't have to take that much energy, said Kelly Fedderson, community resource program manager at Southeast Uplift Neighborhood Coalition. Simply print flyers and organize a potluck in someone's backyard or a neighborhood park. My block has a progressive dinner party each spring in which four houses host an appetizer, salad, main dinner or dessert with everyone on the block contributing a dish. People who may not have seen each other in months progress from house to house talking and eating. If big parties aren't your thing, organize a neighborhood book club.
"You can have as many friends as you want on Facebook," said Fedderson. "At the end of the day, if you're going out of town or there's an emergency, it's going to be the people who are physically close to you who are going to count most."
2. Volunteer for an organization in your community. Volunteer in your child's school or for a local organization that's doing something you care about like an animal shelter or food bank. Just one thing to start with. People who work on a project together have a better chance of developing a connection.
"It's that shared passion and interest that can help you connect with people whom you may have made split-second assumptions about if you saw them on the street and you didn't have anything in common with them," said Fedderson. "It breaks down another barrier: knowing what to talk about."
3. Walk or bike somewhere at least once a week. Driving everywhere keeps you in a controlled environment. Walking is the exact opposite, said Steph Routh, former executive director of the nonprofit Oregon Walks who now works for Nonprofit Technology Network.
"It's an uncontrolled environment where you meet people. You meet dogs. You meet cats. If someone is walking in your direction and you're waiting at a crosswalk, you're more likely to nod or smile and exchange a word with them than you are if you're sitting in your car at an intersection. And it's that constellation of small interactions with your environment that create the larger tapestry of your relationship to your neighborhood."
4. Look at every conversation as a potentially meaningful connection. As best you can, focus on what the person is saying and not the oh-so-many things you have to do next. Even if it's a painfully slow checker at the local grocery. This is where mindfulness can lead to meaningful interactions.
"It's easy to go through life and just let things happen," said Fedderson. "If you have the intention to get to know people and get more involved with your community, great things can happen. And that's a source of long-term happiness instead of instant gratification."
Carrie Sturrock is company storyteller for Indow Windows in Portland, Oregon.
Related