She suggested that Cruz was misinformed when he implied that allowing transgender people to use restrooms that best correspond with their gender identity will only prompt male "sexual predators" to enter the ladies' room.
"The issue isn't about men being in women's restrooms, okay?" she said. "That is illegal." She added that she and other trans people just want to "pee and get the hell out of there! It's so simple!"
Jenner also thinks Cruz and other Republicans aren't taking into account the public safety of transgender youth, who are at an increased risk of depression and suicide compared to their cisgender peers, when he expresses support for "bathroom bills."
"We have a nine-times-higher suicide rate in the trans community than the general public," she said.
She isn't off, either: last year, a study by the American Foundation for Suicide Prevention and the Williams Institute, which analyzed results from the National Transgender Discrimination Survey, found that 41 percent of all transgender people will try to kill themselves at some point in their lives, compared with 4.6 percent of the general public, USA Today reported.
"They need some help," she said. "And I'm here to help."
Meanwhile, Jenner offered faint praise for Donald Trump in a speech at the Time 100 gala this week, and said she took the Republican frontrunner up on his pledge to allow trans people to use the appropriate restroom.
When she experienced a call of nature during her time in New York, Jenner said she headed straight for the Trump Tower to use its facilities.
"I obeyed all the rules, I promise you, I didn't throw any feminine products down the toilet," she joked, according to People. "And it actually worked out quite well. It was very good."
We'll say this about Jenner's attempts at reconciling her politics with her transgender identity: at least they're earnest.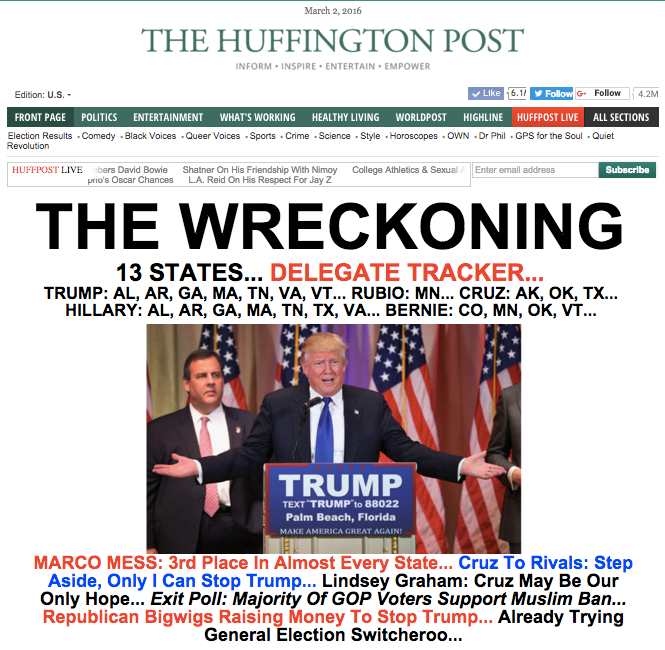 Trump On HuffPost Front Pages