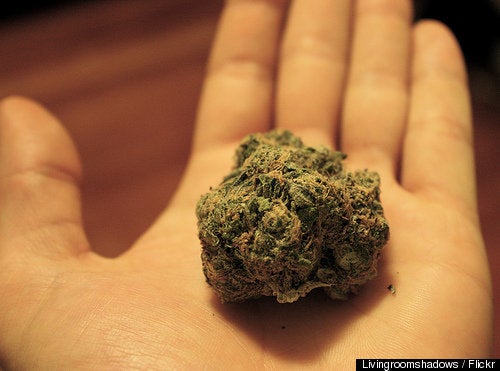 Democratic lawmakers from California are hoping that a proposition to legalize marijuana on the November ballot will help drive progressive voter turnout, but most are so far unwilling to state publicly how they'll vote when the curtain closes. Three House Democrats, however, tell HuffPost that they'll be supporting the measure, which would authorize cities and counties to tax and regulate the sale of marijuana for adults 21 and over.
Three may not seem like a high number, but it represents the most public support that legalization has garnered from a single state's delegation -- and it signals the effect that ballot initiatives can have on advancing the public debate over marijuana policy. Many of the rest of the Democrats in the delegation said they were open to supporting it. The state's chapter of the NAACP has also come out in favor of it.
The three Democrats to tell HuffPost that they'll vote yes - Reps. George Miller, Barbara Lee and Pete Stark -- represent Bay Area districts and are the first federal legislators to publicly back Proposition 19. Another Democrat, Mike Honda, who represents Silicon Valley, which owes much to consciousness-expanding drugs, said he was leaning toward voting yes. "It's like driving or drinking: We have a certain age, then you have that privilege and if you abuse it you lose it. I don't think this is any different, just like other kinds of legalized behavior," said Honda.
One Republican, the libertarian-leaning Dana Rohrabacher, who represents parts of Huntington Beach and Long Beach, said the he was initially planning to endorse the proposition, but thinks it doesn't go far enough to protect employers. "I would say in principle I would vote yes but you always have to read the fine print," he said. "I read into it and it was more than simply preventing people from going to jail. It was that nobody could use that as a criteria for hiring and firing... If somebody wants to hire just non-smokers or non-drinkers that's his or her personal prerogative as far as I'm concerned."
Rohrabacher said that if a bill similar to the proposition in California came to the House floor, but didn't include the employer language, he'd vote for it.
HuffPost quizzed each member of the California delegation, but perhaps the most unlikely negative response came from Rep. Lynn Woolsey, a Democrat who represents Marin and Sonoma Counties and is co-chair of the Congressional Progressive Caucus. No polling has been done specific to her district, but Woolsey's opposition would put her in a dwindling minority in Northern California.
In a statement, Woolsey emphasized her support of medical marijuana. "Marijuana use is increasing among today's youth, and as a mother and a grandmother, I am concerned by any initiative that might contribute to increased substance abuse," she said. "While I am not convinced that legalization of marijuana is appropriate at this time, I do believe that doctors should be permitted to prescribe marijuana for patients suffering from cancer, AIDS, glaucoma, spastic disorders, and other debilitating diseases. I'm an original cosponsor of H.R. 2835, the Medical Marijuana Patient Protection Act, which would prevent federal laws from restricting the production, distribution, and use of medical marijuana."
Illegal growers in Northern California could suffer if marijuana is legalized and production spreads equitably throughout the state.
Honda, meanwhile, said that legalizing and regulating the industry would be harmful to the business models of the drug cartels. "It would have a negative impact on the drug trade, on cartels," he said. "You regulate it here, it's going to impact the trade because we are a market for the drug trade. They bring marijuana over here illegally because of the market -- people want to buy it."
Dale Sky Clare, a spokesperson for the Yes on Prop 19 campaign, said that it's not unusual for public officials to play coy about their support for legalizing pot. In Sacramento, she said, she gets a lot of implicit backing. "There's a lot of wink-wink, nod-nod, but nobody wants to come out and say they support it--and that's from Republicans and Democrats," she said. Polling on the question is tricky, too, she said, given that a person might not want to tell a stranger over the phone what position he or she holds on legalizing weed, suggesting there may be a "reverse Bradley effect."
Some members of Congress are scarred by California's experience with medical marijuana, noting how easy it is to find a doctor who will recommend marijuana for all manor of minor ailments. "Medical marijuana in California is a complete failure and a fraud. It's not about people with terminal diseases; it's about recreational use. Although well-meaning for the right cases, it never dealt with just those right cases," said Rep. Darrell Issa, a Republican who represents a district north of San Diego.
Issa said that the lack of regulation of the medical marijuana industry had stunk up homes in his area. "We've ended up with an awful lot of homes ruined by mildew -- not with eight or 16 plants, but with thousands of plants there -- so I would not vote for any bill that changed the status quo unless it also dealt with a lot of those issues," he said.
Issa, however, said he was open to reviewing marijuana prohibition, he said. "I'm not completely averse to looking at those laws. I am concerned that we look at all the fundamentals. Just as alcohol is not -- it's decriminalized but it's extremely well regulated, taxed, if you realize that 100 percent of all the sources, or virtually 100 percent of all the sources, of marijuana today are clandestine. So there are a number of hurdles that need to be dealt with."
Judy Chu, a freshman Democrat who represents part of the Los Angeles area, answered the question about the legalization prop by recounting problems with medical marijuana, as did several others. "With everything going on in Congress, I haven't had the chance to study Proposition 19 to a point that I can take a position on it. I do know that current policy has led to a number of problems with the proliferation of dispensaries in countless Californian communities. Any change in law needs to address and fix these problems. At this time, however, I don't know if this law does that," she said in a statement.
The Democrat who represents Beverly Hills, Henry Waxman, said he was undecided. Mike Thompson, a Blue Dog Democrat who represents Humbolt County and grows grapes is also undecided, a spokesperson said. Spokespersons for Democrats Maxine Waters and Brad Sherman and Republicans Tom McClintock and Tom Campbell said their bosses had yet to announce a position.
Rep. Jim Costa, a Democrat representing San Joaquin Valley, said his decision on how to vote will have much to do with the position of law enforcement. "I would be inclined at this time not to support [the proposition]. I would want to see that law enforcement is comfortable. This would be a very significant change. I'd want to see whether or not they think this would make their job more difficult," he said.
Dan Lungren, a Republican who represents a suburban district outside Sacramento, surprised nobody by telling HuffPost he'd be voting against the proposition. As the state's attorney general, he waged a relentless war against medical marijuana.
Spokespersons for Republicans Jerry Lewis, Elton Gallegly and Mary Bono said they'd vote against the initiative.
In 2004, Karl Rove famously helped drive conservative turnout by putting anti-gay marriage initiatives state ballots. Some Democrats hope that marijuana - whether medical or recreational - can have a similar effect and drive youth turnout, which trends heavily Democratic. But the difference is that the GOP fully embraced intolerance toward gay marriage, whereas California Dems have a looser relationship with pot. That could lead pot-focused voters to turn out but cast third-party votes instead. Sen. Barbara Boxer (D-Calif.) faces a tough race that could be decided by a few votes either way; a new poll has her up by a mere three points.
At the state Democratic Party convention in April, Party Chair John Burton was asked how to re-energize Obama voters from 2008. "Pot," he said, according to Greg Lucas.
The state Democratic Party's executive board meets next weekend to consider whether to endorse Prop 19, but gubernatorial candidate Jerry Brown has already come out against it. A number of unions may weigh in as well. The United Food and Commercial Workers union is organizing medical "bud tenders" and the more legal workers there are to organize, the better it is for unions. The American Federation of State, County and Municipal Employees may also endorse. State workers, facing mass layoffs and wage cuts, would benefit from the billion-plus in revenue taxing marijuana could bring in.
Lucia Graves contributed reporting.
Calling all HuffPost superfans!
Sign up for membership to become a founding member and help shape HuffPost's next chapter