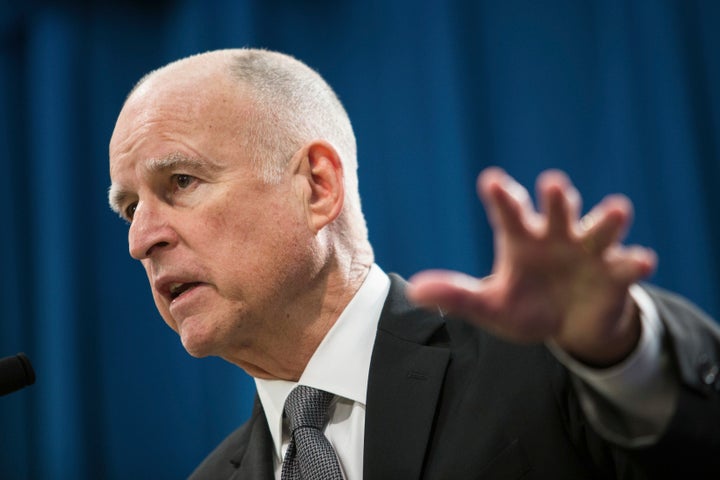 California Gov. Jerry Brown signed a "sanctuary state" bill on Thursday that will limit the extent to which local and state enforcement can cooperate with federal immigration officials. It's the most significant legislative step in the state's efforts to resist President Donald Trump's anti-immigrant policies.
The California Values Act, otherwise known as Senate Bill 54, blocks local police from "using resources to investigate, interrogate, detain, detect, or arrest persons for immigration enforcement purposes." The prohibited acts include detaining individuals solely at the request of federal immigration officials, making arrests on immigration warrants and inquiring into someone's immigration status. While many California cities have already adopted such policies, the new law extends those parameters to all law enforcement in the state, including school police.
"These are uncertain times for undocumented Californians and their families, and this bill strikes a balance that will protect public safety, while bringing a measure of comfort to those families who are now living in fear every day," Brown said in a signing statement.
The bill, authored by state Senate President Pro Tem Kevin de León (D), was introduced prior to Trump's inauguration. It seeks to limit the impact of Trump's immigration crackdown, specifically his actions targeting so-called sanctuary cities.
Chief among those moves was the president's January executive order that threatened to cut funding for cities that don't cooperate with immigration officials. While that order was blocked by a federal judge earlier this year, the administration has since taken other actions against sanctuary cities. Immigration and Customs Enforcement has ramped up arrests in several cities, and Attorney General Jeff Session announced plans to block federal crime-fighting funds for sanctuary cities.
"California's local law enforcement cannot be commandeered and used by the Trump Administration to tear families apart, undermine our safety, and wreak havoc on our economy," de León said in a statement on Thursday. "We will not stand idly by as President Trump and Attorney General Jeff Sessions seek to divide this nation by scapegoating honest, hardworking families and casting immigrants as threats to be neutralized."
While Brown has broadly supported efforts to protect his state's immigrant population, the Democratic governor wavered on SB 54 until the bill was amended to address some of his concerns. The revised legislation, unveiled in September, eased off some of the proposed restrictions on how local police could interact with federal officials, most notably allowing sheriffs to share information with the feds about individuals in custody who have been convicted of one of approximately 800 listed crimes.
The Brown-approved measure also lets federal officials interview people in local law enforcement custody.
"The goal here is to block and not to collaborate with abuse of federal power," Brown said in August. "It is a balancing act."
The changes to the bill weren't enough, however, for the California State Sheriffs' Association. The powerful law enforcement group continued to lobby against the legislation, arguing that it would put police in the position of defying federal orders to comply with state regulations.
"Our overarching concern remains that limiting local law enforcement's ability to communicate and cooperate with federal law enforcement officers endangers public safety," the sheriffs association said in a statement following release of the amended legislation. "The bill still goes too far in cutting off communications with the federal government."
The new law is set to go into effect in January. However, it's likely to face legal challenges from Trump's administration — Sessions called the bill "unconscionable" in September.
De León has said he's prepared to defend the law in court.
When asked about the bill during Thursday's press briefing, White House press secretary Sarah Huckabee Sanders didn't say whether the administration would push back against it.
"We are spending every day we can trying to find the best way forward; the president will be laying out his responsible immigration plan over the next week," she said. "I hope that California will push back on their governor's ... irresponsible decision moving forward."
"This action protects public safety and ensures hard-working people who contribute to our state are respected," Brown said of signing the package of bills.
This story has been updated with statements from Kevin de León, Jerry Brown and Sarah Huckabee Sanders.
Support HuffPost
The Stakes Have Never Been Higher
Popular in the Community