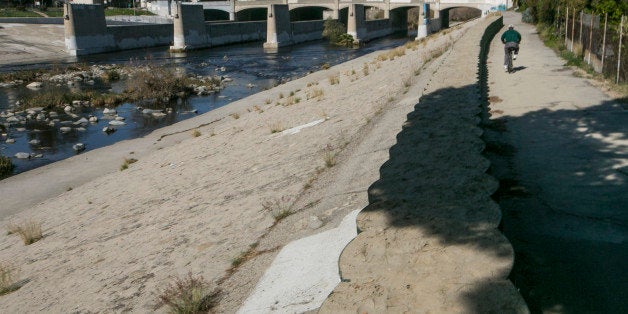 Tough leadership from Governor Brown has led to residential water consequences in the Golden State, intended or otherwise
While all eyes faced west for Super Bowl 50, a high pressure system parked itself over Levi's Stadium and much of California, leading to three weeks of the state's namesake weather. What El Niño? The weather sure wouldn't tip you off. Nor would the California State Water Resources Control Board (SWRCB), who continued California's Emergency Conservation mandate through October of 2016.

Those in the water community have warned of depleting reservoirs, snowpack and groundwater for years, but it was Governor Brown's 2015 Emergency Conservation Mandate that brought the concern front and center. Faced with the "worst drought in over a century", Governor Brown deputized the SWRCB to cut residential water use by 25% from 2013 levels, or else. Consequences were sure to follow.

And consequences we've seen. Yes, there have been a select number of communities penalized for disregarding the Governor's call to action. Yes, there is the unnerving trend of drought shaming: from neighborhood water snitching to baseball players, to 'wet princes'. And yes, there are millions in lost revenue that can be attributed to conservation success.

But wait, let's address that last point: Californians have cumulatively met or exceeded the Governor's unprecedented 25% conservation mandate, month-after-month. Rebate participation is at an all time high, and exhausted in many parts of the state. Homeowners are now more informed and know where their water comes from. School children can tell you how many gallons are required to grow a single almond. Brown is indeed the new green.

One of the consequences is California's surging 'Water IQ'. To put it in perspective and quoting San Antonio Texas conservation leader Karen Guz, "In a lot of places people reply 'the faucet' when asked what provides their primary water source."
Not so in California. At least not anymore. Thanks to exhaustive coverage, discussion and concern, Californians know that much of their fresh water comes from Sierra snowpack. Depleting snowpack and warmer temperatures puts California between a rock and a hard place.
That "Water IQ" is worth celebrating. The state, private and public water utilities, utility staff, home and business owners, and yes, the Governor should be applauded for how we've responded to crisis. Just this week the SWRCB announced that average per capita water use declined to 61 gallons per day, the lowest recorded since reporting began.
Here's the rub: that crisis isn't over. Not by a longshot and at least three years of above-average rainfall. The emergency mandate won't last that long but our actions and our investments will, so here are several steps we think will support water efficiency for this drought and the next:
You can't manage what you don't measure
Continued reporting will benefit the state. Existing measures have led to focused workshops and allocated resources in service areas that haven't hit their marks. Continued accounting will identify trends and areas of improvement.
Pick the low hanging fruit, not the whole tree
Not all regions are created equal - rainfall, evaporation rate, and population density vary throughout the state, and the SWRCB has done a good job in recognizing these differences in the amended plan. Same theory applies to households - certain households have a greater opportunity to conserve than others. In the Santa Ana Watershed we've partnered with OmniEarth, a geospatial analysis company, to map out household efficiency profiles - that is, those homes who can conserve the most. Empowering utilities to focus on the highest and most inefficient water users can realize conservation goals and result in durable water efficient behaviors....cost-effectively.
Empower the people
It's no surprise some people have found conservation to be difficult - they can access their bank account, daily steps and thermostat from the convenience of their phone, but are forced to wait until the end of the month for their paper water bill? Feedback is important when you're encouraging new behavior and people respond when made aware of their usage. In the City of Folsom, we've found an additional 8% conservation benefit among homeowners who can access their water usage on their smartphone. Rather than drought shaming, water utilities could be drought supporting the citizens they serve.
Under pressure, California has demonstrated an ability to work hard towards a goal. Drought response to date has been remarkable, and stakeholders at every level have sacrificed to reach the Governor's conservation mandate. Lessons learned and a nexus of political and technical investments taken will help us weather this chapter of drought and the next.
Related
Popular in the Community