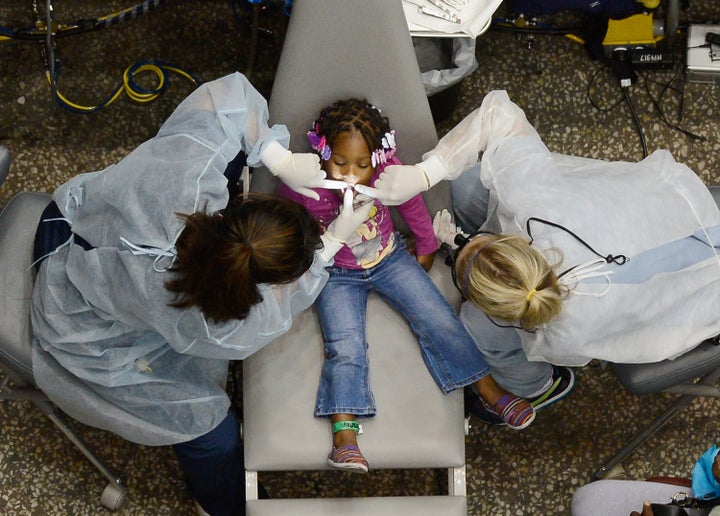 Widespread uncertainty about the impact of Obamacare was evident Thursday at Care Harbor's annual free health clinic at the LA Memorial Sports Arena, the largest single gathering of uninsured or underinsured people in the region. The clinic, which runs from Thursday through Sunday, is open only to the first 4,800 people who camped out in line for a wristband ticket this past Monday.
Leslie Marroquin, a 33-year-old man living in a San Pedro group home, was aware that President Obama had made a major change to health care in the United States, but he wasn't sure how it applied to him. He had been released from prison just five months ago, and he was at the Care Harbor event to replace two fillings he had received while incarcerated because they were still giving him pain.
"I heard he wants all Americans to have insurance, right?" asked Marroquin. "But how do you get it?"
Sitting behind him in line was Teresa Martinez, a 53-year-old Boyle Heights resident who has a part-time job but hasn't had health insurance in six years. Martinez said that her early-morning start at work doesn't leave her with much energy to learn about the Affordable Care Act.
"I haven't done any research," admitted Martinez. "I got to be at work at 3:30 in the morning."
Martinez and Marroquin, both U.S. citizens, could potentially benefit from the health care law. Officials have already pinpointed ex-offenders, NPR reports, as a group who stand to gain greatly from expansion of Medi-Cal, California's Medicaid program. And Martinez, who might earn too much to qualify even for expanded Medi-Cal, might still qualify for subsidized private insurance through California's Health Benefit Exchange ahead of the 2014 launch date.
For now, people like Martinez and Marroquin are grateful for the charity of professionals like Shoana Chau, a 25-year-old dental hygienist who has volunteered at Care Harbor three years in a row. Chau works two jobs, in clinics in Covina and Calabasas, and frequently encounters patients who have gone without dental checkups due to lack of insurance.
"Severe periodontal disease. Bone loss. Recession. Lots of lost teeth," she said, ticking off the most common problems she sees among the uninsured. "And the [teeth] they do have now are covered with tartar and bacteria."
For the first time in the Care Harbor event's five-year history, the dental clinic is making acrylic false teeth, or "flippers," on site. Flippers can play a crucial role in restoring confidence to those with missing front teeth, although they are not a long-term solution: They're only cosmetic, and wearers can't bite into an apple, for example, unlike with real dentures.
But people "can smile and talk again," said P.J. Atteberry, president of the LA Dental Hygienists' Society and a volunteer organizer at the clinic. "For a lot of people, that's the difference between having a job and not having a job."
Howard Kahn, CEO of the LA Care Health Plan, sees the four-day Care Harbor event as a opportunity for the county to get out the word about the Affordable Care Act. In an earlier interview with The Huffington Post, he touted 2012 as the clinic's most important year ever because of the opportunity for outreach about long-term solutions. His agency was at the LA Sports Arena in force on Thursday, manning tables where people could find out if they qualified for Medi-Cal or one of its expansion programs. Community leaders were also putting on informational sketches in a corner room to illustrate how the Affordable Care Act could affect patients without insurance.
But while California is ahead of the curve when it comes to implementing the health care law, LA County workers have a long way to go to reach the people who could qualify for programs like expanded Medi-Cal or the upcoming Health Benefit Exchange.
Out of the hundreds of individuals at the sports arena at any given moment Thursday, only a handful approached the LA County tables for more information about how to qualify for Medi-Cal or the expansion programs. At the first informational sketch of the day, only one patient was in the audience.
And it isn't just patients who are confused about the Affordable Care Act. Atteberry admitted that many in the dental industry don't have a "good grasp" on how the law might open up access to insurance. "It's hard to say. Children will have access, but as for adults, I don't know what the impact is going to be," she said.
But Atteberry does know what helped sparked the dental crisis: In 2009, California dropped dental coverage from Medi-Cal, cutting off millions from free, regular care.
"There really is no easy answer for them," said Atteberry.
Volunteers like Chau and Atteberry cited patients' gratitude as the reason they kept returning to work at Care Harbor. Dr. Roger Fieldman, director of the LA County Dental Clinic and head of dental volunteer services at Care Harbor, pointed out that underneath the smiles, more and more of the free clinic's patients are gritting their teeth in frustration.
"What you can tell is that people are a little more desperate," said Fieldman. "People are sleeping out longer [for tickets]. They're very, very anxious. They're telling sadder stories. They're a little more aggressively telling about their need."
Later on Thursday, security guards were called to deal with a small but angry group outside the stadium doors demanding to be let in. About two dozen people from around the city had rushed to the LA Sports Arena after seeing coverage of the free clinic on the morning news, not realizing that all 4,800 tickets had already been given out days ago.
The group finally dispersed after a Care Harbor volunteer handed out fliers for low-cost or no-cost medical services in the area.
Before You Go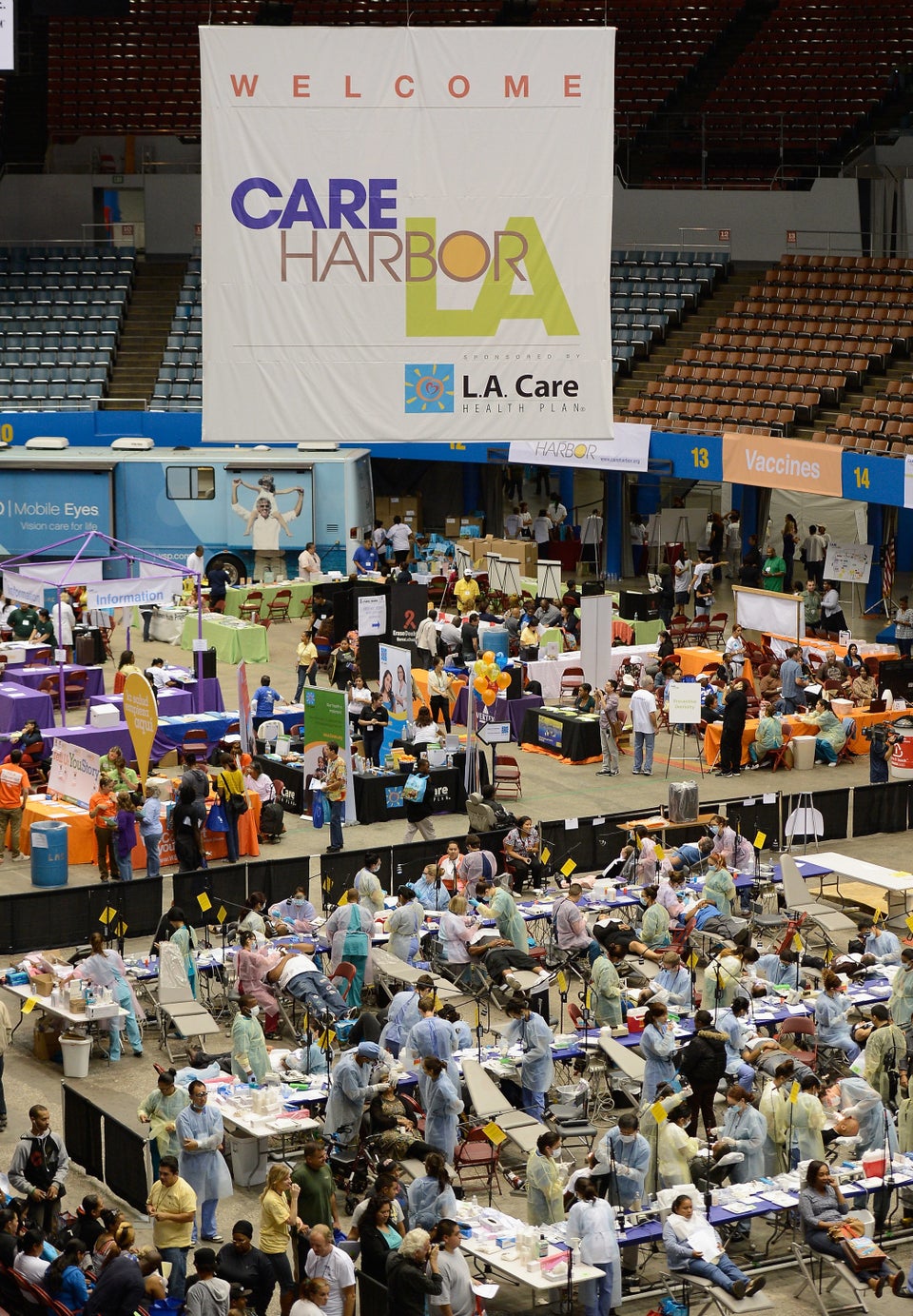 Care Harbor Clinic 2012
Popular in the Community