A 78-year-old political cartoonist has upset the LGBTQ community recently with a cartoon strip he first tweeted, then published in the "Opinion" section of the Santa Clarita newspaper The Signal on Friday May 20th, 2016.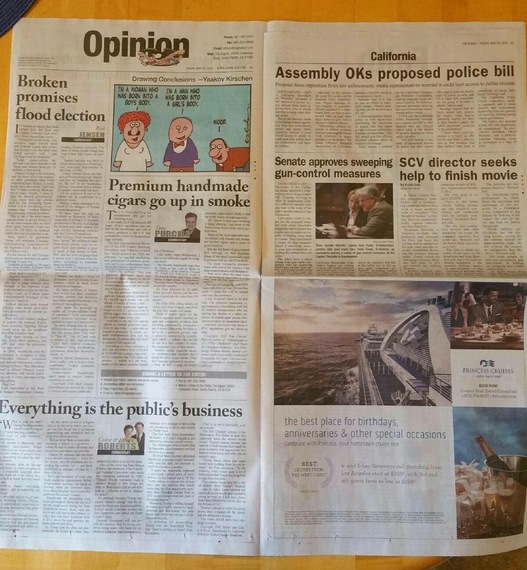 The cartoon entitled "Freedom of Self Identity" depicts a cartoon transwoman with a mustache and a statement above her head that reads " I'm a woman who was born into a boy's body" the character is standing alongside a cartoon trans man with text above his head that states "I'm a man who was born into a girl's body." Also included in the comic strip is an additional cartoon man on his hands and knees with the word "woof" above his head.
I've reviewed the cartoon myself and it's quite clear that Yaakov Kirschen is mocking trans people with this illustration. Insinuating that there is so much freedom of self identity & political correctness these days that a man can now identify as a dog.
Comparing transgender citizens to people who believe they are animals is especially callous and reckless given the fact over 41 percent of trans people will attempt suicide.
Additionally, stating that comic strips are mere opinion doesn't mean the editor should be entirely thoughtless when choosing what gets published. Free speech should by no means be used as a platform to promote ignorance or misinformation.
How exactly is ridiculing the transgender community through a lazy, ignorant comic strip supposed to help this 78 year old Israeli man on his quest to end hate and anti-Semitism? The answer? It doesn't.
Yaakov is taking the same ignorance, intolerance and hatred he allegedly fights against and is projecting it onto one of the most vulnerable, marginalized and sensitive communities out there through the publication of this comic strip.

I contacted Yaakov for comment and received no answer. Currently, there is a petition online hosted by change.org that needs 1000 signatures in hopes that the president and the publisher of The Signal, Chuck Champion will issue an apology. You are encouraged to sign as every signature counts.
Cisgender and trans people along with mothers and families have signed the petition, leaving comments displaying disdain for both The Signal Newspaper and cartoonist Yaakov Kirschen.
In the midst of all this, it's good to see that the trans community has such a variety of supporters on their side from across the country.
Besides the insults to the trans community, what's disappointing is that a person like Yaakov who has a platform and a voice is using it in a way that is insensitive and imbecilic.
His comic strip was not only unhumorous and unintelligent, but it also appears the cartoon characters themselves require no artistic skill whatsoever.
To know that he is working to end ignorance make his actions even more irresponsible and bewildering. Though he's been drawing stick figures on paper for over 40 years, Yaakov's biggest accomplishment these days is Hypocrisy. Plain and simple.
A small print publication like The Signal should consider themselves lucky to still exist given the technological world we live in today where any magazine or paper can be reached with the touch of a person's phone.
It's too soon to determine whether the trans community will ever receive a formal and well deserved apology from the parties involved.
And while the publishing of this mediocre cartoon has offended many, this situation is a much larger indicator of the uncultured and deficient abilities of Yaakov Kirschen and The Signal Newspaper to produce real and sensible journalism.
Stay strong my trans brothers and sisters. We are much more resilient than this.

No weakling publication or talentless illustrator can keep us down or stop us from being who we are.
We will continue to shine through all of the ignorance and foolishness displayed by those who lack knowledge.
We are beautiful, it is our society that is ugly. Always remember this.
REAL LIFE. REAL NEWS. REAL VOICES.
Help us tell more of the stories that matter from voices that too often remain unheard.