WASHINGTON -- Negotiations over a must-pass bill to avert a government shutdown have stumbled on an unlikely roadblock that has nothing to do with government spending or federal debt. Rather, it would hand heftier profits to a handful of private equity firms by amending a Depression-era bankruptcy law.
Listen to HuffPost discuss the controversial rider in the latest episode of the politics podcast 'So That Happened,' embedded above. The fun begins at 22:30.
Senate Banking Committee Chairman Richard Shelby (R-Ala.) nearly succeeded in attaching the private equity aid to a highway funding bill earlier this month, but the measure was stripped at the last minute amid opposition from liberal Democrats. Senate Minority Leader Harry Reid (D-Nev.) is now the lead champion of Shelby's provision, and is seeking to include some version of it in a bill to fund the federal government.
The policy rider would help two powerful financial firms -- Apollo Capital Management and TPG Capital -- exact financial concessions from other investors involved in a bitter battle over the fate of the Caesar's Palace casino empire. The New York Times' Gretchen Morgenson reported on the dispute in the fall of 2014, noting that Apollo and TPG were facing off against creditors that included a pension fund for California teachers.
Apollo and TPG own Caesar's Entertainment Corp., a casino empire that operates, among many properties, the famed Las Vegas gambling house. Caesar's has faltered under a heavy debt burden incurred by the complex deal that allowed Apollo and TPG to take over the company. Those two owners now want to shed that debt without formally declaring bankruptcy, since a bankruptcy court would require them to take heavy losses.
Their efforts run afoul of the 1939 Trust Indenture Act, which bars companies from rewriting the terms of bond deals without the consent of the bondholders. The rider being pushed by Reid and Shelby would allow Apollo and TPG to proceed with plans to force financial concessions from other investors.
The effort has created consternation among liberal Democrats in Congress and many academic securities law experts. On Thursday, 20 House Republicans joined the dissent, writing a letter to Speaker Paul Ryan (R-Wis.) and Majority Leader Kevin McCarthy (R-Calif.) urging them to reject the maneuver being backed by Reid and Shelby.
"[The] amendment would suddenly disrupt the settled expectations of creditors who in good faith relied upon long-established features of federal securities law," the letter reads. "This retroactive proposal has not been the subject of public hearings."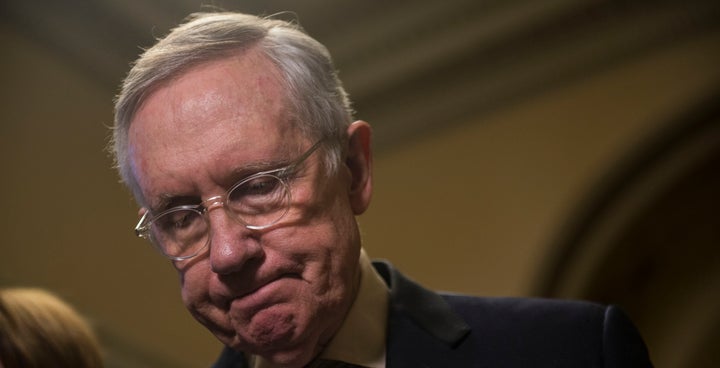 The policy rider could also help the faltering for-profit education giant Education Management Corp. EDMC is owned by the private equity firm Kohlberg Kravis Roberts, and recently lost a key court case over the Trust Indenture Act brought by one of its bondholders, Marblegate Asset Management. EDMC recently paid $95.5 million to settle fraud charges with the Department of Justice, and sources close to the talks told HuffPost that the latest version of the policy rider is intended to cut them out of the legislation's benefits. It is not clear that it would in fact do so.
A bankruptcy filing is never a good sign for a company, but it doesn't necessarily require it to shut operations, lay off workers or be liquidated. Bankruptcy courts can reorganize the finances of troubled companies. They can wipe out debt, but give debtholders stock in the reorganized firm. Stockholders typically take hefty losses or are wiped out entirely. Those basic tenets of corporate investing have been recognized for decades.
Supporters of the Reid-Shelby plan, including the hotel and casino workers union Unite Here, argue that averting bankruptcy will prevent thousands of jobs from being jeopardized. They also argue that without congressional action, predatory vulture funds can force companies into bankruptcy by purchasing distressed debt and then refuse to negotiate, giving them an opportunity to strip the company's assets in bankruptcy. Bankruptcy proceedings are presided over by a federal judge who is charged with ensuring that all parties are treated fairly.
Earlier this week, 18 law professors wrote Reid and other congressional leaders urging them not to revise the Trust Indenture Act without a more rigorous review process that would include public hearings. The Senate Banking Committee, which Shelby chairs, has held one policy hearing and one markup hearing since September, according to its website. The committee has held just four other policy hearings since June. None of the hearings involved the Trust Indenture Act.
"So That Happened" was produced, edited and engineered by Adriana Usero and Peter James Callahan, with assistance from Christine Conetta.
To listen to this podcast later, download our show on iTunes. While you're there, please subscribe to, rate and review our show. You can check out other HuffPost podcasts here.
PHOTO GALLERY
Scenes From 114th Congress And Capitol Hill
REAL LIFE. REAL NEWS. REAL VOICES.
Help us tell more of the stories that matter from voices that too often remain unheard.