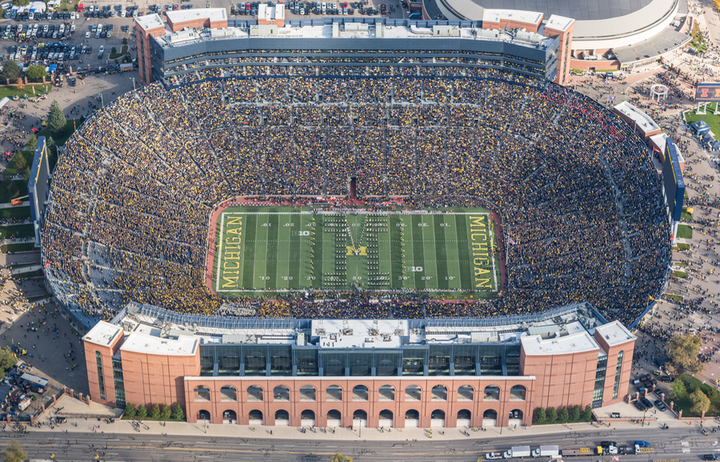 Think 130 times more people than shown in this photo of the stadium at the University of Michigan.
Think 14 times more people than than this photo of a march in Washington D.C. shows: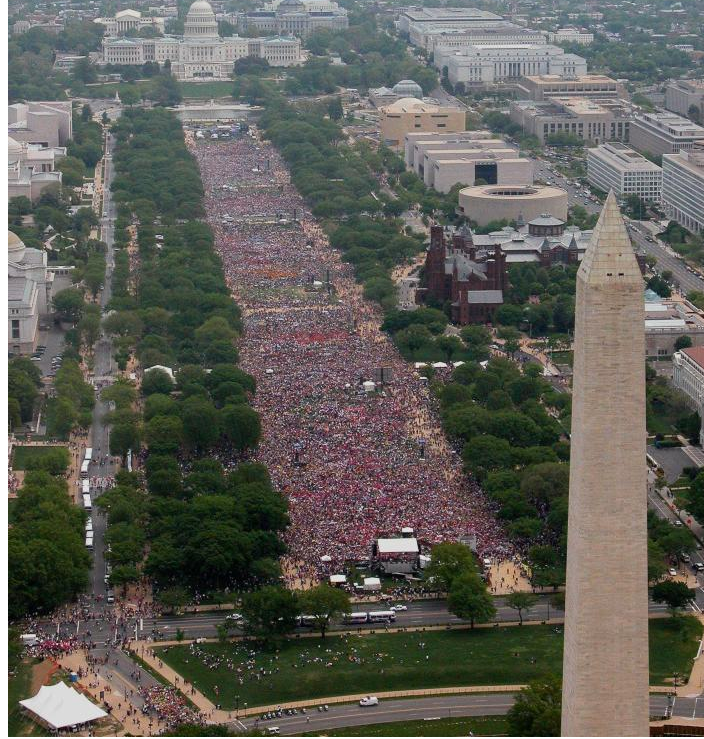 Yesterday, the highly respected Congressional Budget Office (CBO) did what it does: It announced some numbers.
The anxiously-awaited CBO report, American Health Care Act, offers a quantitative analysis of the impact of the Republican effort to gut the Obama administration's signature accomplishment, the Affordable Care Act, and replace it.
The CBO projects that 14 million Americans will lose health insurance coverage within a year, by 2018, if the plan as currently proposed by Republican leadership is passed.
Fourteen million is a stunning figure because of the reality that uninsured adults in the United States have poor access to health care services and worse health outcomes than insured adults. (This is a real and non-fake fact, repeatedly proven by years of actual research.)
So, How Many is 14 Million People?
Wrap your brain around this:
14 million is 35 times the number of people buried in Arlington National Cemetery, the nation's second largest cemetery; see photo below. (Some unfortunate people will lose their lives due not to untreatable conditions but rather to lack of health insurance.)

14 million is over three times the estimated 4.5 million people either injured or killed in car accidents in 2016. (Will "lack of health insurance" become a leading cause of death?)
14 million patients would be enough to fill to capacity the nation's largest hospital every day with an entirely new set of patients, for over fifteen years. That would New York-Presbyterian Hospital/Weill Cornell Medical Center with about 2300 beds. (When folks don't have health insurance, they rely on the ER, which is the most expensive portal into the health care system.)
14 million is about three and a half times the number of babies born every year in the US. (Some pregnant women will likely unable to obtain adequate prenatal care under the proposed GOP legislation.)
14 million is twice the population of Massachusetts (where a policy with similarities to the later Obamacare was initiated in 2006 by then-governor Republican Mitt Romney).
14 million is 10 times the population of Maine (whose Senator Susan Collins has expressed misgivings about the GOP bill).
14 million is 2.5 times the population of Colorado (whose Senator Cory Gardner might think twice about making life harder for the one in five Coloradans who are Medicaid-dependent).
14 million is about 2.5 times the population of Republican House Leader Paul Ryan's home state of Wisconsin. Janesville, where he was born, had a population of 63,000 in 2013; the legions of the newly uninsured would populate this small city, and also his college alma mater, Miami University in Ohio, hundreds of times over.
14 million is about six times the population of Houston, slightly less than ten times the size of Phoenix, and over sixteen times the size of Columbus, Ohio (whose citizens might want to pick up the phone and call their Members of Congress immediately to oppose the Republican plan).
14 million is 130 times the size of a capacity crowd in the nation's largest football stadium, Michigan Stadium (a state in which "continuing the (ACA) Medicaid expansion in 2017 and beyond will have clear economic benefits for the state," according to a New England Journal of Medicine article by John Z. Ayanian, M.D.)
14 million is larger than the population of Tokyo, and twice the size of Hong Kong.
14 million is larger than the population of São Paulo, Brazil, and 1.5 times more than that of Cairo.
14 million is 8 times the resident population of Manhattan.
Popular in the Community