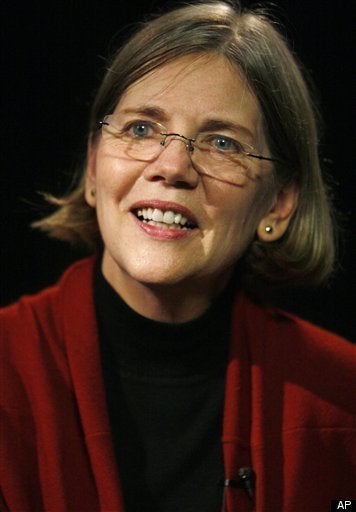 WASHINGTON -- The new Consumer Financial Protection Bureau rolled out a preliminary version of its website on Thursday, and with it a few indications about the agency's plans to crowdsource prospective regulations that may soon target shady payday lenders.
The CFPB hopes to use its website at consumerfinance.gov to collect data not just from banks, but from consumers, in order to monitor trends in various lending markets. While they're still devising specific plans, the agency hopes to have an active public presence, with a simple, closely-watched platform for borrowers to submit complaints. Elizabeth Warren, an adviser to President Barack Obama who is charged with setting up the bureau, told HuffPost in October that she hopes to use crowdsourcing to enhance the regulator's impact.
One of the agency's crowdsourcing initiatives may involve payday lenders and check-cashing shops. Because these businesses are often small operations, they can be difficult for federal officials to track, appearing in a neighborhood only to disappear a few weeks later.

Citizens could organize to take photos of new payday lending or check cashing products, and upload those photos to the CFPB website. That could help notify other members of the neighborhood about potentially-troublesome local companies, as well as helping the regulator build a list of shops to investigate.
As Warren said in a speech at the University of California at Berkeley in October, "Through crowd-sourcing technology, consumers can deal collectively with those who would take advantage of them--and can reward those who provide excellent products and services."
Payday lenders provide short-term, high-interest loans to consumers that critics say are designed to be difficult to repay, often encouraging consumers to repay one payday loan with another. This can lead to a vicious -- and expensive -- cycle of debt.
Members of the U.S. military are a particular target for high-interest lenders. A 2006 Department of Defense report concluded that payday lending was having a negative effect on military readiness and troop morale.
The CFPB is yet to formally detail any specific programs, but the bureau hopes to submit new consumer-protection ideas to the public on its website and allow borrowers to voice approval or disapproval through an online voting system.
The bureau's website stresses the struggles facing borrowers. A "Protecting You" page features three stories from borrowers who have had problems with their bank, emphasizing that the CFPB hopes to respond to similar cases.
The new website's design represents a considerable change of tone from the consumer-complaint resources available from the Office of the Comptroller of the Currency, previously the ostensible go-to for borrowers. The OCC's consumer call center, based in Houston, has long been criticized by state banking regulators and public-interest groups for being inattentive to consumer complaints.
In December 2007 testimony before the House Subcommittee on Financial Institutions and Consumer Credit, Ed Mierzwinski, Consumer Affairs Director for the U.S. Public Interest Research Group, noted that some state regulators referred to the call center as "OCC's black hole in Houston." The OCC, which declined to comment for this story, rolled out its helpwithmybank.gov website in 2007 in response to criticism that its call center is clunky, but many consumer advocates say the regulator remains clunky and unhelpful.
The banking horror stories on the CFPB's site are reproduced below:
Karen, 32, is an airport security supervisor from Pennsylvania. When she refinanced her mortgage, her broker promised her a low fixed-rate loan but instead gave her two more expensive loans. Why? She didn't know it at the time, but giving her both a large adjustable-rate first loan and a second smaller loan increased the fees she paid to the broker. Karen told the lender what she had in savings and her income, but the broker changed the numbers on her form. (Some brokers changed numbers in order to make borrowers eligible for higher loan amounts than they could otherwise qualify for--and to close a deal for a bigger mortgage that will give the broker bigger fees.) The broker scheduled Karen for a late-night closing and did not give her the closing documents at the time of closing, so she was not aware of these changes. The consumer bureau will work to prevent similar abuses, in part by enforcing the requirement in the Dodd-Frank Wall Street Reform and Consumer Protection Act that mortgage lenders document and verify a borrower's income or assets before making a loan to ensure that the borrower can afford to repay it.

Robin, 55, is a seventh-grade science teacher from Georgia. Her credit card company increased the rate on her existing credit card balance from 10.90% to 17.90%, even though she paid her account on time every month. The increase has been particularly difficult for her family because her husband's landscaping business has been hard hit recently by the financial crisis. The consumer bureau will enforce the Credit CARD Act, which President Obama signed in 2009 to ban credit card issuers from arbitrarily raising rates on existing balances and other unfair practices. The CFPB will also be responsible for updating the credit card rules moving forward.

Andrew, 62, is a retired Baltimore police officer and Vietnam veteran who manages a fitness center for seniors. Andrew had both a primary checking account and a separate "veteran's account" in which he received $123 in benefits each month. In 2009, his bank made a mistake that caused confusion about a replacement debit card for one of his accounts. The bank had also automatically enrolled Andrew's veteran's account, including transactions using the debit card, in "overdraft" protection that he never asked for--a practice that has since been prohibited. When Andrew used the replacement card--expecting it to withdraw from his primary checking account--he was hit with hundreds of dollars in overdraft fees on his veteran's account. Andrew discovered the bank's error and explained the situation, but the bank was willing to refund only part of the fees. The consumer bureau will examine big banks to ensure that they are following the rules that now require banks to give consumers a real choice of whether to join overdraft protection programs for ATM and debit card transactions. The CFPB will update those rules to respond to changes in the marketplace over time.
Calling all HuffPost superfans!
Sign up for membership to become a founding member and help shape HuffPost's next chapter