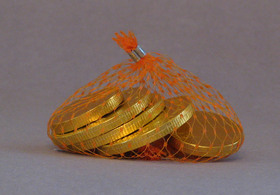 A friend recently described tasting some chocolate as "more." Each bite makes him want "more" chocolate. That is how I think about Chanukah: it creates more opportunities for chocolate! Here are eight ideas to add "more chocolate" to each night's celebration of Chanukah.
On the First Night Chanukah: November 27, 2013
Sing: Woody' Guthrie's "Hanukah Gelt" Song

Woody Guthrie wrote the lyrics for a number of celebratory Chanukah songs collected as "Happy Joyous Hannukah CD" by the Klezmatics in 2006. Guthrie came to know Coney Island's Jewish Community through his mother-in-law, the Yiddish poet Aliza Greenblatt, when he moved to Brooklyn in 1942. These songs were discovered in 1998 by his daughter, Nora Guthrie, who then requested that the Klezmatics record them. You may hear the freilach Woody Guthrie Chanukah Gelt song at: Woody Guthrie Chanukah Gelt and the lyrics.
On the Second Night of Chanukah: November 28, 2013
Bake: Peanut Butter Chanukah Gelt Cookies
Meld Thanksgiving with Chanukah's second night by enjoying two native American foods, peanuts and chocolate. This easy treat maintains the shape of the chocolate gelt on top of the peanut butter cookie. Here is the recipe:
Ingredients:
1 cup peanut butter (crunchy or smooth)
1 cup sugar
1 egg
Approximately 36 chocolate Chanukah gelt coins
Instructions:
Beat the peanut butter, sugar and egg together. Shape cookies in rounds with flat tops to the size of the gelt. Bake on buttered cookie pan at 350º for about twelve minutes. While warm but somewhat cooled from the oven, gently press one piece of gelt on each cookie. Cool.
On the Third Night of Chanukah: November 29, 2013
Compare: Gelt Samples

Run a taste test of several different chocolate gelt options. Rate the quality of the taste, the crunch, and the social justice aspects of the chocolate. Is it a kosher product? Fair trade? Is the chocolate milk or dark? Are there other unusual ingredient add-ins? Is it organic chocolate? Is the company concerned with green packaging?
Consider including companies such as Elite, Steenland, Foiled Again, Divine, Veruca Chocolates, Mama Ganache Artisan Chocolates and any others you may find.
On the Fourth Night of Chanukah: November 30, 2013
Discuss: Child Slavery in Some Chocolate Growing Countries
As Chanukah nights deepen into winter, drink in some knowledge about the tragedy of child slavery and labor in chocolate growing countries such as Ghana and Ivory Coast. Watch one or more of the following videos:
*The Dark Side of Chocolate-An investigation into trafficking of children in cacao plantations of West Africa; also available inexpensively from greenamerica.org.
On the Fifth Night of Chanukah: December 1, 2013
Explore: Fair Trade Chanukah Gelt
When celebrating Chanukah's messages of liberation from tyranny, learn about fair trade chocolate and make a commitment to fair trade Chanukah gelt. Consider how the Chanukah values apply to our selection of gelt. Use very readable and accessible materials available on line at:
Spinning the Dreidel for Chocolate Gelt
Here is a music video about Chanukah gelt to tack onto your candle lighting for the sixth night. Maybe you will also create your own rap or video. Have fun with the Chanukah Gelt Rap.

On the Seventh Night of Chanukah: December 3, 2013
Try: Chocolate Latkes
Here is another opportunity to combine New World foods, specifically, potatoes and chocolate. Try sprinkling cocoa nibs, chocolate shavings or chocolate chips on your latkes. Or, drizzle some chocolate sauce over them. Or, mix cocoa nibs into the latke batter and then fry. Here is our favorite, basic latke recipe.
On the Eighth Night of Chanukah: December 4, 2013
DIY: Chocolate Gelt
Round off Chanukah week by crafting your own homemade gelt using your favorite chocolate. Here are some suggestions for doing it yourself.
Happy Chocolatey Chanukah!