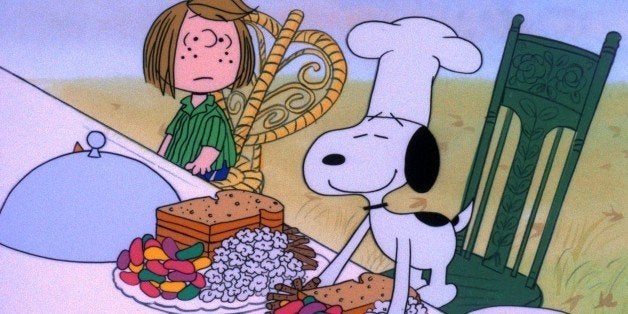 Back in 1963, when I was honored to produce a documentary on cartoonist Charles Schulz, I couldn't have imagined that half a century later I'd be marking another milestone.
This Thanksgiving night, there will be two anniversaries celebrated on network television (ABC-TV): the 392nd anniversary of the first Thanksgiving in the autumn of 1621 -- at least, the version of it seen in This is America, Charlie Brown: The Mayflower Voyagers -- and the 40th Anniversary of A Charlie Brown Thanksgiving.
Charlie Brown will star in both specials -- not bad for a "loser"!
This is America, Charlie Brown stars the Peanuts characters sailing on the Mayflower and joining the settlers at Plymouth, based on the factual account by the Pilgrim's leader, Governor William Bradford.
A Charlie Brown Thanksgiving was the 10th of our eventual 50 Peanuts network specials, and happily it has joined with A Charlie Brown Christmas and It's The Great Pumpkin, Charlie Brown as an annual TV favorite, for which we are most grateful to viewers everywhere.
Charles Schulz drew over 18,000 comic strips (unassisted!) over a half century. He wrote all the television shows as well, and one of his favorites was our Thanksgiving show. He thought it would be very entertaining to see how kids would create a Thanksgiving dinner with no clue what to do. Along with a dog for good measure.
So we find a dinner that includes toast, eggs, pretzels, jelly beans, and chocolate Sundaes. And the key treat: a tribute to the Pilgrims and Native Americans with Snoopy cooking popcorn!
We had a rare, minor dispute during the creation of the show. Mr.Schulz insisted that Woodstock join Snoopy in carving and eating a turkey. For some reason I was bothered that Woodstock would eat a turkey. I voiced my concern, which was immediately overruled.
Years later, when CBS cut the show from its original 25 minutes to 22 minutes, I sneakily edited out the scene of Woodstock eating. But when we moved to ABC in 2001, the network (happily) elected to restore all the holiday shows to the original 25 minutes, so I finally have given up.
A Charlie Brown Thanksgiving may be the only Thanksgiving special (live or animated) that does not include adults. Our first 25 specials honored the convention of the comic strip where no adults ever appeared. (Ironically, our Mayflower special does include adults for the first time.)
The only adult represented in most of the shows was the offstage teacher. We asked our brilliant composer-musician, Vince Guaraldi, if he could create a voice with an instrument. He came up with the trombone, and its WAH-WAH-WAH has become one of the most famous elements in all our shows... now even a part of daily speech in America.
Guaraldi was one of the main reasons our shows got off to such a great start. His "Linus and Lucy," introduced in A Charlie Brown Christmas, set the bar for the first 16 shows for which he created all the music. For our Thanksgiving show, he told me he wanted to sing a new song he had written for Woodstock. I agreed with much trepidation as I had never heard him sing a note. His singing of "Little Birdie" became a hit.
As a tribute to the original animation of Walt Disney, Mr. Schulz asked Bill Melendez, the brilliant co-director and co-producer on this and other Peanuts specials, to create a dramatic fight between Snoopy and a lawn chair. That's the only time we had a scene like that. Snoopy's screaming (as in all the shows) was the voice of Melendez. He would record gibberish and then speed it up ten times. Bill was also the voice of Woodstock.
In the final scene, Linus reads the final prayer from Elder William Brewster at the Pilgrim's first Thanksgiving dinner. Little did we know that 13 years later we would actually animate that first dinner in our Mayflower special.
People often ask me why I think Charlie Brown has remained so popular for 63 years in the comics and nearly 50 years on network television. Not to mention how the characters have permeated every facet of American culture -- quoted daily in movies, TV shows, newspapers, politics, books and just everyday discourse.
Charles Schulz said that he felt that Charlie Brown was the kind of nice kid that people would like to have as their next-door neighbor. Thus his popularity.
I also think that people identify with Charlie Brown's daily struggles and the fact that he always gets up "off the ground" to try again -- whether trying to kick the football (in the Thanksgiving special, Lucy tricks him by saying that kicking the football is a Thanksgiving tradition), or pitching the always-to-be-hit baseball, or trying to be with the little red-haired girl.
I give my personal thanks every Thanksgiving for the great privilege of having worked with Charles Schulz and Bill Melendez for 38 years. They reflected -- in a marvelous way -- the more innocent, fun-loving times of days gone past. And thanks, too, to our three generations of loyal viewers.
Popular in the Community