Today I faced a choice. The plan was to watch my new film 'Circle of Abstract Ritual' on a 40ft screen in Griffith Park, Los Angeles as part of the Kickstarter Film Festival, while relaxing on the grass with friends. It was supposed to be a small moment of victory, and I was looking forward to taking the day off; I'm worn out. I've been chasing fires all summer in service of a time lapse film focused on one of the effects of a warming planet, as well as shooting for another production while on standby for the next blowup.
But a fire broke out in Orange County, California near the city of Corona. I headed for the fire immediately after hearing about it at around 10am (okay, so it was an easy choice). The goal was to meet up with extreme weather chaser, Sean Casey. You've probably seen his specials at some point or another. He's the guy shooting old school IMAX film and driving a crazy homemade tank-truck into hurricanes; an all American badass. He found out I was working on a fire film project, and wanted some shots for his next feature. Now I'm working on both projects in tandem AND my other film. Whew.
The goal was to meet up with Sean's crew and shoot the fire. I headed up Silverado Canyon and was allowed through the first police check point, but at the second I was informed that any further advancement would have to be on foot. That meant at least half my gear would be left behind, and there was no sign of Sean. I knew he was there somewhere, along with my other fire chasing buddy, Stuart Palley (Google his night fire photos, they're fantastic).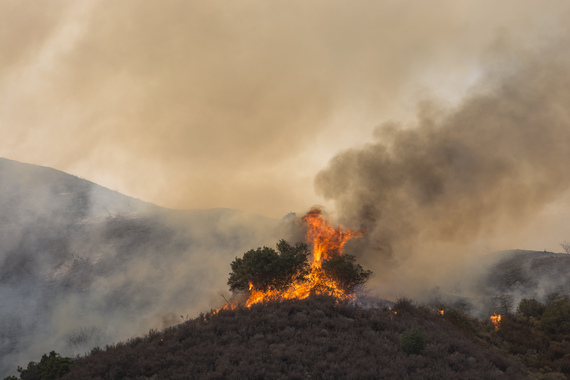 As the fire moved down the ridge the tree on the right was burned to a crisp, but the tree on the left remained relatively unscathed
I figured I'd run into them eventually, so I grabbed my pack filled with three cameras, five lenses, about a dozen memory cards, time lapse gadgets, a bottle of water and a pack of turkey jerky. The pack was heavy, especially after I strapped two tripods to it (approximately 60 pounds). The road wasn't very steep, but it took no time at all before I was sweating buckets under my fire gear and the heavy pack. Once I got there it was obvious that I had made the right call despite all the huffing and puffing.
Fire and crews were everywhere, and I immediately set about recording everything in front of me. Because of the severe drought, the entire place was a giant tinder box. Fuel was everywhere: dried out trees, long grass, leaves, homes in the canyon, etc. In a fire a canyon can act as a chimney when air flows through it. Chimneys lead to explosive fire behavior. There was only one way in and one way out of Silverado Canyon. The whole thing made me nervous. I was on foot, and far from my vehicle. I ran out of water after the first hour or two, but was able to refill my bottle with a residents garden hose. The wind was mild, so I kept shooting and moving up the canyon. I kept an eye out for Sean and Stuart, but they never surfaced.
I shot until 11pm before convincing someone into giving me a ride back down the mountain. That's an early night for me; I often stay up all night long on fires, but I had been hiking all day and I still haven't recovered from the last trip to Yosemite (I've been up there three times in two weeks). On the way back to LA I bought a double shot of espresso from the gas station and chugged it while scaring people on the freeway with my erratic sleep-deprived driving. I knew I'd need the energy to write this and cherry pick stills from the 7,896 photos I took before going to sleep.
Hopefully my friends aren't too pissed at me for ditching my own thing without explanation. What can you do?
REAL LIFE. REAL NEWS. REAL VOICES.
Help us tell more of the stories that matter from voices that too often remain unheard.