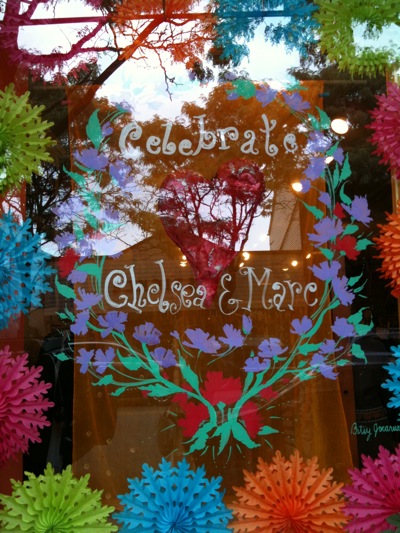 Window art by Betsy Jacaruso
Well, Bill Clinton has done it again--blown through town and left peace and prosperity in his wake. Suddenly, Rhinebeck became a 'sleepy', 'moneyed' village--or at least that's how the press portrayed us. We hardly recognized our bustling, mixed-income community.
We had trouble recognizing the hundreds of wedding guests who were bused in for the big day, too. What, no Oprah? No Babs? Where was the Donald?
"There was a palpable disappointment around town," Hudson Valley News editor Jim Langan told the Washington Post, when "they realized that the biggest celebrity was going to be Ted Danson."
Hey, speak for yourself, Jim. I happen to be a big fan of Danson's. After all, he's been going to bat for our embattled oceans for more than two decades. He founded the American Oceans Campaign (now known as Oceana) in 1987. Last year, Danson narrated the feature film End of the Line, a terrific, must-see documentary about the catastrophic consequences of overfishing. Celebrity chef Mario Batali found it so compelling he screened it for his entire staff in New York, Las Vegas and Los Angeles.
I'm sure that Langan was disappointed, since he's the one who fed the press those whoppers about celebrity guests in the first place. Oh, and Obama--he was going to arrive at Astor Courts by parachute, kayak, camel, or some combination thereof, I think.
Jon Stewart compiled a montage of the inane, inaccurate reporting, noting that the "news imagineers" set "a new record for most amount of media gaining the least amount of information."
Estimates of the wedding costs escalated daily: three million! Five million! No, six. Washington Post gossip columnist Amy Argetsinger told CNN, "Honestly, these numbers are coming from nowhere, really." Translation: we pulled those numbers out of our collective ass, along with the bogus guest list.
Whatever it cost, I'm happy to say that Chelsea and Marc got the wedding they wanted. They couldn't have asked for a more beautiful day; in a month of record-breaking heat and humidity, Saturday was gorgeous, dry and pleasant.
They wanted the guest list limited to friends of the bride and groom, and it was. The wedding planner, Bryan Rafanelli, asked the vendors not to talk, and they didn't.
Even the local farmers who provided some of the food couldn't spill the beans. And I'm really sorry about that, because I was hoping our awesome Hudson Valley farmers might get a shout-out in the national press.
At the Rhinebeck farmers' market on Sunday, I asked one of our best-loved organic growers whether her family's produce had graced the menu. "You know," she said, wistfully, "they did ask if we could provide them with heirloom tomatoes, but ours just weren't ready yet."
She was, nonetheless, deeply grateful that the wedding planner reached out to the local farmers. "It's so hard, what we do, and we get so little support," she said, adding "I've got family who farm in Germany and the government gives them so much more help."
A brand-new report commissioned by the Robert Wood Johnson Foundation backs her up, noting that fruit and vegetable growers face all kinds of obstacles. They lack "a safety net to protect them from natural disasters" the way that our agricultural policies protect the corn and soy farmers. Plus, our loan and conservation programs don't address the unique challenges of growing and marketing fruits and vegetables.
Farmers who raise their cattle humanely and sustainably on pasture instead of in factory farms face similar obstacles. Unlike the National Cattlemen's Beef Association, they haven't got millions to spend on marketing--or misspend on lobbying, as the New York Times documented on Monday.
That's why I'd love to tell you about our favorite grass-fed farmer who provided the short ribs for the wedding. But I can't--and I won't tell you about the local farm that contributed the peaches, either, because I have to respect the Clinton and Mezvinsky families' desire to keep the entire affair--down to the most minor details--private.
We all have our own agendas; two of mine happen to be championing our local farmers and encouraging folks to eat more mindfully. That's why I was so glad to know that the wedding menu included fruit, veggies and grass-fed beef from nearby farms.
And I hope Chelsea Clinton's going vegan will inspire more folks to adopt Mark Bittman's "vegan till 6" strategy, or join the Meatless Monday movement.
But it was Chelsea and Marc's agenda that ruled the day, and rightly so. As Tina Brown noted on the Daily Beast:
There are many reasons why this post-presidential family affair in a rented Rhinebeck mansion gave off the best of vibes despite so many outside pressures to turn it into a royal (at best) or Hollywood (at worst) extravaganza. First, it's clear that Chelsea Clinton is a parenting triumph. This 30-year-old is smart, serious, composed, and devoted...despite being raised by two driven, world-famous parents whose worst marital crisis, erupting just as she enrolled at Stanford, spilled onto the global stage in the rawest, most embarrassing manner possible.
I'm proud of all the local folks who helped the Clintons and Mezvinskys pull off the discreet, private wedding they wanted despite the media frenzy--and that includes Kathy Hammer and her husband Arthur Seelbinder, at whose estate, Astor Courts, the wedding took place.
As I wrote in my pre-wedding post last week, Kathy shares my interest in promoting local and sustainable agriculture. The Astor farm once supplied meat and produce to the Waldorf-Astoria hotel, and it's no coincidence that another legendary Manhattan hotel, the St. Regis, catered Chelsea's wedding. Kathy would love to see Astor Courts reestablish that rural-urban connection.
But she vowed not to exploit this event to further her own agendas, whether it be supporting Hudson Valley farmers, or finding a buyer for Astor Courts, which was on the market prior to the wedding.
Now, it's back on the market, and in the one sour note to an otherwise sweet affair, the Wall Street Journal published an article Wednesday implying that the owners of Astor Court may have used the wedding as an opportunity to stage a "grand open house."
As the article notes, the property is being marketed by a Tennessee-based company, SMPO Properties, which may explain why a post-wedding ad appeared in the New York Post announcing the availability of Astor Courts in an inelegant way that offended the tender sensibilities of that paragon of good taste, Donald Trump.
Trump huffed and puffed, saying "Over the years, I've seen many tacky things take place in the wonderful world of real estate, but never have I seen anything so bad."
Evidently he never looks at the monstrous, gold-plated monuments to his boundless ego that he's inflicted on the rest of us. Let's face it, having Donald Trump brand you as tacky is like being accused of being a homophobic, anti-semitic, misogynistic racist by Mel Gibson.
The gleeful Gothamist headline about the brouhaha said it all: Donald Trump Calls Someone Else Tacky.
But my favorite headline about the wedding comes from queerty.com: Bryan Rafanelli, Homosexual Event Planner, Successfully Pulls Off Chelsea Clinton's Wedding.
Kudos to Bryan! That's only slightly less momentous news than the very welcome ruling that California"s Prop 8 has mercifully been ruled unconstitutional. Will Rafanelli get to share his wedding day flair with some lucky same-sex couples in the Golden State? If he does, you can bet those affairs will be as marvelous and memorable as Chelsea and Marc's big day was. No gate crashers, no paparazzi, and no Donald. Because that would be tacky.
Calling all HuffPost superfans!
Sign up for membership to become a founding member and help shape HuffPost's next chapter