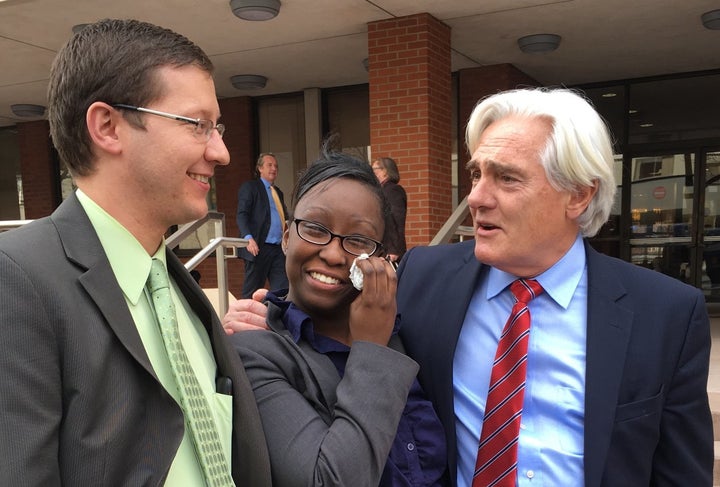 BRIDGEPORT, Conn. — Twelve jurors found Cherelle Baldwin not guilty of murder on Thursday in the death of her ex-boyfriend, Jeffrey Brown.
Baldwin collapsed to the floor in tears as the verdict was announced.
"My baby," she cried. "My baby will have his mommy back."
Police say Baldwin, 24, ran into Brown with her car in May 2013, pinning him against a cement wall outside her house and killing him. She was charged with murder and has been held behind bars on $1 million bail for almost three years. She maintained she was acting in self-defense.
The jury, comprising seven women and five men, deliberated for less than two full days in Baldwin's second trial; the first resulted in a hung jury.
The murder trial highlighted the plight of domestic violence victims who commit violent acts to protect themselves from their abusers. During her testimony, Baldwin said her ex was abusive and controlling, and stalked her in the days before the fatal incident.
She told the jury that on May 18, 2013, Brown broke into her house and strangled her with his belt in front of her young baby. She fled her house without shoes, glasses or her child, she said, and he followed her to her car, where he continued his assault on her.
At one point, Baldwin said, he was on her hood. Then there was a crash.
"Everything happened so quick," she said. "All I could think about was the baby."
Ten days before his death, Brown was convicted of a misdemeanor for a prior incident in which he threw Baldwin's clothes outside and hurled her phone to the ground as she tried to call 911. The conviction led to a court order barring him from committing violence, threats or harassment against her.
Threatening text messages that Brown sent to Baldwin on the morning of his death -- including one that read "doa on sight" -- were also introduced as evidence.
Almost 40 domestic violence organizations across the country called for state prosecutors to drop the charges against Baldwin, and a petition launched by the nonprofit Ultraviolet gathered nearly 32,000 signatures. During closing arguments, the courtroom was packed with Connecticut-based domestic violence advocates who came to show their solidarity with Baldwin.
Beth Richie, professor of criminology, law and justice and African-American studies at the University of Illinois at Chicago, said that historically, violence against black women has not been taken as seriously as violence toward white middle-class women. When black women act in self-defense, she said, they are more likely to be seen as culpable for their actions, instead of as victims.
"It's a version of 'black lives just don't matter as much,'" Richie said. "And black women's lives in particular don't matter as much, especially when it causes the death of another person."
Brown's father, Jeffrey Hines, said that he respected the decision of the jury. He pointed to a class ring he wears on one of his fingers, which has a symbol of the scales of justice.
"They made a decision," he said. "That's it."
Miles Gerety, Baldwin's defense attorney, said he's never had a client who he cared about as much as Baldwin.
"When a battered woman steps out of the role of being a victim and defends herself, many in our society stop thinking she was battered," he said. "I'm very happy."
"You had her for three years," said Cindy Long, Baldwin's mother, in tears. "My daughter was innocent all along."
Melissa Jeltsen, a senior reporter who covers domestic violence, will be reporting from Cherelle Baldwin's trial in March. Tips? Feedback? Send an email or follow her on Twitter.
Before You Go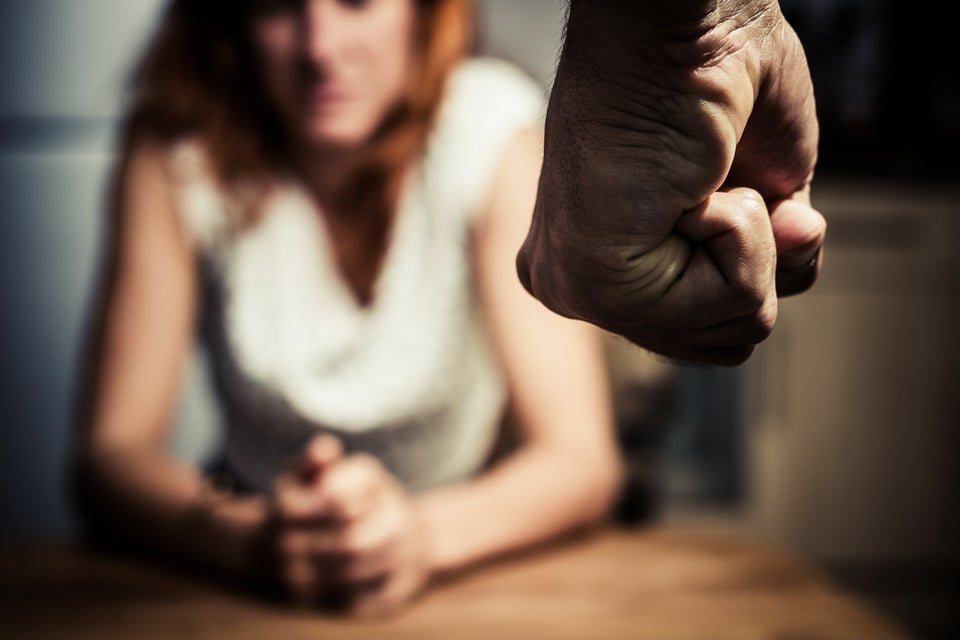 Shocking Domestic Violence Statistics
Popular in the Community