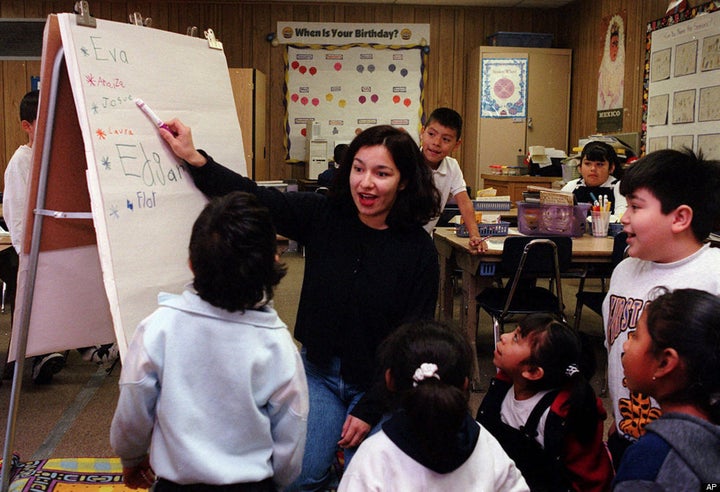 In her blog post about Donors Choose, Livia McRee talks about why she created a Giving Page featuring programs promoting literacy in high-poverty classrooms across America, and her belief that no student in America should be deprived of an education for want of the proper materials, especially books.
Yet that is exactly what is happening in classrooms all across America.
Donors Choose tells some of these stories and allows donors to specifically target who their funds are going to benefit and see the impact they are having on the kids they help.
UPDATE: This morning, Impact turned the spotlight on some of the special projects Livia chose and the HuffPost community came out in strong numbers. In under 10 hours, you contributed over $3,300 dollars to educational projects through Donors Choose. Thanks for making an impact!
Mrs. V wants to expose her kindergarten class to poetry and encourage students to create their own for display. This is a low-income Massachusetts classroom, where English is the second language for most of her students. She asks for 11 different poetry books and an organized display. From Mrs. V:
By donating to this project, you will help young English Language Learners develop a love for poetry. You will help them develop their vocabularies in both English and Spanish. You will give them a better understanding of language. Best of all, you will give them a chance to explore and express what is in their hearts!
Ms. M's first grade students in Southern California are learning to read, write and speak academic Spanish at their dual immersion charter school, where the student population is 95% Latino and African-American. To aid them on their bilingual and bicultural journey, they need Spanish materials in addition to the ones prepared by Ms. M - a Spanish Literacy Family Involvement Kit and a copy of "Baby va de Compras." From Ms. M:
"For this project, I have requested a set of LeapFrog materials that are in Spanish. This will give my students the experience of having an interactive book to read and hopefully continue to motivate them to read more. I will use this material for literacy groups where students will be given a story and will have to do a project about the story based on the standard for that week. I will also use the LeapFrogs as motivation for students who are showing exemplary behavior and work. Your help will motivate my students to continue reading and will allow all students to see how stories can come to life."
Ms. A's low-income classroom in Georgia is using outdated textbooks, and her students' reading levels are two to three grades below the national average. She is asking for several copies of classic children's literature to teach her current students as well as future classes. From Ms. A:
We are in need of exciting literature that can captive and engage our students. Books such as Tales of a Fourth Grade Nothing and James and the Giant Peach, take children to far away places that they might never visit or imagine exist. These books will engage our children's imagination while encouraging them to improve their skills in reading. Better readers prove to become successful in all other subjects and arenas in life.
This project has been completed. Thank you!
Ms. W is a high school science teacher in Florida who volunteers her time sponsoring a club aimed at junior and senior females. The club is designed to support the girls on the path towards becoming strong and successful women as they head off to college and young adulthood. The girls need 40 copies of the book Letters to a Young Sister, which addresses issues like love, family, relationships and finance with inspiring tales from women such as Michelle Obama.
"The girls in our club all face obstacles, both in school and their personal lives. The club is meant to give them strength. The book Letters to a Young Sister lets the girls know that they are not alone in their struggles. Other girls are facing the same obstacles and have the same questions...Along with scheduled speakers, community service, and journals; the book will reinforce the efforts of the club."
This project has been completed. Thank you!
Ms. B is trying to help the third grade students in her Alabama classroom catch up to students across the country. Many of her students come from impoverished households and are not exposed to literature in their daily lives. She's asking for a set of "Big Books" to be read aloud in class.
Because of the financial situation many of our families face in our community, many of these children do not have books at home. Many parents are uneducated and many of them have parents who work two or more jobs and are never home to read with them. Many of my students are lacking the literacy skills we sometimes take for granted. They have not experienced read-alouds before bedtime, discussions around the dinner table, or problem-solving with siblings.
This project has been completed. Thank you!
Students in Mr. R's 11th grade English class need 30 copies of Things Fall Apart by Chinua Achebe. The students in this class in Jackson, Mississippi, typically read at below their grade level. In Mr. R's words:
"Your help will motivate reluctant readers to read on their own by showing them that reading can be fun and educational...I need a class set of books that my kids would like to read. If they have an interesting book, they will read it and want to talk about it. I want my students to read the book Things Fall Apart because they will be interested in this book based on our conversations and how they felt about other texts we have read. They also want fun, hands-on activities to accompany the texts, which is why we need markers."
This project has been completed! Thank you!
Ms. H's 10th grade classroom in Los Angeles is full of "survivors," students who are following through on their education despite the obstacles their inner city upbringing has put in their way. The classroom needs 40 copies of Ken Kesey's One Flew Over The Cuckoo's Nest to further the class's focus on survival and autonomy. From Ms. H:
"You will help my students 'survive' their circumstances. Your donation will make them college ready, life ready, and ready to turn over a new leaf in their communities. You can make a difference in these kids' lives...Of the 60,000 people who have entered this inner city school in the past 40 years, 2,000 have graduated from college. My students will succeed as adults, but they need exposure to texts that dignify their interests and ability levels."
This project has been completed! Thank you!
"My kids have to read and have no library!! I work in a high need community with 8th graders. I am trying to model how to read a chapter book to them however I don't have enough books for the kids!
Ms. H's Oklahoma students are on a mission to read one million words throughout the school year. The problem: they don't have a library. Contributions go directly to providing this classroom with enough books to share and read throughout the year.
This project has been completed! Thank you!
At a high-poverty school in Washington D.C., Ms. G is teaching a "reading intervention class" for special education high school students. She's asking for a set of children's books to give the students a basic literary education and make the culture of reading a part of their daily lives.
From Ms. G: "You can help teen mothers and their children learn to love reading together and increase their literacy skills for a lifetime. This project will strengthen our students' classrooms, families, and community in more ways than we can measure. What could be more rewarding than the potentials of lifelong family literacy?"
This project has been completed! Thank you!