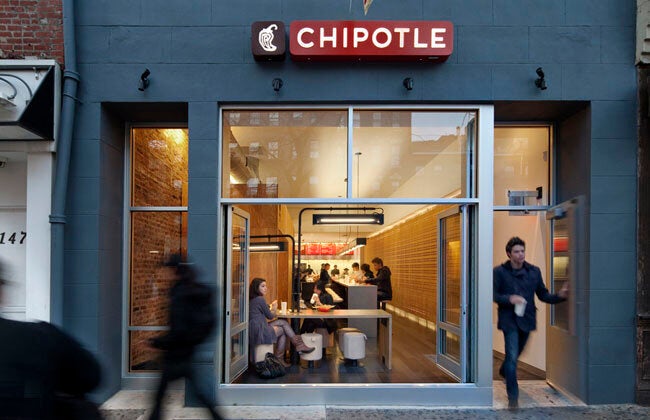 Over the past month, Taco Bell, Wendy's and Sbarro all announced that they were taking drastic measures to refresh their respective brand's images. The stated goal of the comprehensive modernizations at Wendy's and Sbarro was to make them more like hugely successful fast-casual chains such as Five Guys, Chipotle and Panera.
"Chipotle and Panera, these guys raised the bar and changed what consumers expect," Wendy's chief marketing officer Craig Bahner told The Huffington Post. "That inspired us to try to offer a fast-casual experience at quick service prices."
The CEO of Sbarro said much the same thing. Representatives from Taco Bell were cagier -- but analysts looking at their redesigned stores and its new high-quality Cantina Bell menu conclude that they too are trying to move closer to a fast-casual paradigm. This means a lot of things: better food, greater emphasis on fresh ingredients, warmer customer service, more engaging graphic design, richer online brand extensions. In each of these areas, the fast-food giants are taking cues from a host of their fast-casual rivals.
But there's one area where quick service chains have drawn inspiration from Chipotle in particular: the new design plans for restaurant locations around the world. What Goethe was to German literature in the 19th century and Picasso was to European painting in the 20th century, Chipotle is to chain restaurant decor today: The one model whose influence no rival is able to shirk.
The Chipotle look that's being so widely imitated today was originally developed in 1996 for the chain's second location, in Denver, by an architect named Brand Gould. It involved mostly natural colors and materials like wood and metal, lots of high seating, a geometrically straightforward layout and industrial-style details, like exposed piping and concrete floors.
For customers, the Chipotle look was a refreshing break from the past. It felt authentic and modern, sleek and cool. It made going for a $8 burrito feel a little bit like trekking to Bushwick or Portland for a $19 artisanal pizza served in a refurbished auto shop.
Chipotle's design appeal is just as obvious from the perspective of a chief financial officer. It requires cheaper materials than the shiny plastic-rococo stylings of chains like McDonald's and Burger King. That's made the new Wendy's locations cost just $750,000 to build, compared to the $1 million-plus it cost to build an older model. Moreover, the stripped-down, almost industrial style of Chipotle also lacks clear cultural signification, making it equally relevant in Mumbai or Memphis -- a crucial quality in an age when three-quarters of Taco Bell owner Yum Brands' revenue comes from outside the U.S.
Imitation may be the sincerest form of flattery. But in this case, it also poses a serious risk to Chipotle's bottom line. If customers can really get a fast-casual experience at quick-service prices, they'll be a lot less likely to spend $13.50 on a carnitas burrito with guacamole and a bottled water. And indeed, there are signs that Chipotle's years-long winning streak could soon end. Influential investor David Einhorn announced at the beginning of October that he thought the refurbished Taco Bell posed an existential threat to the brand.
Yet Chipotle isn't resting on its design laurels. In 2008, the chain hired New York architect Thaddeus Briner to design a new look for a Chipotle in midtown Manhattan.
Briner, who'd never before designed a restaurant, didn't bother looking at other fast-food chains for inspiration. Instead, he visited dozens of Chipotles around the country and looked at iconic examples of good design from other walks of life. He mentioned Apple's product design and the Minimalist art of Donald Judd -- things that have "inherent simple beauty about them."
He came up with a radical refinement of what Chipotle was already doing. He pared away all extraneous ornament, leaving concrete floors, perforated plywood wall coverings, high wooden tables with attached wooden stools and metal light fixtures fabricated in Red Hook, Brooklyn.
"We thought about how Chipotle makes their food. They do a few things, and they do them well," Brinner told The Huffington Post. "So in that first restaurant -- and there were these discrete parts -- there was this queueing wall, there was this storage box with seating and condiments in it. There was fast seating and slow seating. There was an idea about how to use art. So we had these five or six key things, and they had relationships to each other, but you could go into any kind of space and apply the strategy to all these different kinds of spaces."
Briner soon brought the design to four other locations in New York and L.A. In 2009, Chipotle made his design the standard template for all new Chipotles.
It's a far more spartan design than any of Chipotle's rivals have yet embraced. To the non-architect, its minimalism would seem to make it even easier to copy. But Brinner said that the pared-down design actually requires more work on the part of designers. His small firm, Architecture Outfits, no longer oversees the construction of every new Chipotle. But the chain has a team of design specialists who do, and even though each location features the basic components (tables, stools, lights, burrito bars), every one gets a comprehensive 3-D design workup.
"If they're not thoughtful designs, and you don't think enough about the design, they can be sterile and cold," Brinner said. "There's a lot of Mies van der Rohe rip-offs out there that are really sterile and cold, and it really gave modernism a bad reputation."
"That's the reason you have to have architects involved in these designs. Every one has to be designed and crafted. There's still some stinkers out there, I'm sure -- but the ones that just get mulled over with the most challenges are often the best ones, because they make real architectural decisions, as opposed to just expeditious ones," he continued.
Taco Bell's director of concept development Don Roberts, in a recent conversation with The Huffington Post, boasted that the chain's new look was designed without the help of any architects at all.
Not that that necessarily makes Taco Bell less of a threat to Chipotle -- for $1.49, one can't get anything at Chipotle nearly as delicious as a Doritos Locos taco. Moreover, it's also not clear that consumers care where quick-service chains are getting their design ideas -- they like them. The first of the newly renovated Wendy's has seen sales growth of 20 to 25 percent compared to the old models.
So even if Chipotle is really as influential as Goethe and Picasso, originality may not have as much cache in the world of restaurant decor as it does in literature or painting.
Check out the influence of Chipotle's designs on the new Wendy's and Taco Bell locations: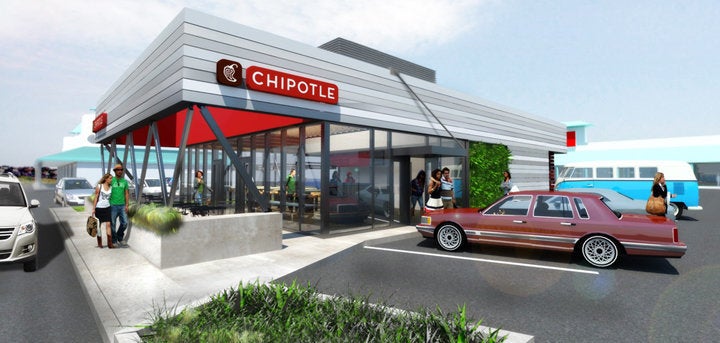 Chipotle's Influence
Related