Last week, Teigen announced that after nine years of back and forth with President Donald Trump on Twitter, he finally blocked her ... because, you know, that's how he operates.
One Twitter user, who ultimately made his account private, seemed to think that particular moment was as good as it will get for the 31-year-old star, replying: "And that's probably the best thing you'll ever have happen to you. Congrats on peaking."
Needless to say, it gave Teigen a good laugh. She took a moment to reply to the Twitter hater, reminding him that she has quite a few fabulous things happening in her life.
One of those awesome things also happens to includes some appreciation from Ruby Rose.
Pro tip: Don't come for Chrissy.
Before You Go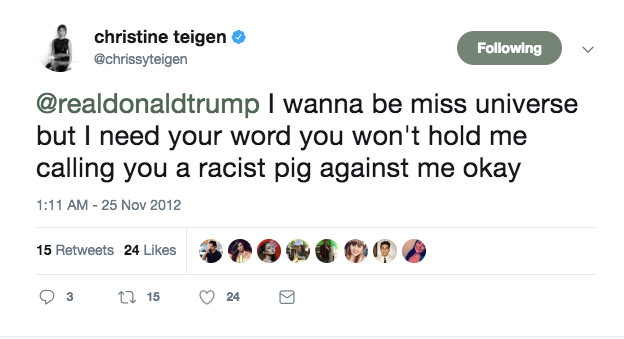 Tweets That Didn't Get Chrissy Teigen Blocked By Trump
Popular in the Community