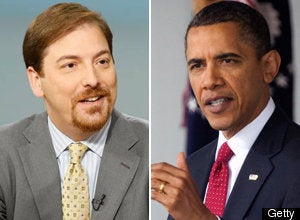 Chuck Todd believes President Obama dislikes the media — and he believes he knows why.
"Obama himself is the one who doesn't like dealing with the press," Todd told Kurtz. "You can't even do shouted questions."
Todd told Kurtz his theory: when Obama was elected to the Senate in 2004, "he didn't need to woo the press anymore. The press was there at the drop of a hat. To him, almost all the experience with the press is invasive. . . . He's developed this disdain for us."
Todd, who wrote a book about Obama's 2008 victory in addition to covering him for NBC, said that the White House was responsive to him, and that the administration is "talking to us more, getting us information earlier."
Popular in the Community