For years, the most common slogan on Utah license plates was simply, beautifully, "Greatest Snow on Earth." A few years ago, plates bearing the new State Slogan "Life Elevated" became an alternate option. That's some intense branding to live up to. But while we may have the greatest snow on earth (take that, Colorado) Utah is still working on elevating life. Particularly civic life. Utah's citizens are largely Republican and largely Mormon, and although most Republicans favor accountability and transparency in tax spending, and most Mormons favor protecting vulnerable child populations, something's amiss.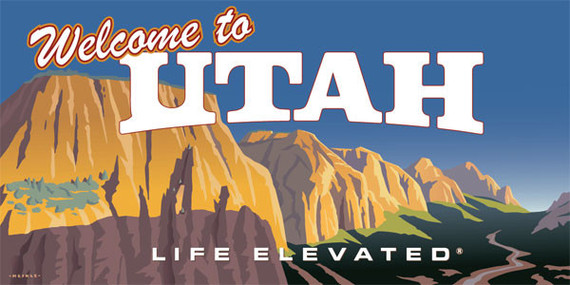 Enter Utah governor, Gary Herbert. Herbert is the self-proclaimed champion of family values, and current campaign superhero, whose ubiquitous re-election billboards in Utah's metropolitan areas are outnumbered only by those for a traveling Cirque-De-Soleil-esque show named "Cavalia," featuring death-defying feats by riders on horseback. Utahns joke that Cavalia's and Herbert's marketing dollars must be endless because the billboards are literally everywhere. After just 5 minutes of driving on the freeway, I thought I must be having serious déjà vu, or be trapped in some sort of nightmare. The main tagline for the nightly circus show reads a simple, generic "The most amazing show." Herbert's own billboards are equally as blasé: "Herbert: A good man, a great leader." One could assume both must have hired the same first year marketing intern.
As Gary Herbert campaigns for re-election, he claims responsibility for the accolades the State's received for strong job growth and sterling credit ratings. In reality, Utah had achieved many of these honors before Herbert even took office, owing these successes to his predecessor: Governor John Huntsman and his savvy government and business decisions. Herbert also seeks praise that he's balanced the state budget every year, when its actually part of the Utah constitution: every governor HAS to balance the budget. And while Utah's economic news has been mostly good in recent years, the State has also climbed to the top (or bottom) of the list in some other dubious national rankings, on Herbert's watch:
Utah ranks first in the nation in child sex abuse. Suicide is now the leading cause of death in Utah's youth. The state has repeatedly ranked 51st in education per-student spending. It was recently named the worst state in the nation for clean air in the winter, and the rate of obesity has swiftly risen to an alarming 25%.
Instead of working to address these issues, change laws, or making gestures to acknowledge and raise public awareness about them, Governor Herbert tends to ignore them, create a diversion, or worse, pass legislation that exacerbates them. Especially if it tows the line to what his religious leaders and their lobbyists dictate, or if it benefits his friends in real estate.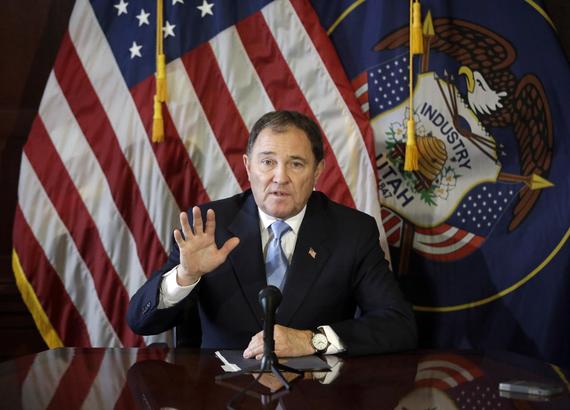 This year, Herbert signed a clean air bill that actually allows pollution from industrial and commercial buildings to go unregulated, yet calls for pollution cuts on residential water heaters. The air pollution in Utah has become so bad that instances of cardiovascular disease in children and adults have been linked to it, and some Utahns are now finding out that these same contaminants in the air have connections to their own infertility and their children's birth defects.
But just two months ago Governor Herbert made international headlines declaring pornography to be the statewide health crisis. (Admittedly, another distinction Utah can claim is that its citizenry consumes more internet porn per capita than any other state in the nation according to a number of studies.) Certainly, a case can be made that U.S. popular culture may be over-saturated with sexual imagery--but com'on. Porn is a bigger health crisis than the dangerous levels of air pollution or Utahs rapidly increasing obesity rate? How about Utah's serious drug abuse problem, and escalating teen suicide rates? What about tackling the nations worst childhood sex abuse problem, exacerbated by Utah's "Priest-Penitent Privilege" law? (This state law protects churches from sex-abuse lawsuits and absolves them of the accountability of its clergy in sex abuse cases, even in repeat offenses by the same person. Additionally, the LDS Church doesn't require it's clergy to report cases of sex abuse to the police, and does not do background checks on its local leaders who work with children.)
Yet Herbert maintains pornography is the problem, and coincidentally, viewing pornography is strictly forbidden by the Mormon faith. Just a few weeks prior to the governor's porn crisis announcement, senior members of the LDS Church's leadership issued a call-to-action against pornography, repeating it over church pulpits and at university graduation ceremonies. The dangers of pornography are also a predictable, perennial topic at the Church's semi-annual general conferences. Although frustrating, and nationally awkward, it was still no surprise to many when Herbert took on his church's agenda instead of tackling any of the aforementioned major problems.
Another example of Herbert's conundrum: when surveys found that a majority of Utahns no longer opposed gay marriage, Governor Herbert and his administration sided with his religious counsel anyway and continued to spend millions of tax dollars to fight against a Federal court's decision to overturn the State's marriage ban. There was also overwhelming public support for a new, enforceable Hate Crimes bill, which would have protected ALL Utahns. The governor promised to veto it, after hearing stern words of disapproval of the bill by his church leaders, who publicly balked at the fact that Sexual Orientation was on the list (yet the bill also included Religion.)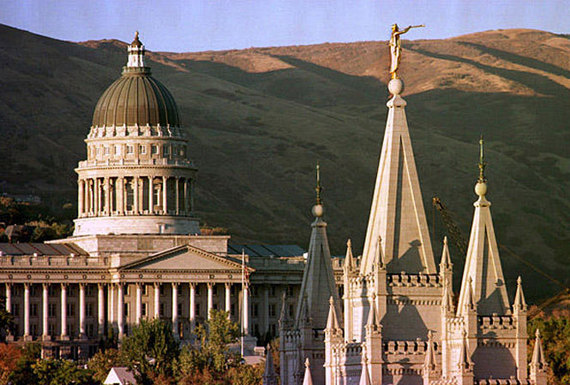 Utah is an interesting place to live. It's the only state in our nation where the majority of the population belong to one single Church. I for one love my Mormon family, friends and neighbors. I love the arts in Utah, the outdoor life, skiing, and Utah's national parks are unsurpassed. However, I'm growing really weary of a governor who continuously takes his cues from a handful of older white men who lead from the top of Utah's leading religion, instead of being accountable to the citizens of Utah, their families, and their children.
An acclaimed singer/songwriter, Justin Utley is also keynote speaker at colleges and universities across the nation about his experiences with conversion/reparative therapy, in addition to providing insight on issues of faith in the LGBT community. Follow Justin Utley on Facebook and Twitter
Calling all HuffPost superfans!
Sign up for membership to become a founding member and help shape HuffPost's next chapter