Although Rear Admiral Stephen Bleecker Luce founded the Naval War Academy in Newport, R.I. and my father served under General Patton, I have little connection to the military. Looking to improve my own insights, I attended my first Military Ball several years ago in the Grand Ballroom of the Pierre Hotel as a guest of H.M. Badr bin Saad. I was apprehensive...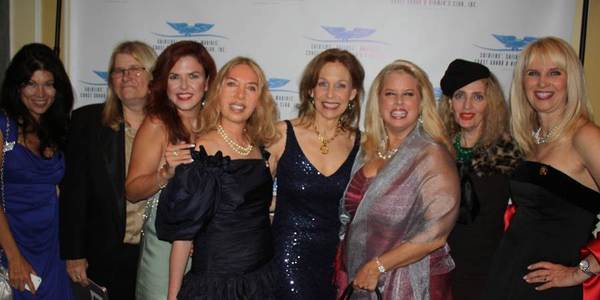 Janet Arneau, Donnetta Campbell, Lorraine Cancro, MSW, Lauren Lawrence, Mitzi Perdue, Rita Cosby,
Joyce Brooks, and Sara Herbert Galloway at the Ball. Photo: herbertcollection.com.
Last week I attended once again, this time as a guest of Mitzi Perdue, the event chair. Mitzi, a syndicated columnist, also played a role is running Perdue Farms with her husband Frank. The highlight of the evening was chatting with Gen. David Petraeus and watching him receive the Service to the Nation Award. Gen. Petraeus, who served as Chief of Operations of U.N. Forces in Haiti, now heads the Central Intelligence Agency. Catching up with Mitzi, as well as John and Margo Catsimatidis (story) and Rita Cosby (story) was also enjoyable.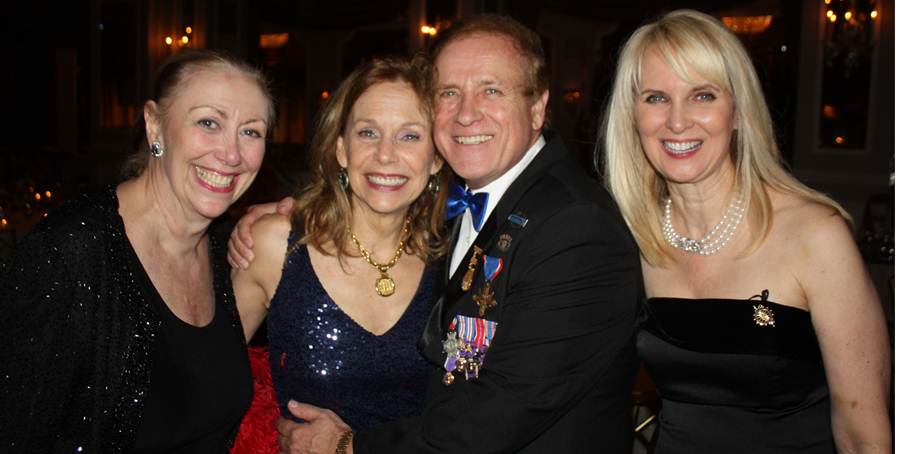 Annie Watt, Mitzi Perdue, David A. Christian, and Sara Herbert Galloway.
Photo: herbertcollection.com.
Mitzi Perdue, New York Post Editorial Page Editor Bob McManus, and U.S. Marine Corps Gen. James Amos and Gen. Juan Ayala were also honored at the event. Past honorees include CBS broadcaster Cindy Hsu, Gen. William Westmoreland, and Henry Luce III ("Hank"). Others present included Chuck Scarborough, Jacqueline Astor Drexel, Hon. Robert Morgenthau, Mrs. John W. Pershing, Dr. Judy Kuriansky, Kevin McGovern, Lorraine Cancro, MSW, Robert Cancro, M.D., Amir Dossal, as well as a few Roosevelt's, Loeb's and Lowenstein's.
I noted that psychologist Dr. Judy Kuriansky, well known for her empathy giving advice to thousands of people on the radio, was brought to tears at the event. She told me:
As an army brat who grew up in Fort Campbell where my father was a dentist for the 101st, I am so patriotic. I even keep his WWII helmet on my wall. Being here for this Military Ball is such a powerful experience. This gala is so elegant, exceptionally important and very moving. The presence of uniformed Americans who serve our country, medleys of our national anthems and military forces' theme songs -- from God Bless America to the Halls of Montezuma -- and inspiring speeches by the honorees - it just moves me so much.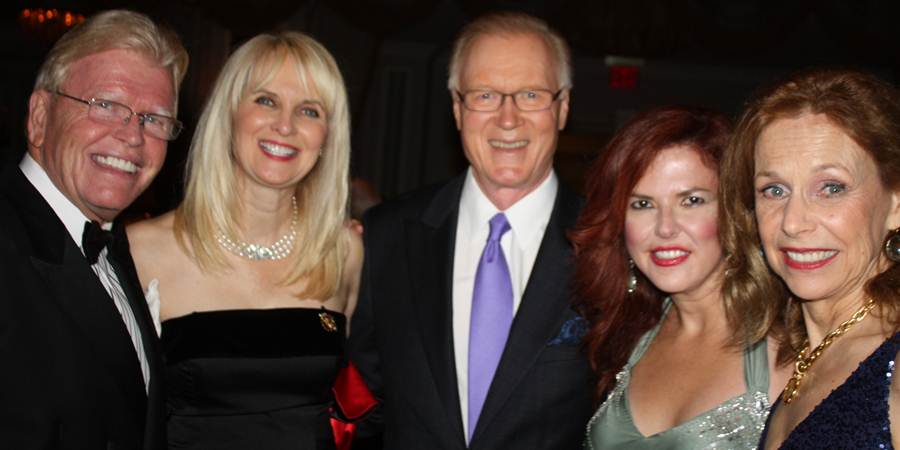 Kevin McGovern, Sara Herbert Galloway, Chuck Scarborough, Lorraine Cancro and Mitzi Perdue.
Photo: herbertcollection.com.
The personality most connected with the Soldiers', Sailors' and Airmen's Club is its Chair and C.E.O. Ivan Obolensky. I met Ivan years ago and he is as irascible today as he was then. A tireless promoter of our troops, Ivan has attended galas for his own efforts as well as the efforts of others week after week for decades. Board chair Julia Irene Kauffman and president Bill McShane are other formidable forces.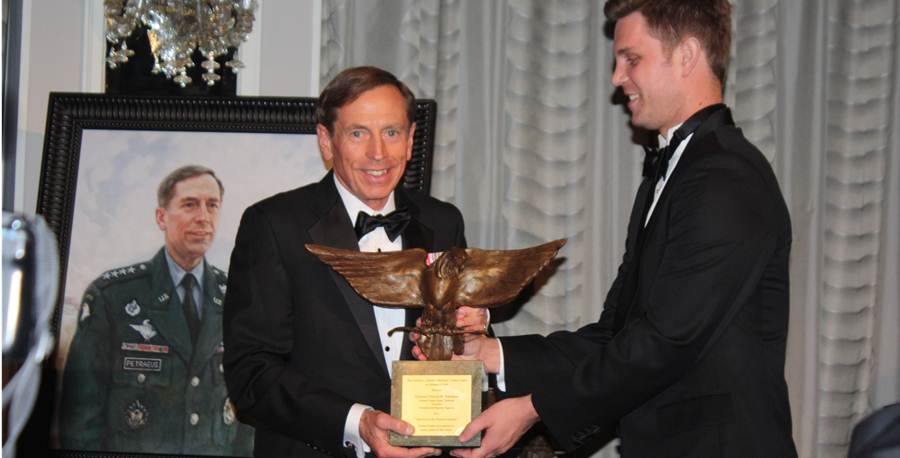 Gen. David Petraeus received the Service to the Nation Award. Photo: herbertcollection.com.
The Club was founded by Cornelia Barnes Rogers, Mrs. Teddy Roosevelt with Gen. John J. Pershing in 1919 by to promote the general welfare of men and women of the Armed Forces of the U.S. and our allies by offering a place to stay and socialize in New York City.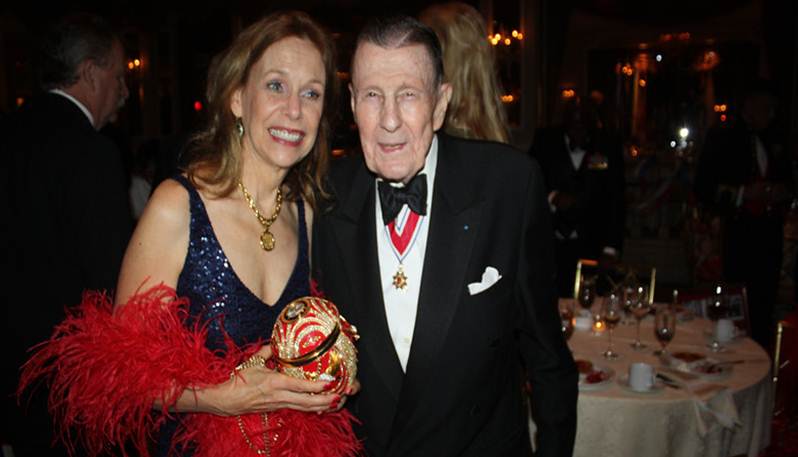 Military Ball event chair Mitzi Perdue with Soldiers', Sailors' and Airmen's Club chair and
C.E.O. Ivan Obolensky. Photo: herbertcollection.com.
The institution has operated for 93 years without government funding. The annual gala provides the majority of the organization's funding, with tables starting at $12,500 and running up to $100,000.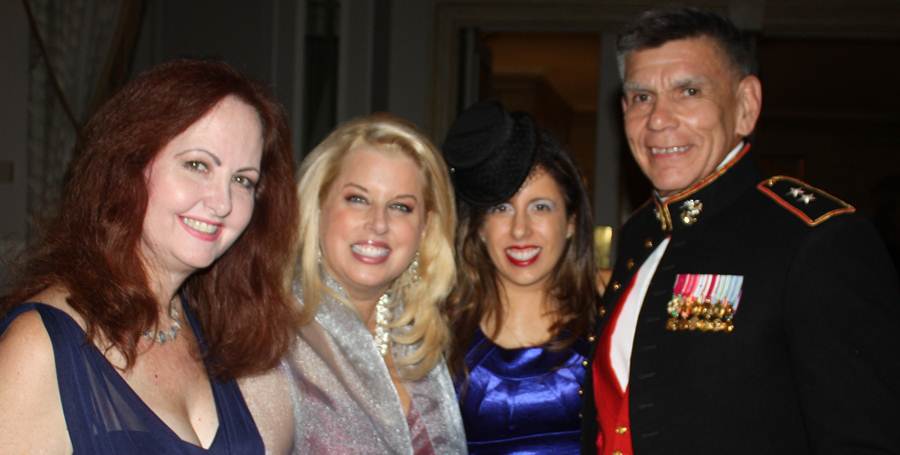 Nan O'Brien, TV personality Rita Cosby, Peachy Deegan, and Gen. Juan Ayala at the gala.
Photo: herbertcollection.com.
The home, located at 37th and Lexington in Manhattan, has served as a "home away from home" for over 2,500,000 military personnel and provides a warm, friendly, and safe environment for 15,000 soldiers and sailors each year. Honorary presidents of this esteemed institution have included Gov. Franklin D. Roosevelt and Gen. Dwight Eisenhower.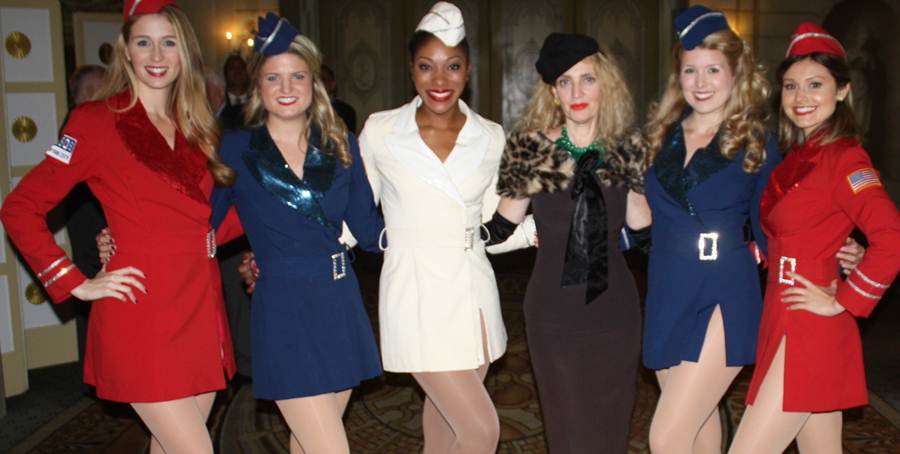 The Rockettes-like USO Liberty Bells were a huge hit at the Military Ball held at the Pierre Hotel. Photo: herbertcollection.com.
The music was presented by Alex Donner and His Orchestra. Playing hits from the '70s and '80s, I was able to dance to tunes I actually know. With gays and lesbians now able to serve openly and proudly in the U.S. Armed Forces, I personally was pleased to see a number of young, same-sex couples on the dance floor. Speaking to them, I realized how oblivious they were to how times have changed. The Leatherneck Pipes and Drums, known to New Yorkers from their annual appearance at the St. Patrick's Day Parade, also thrilled the audience, as did the talented USO Liberty Bells.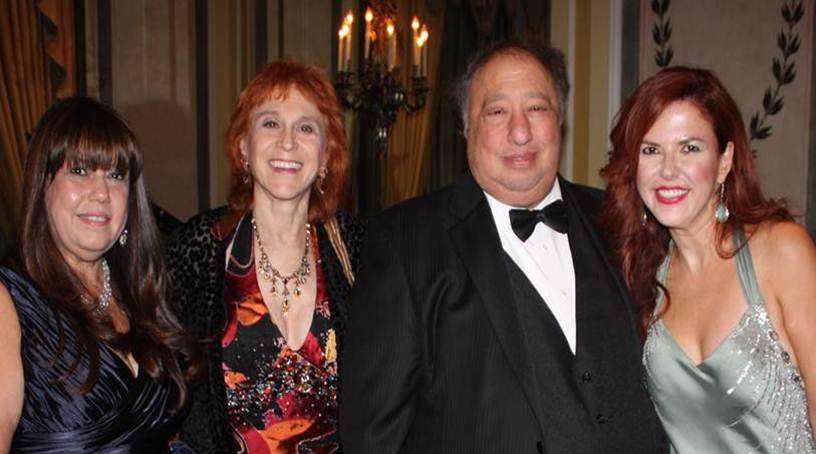 Galas are great time to connect with old friends such as the Mayor's counsel Norma Abbene, Esq.,
Dr. Judy Kuriansky, John Catsimatidis and Lorraine Cancro. Photo: herbertcollection.com.
Galas in New York not only support important charities, but allow thought leaders and global citizens the opportunity to converse, connecting goodness. I sat next to Mayor Bloomberg's counsel, Norma Abbene, Esq., who I met years ago, chatted with Dr. Norman Marcus who has a new book out I want to review, and danced up a storm with Sara Herbert Galloway whose birthday we celebrated recently at Yankee Stadium.
TheBarnYardGroup, founded by my friend Donnetta Campbell, and working with the club's amazing director Hazel Cather, has helped develop high profile platforms to benefit the Club, from Aretha Franklin performing for the troops in The Nokia Theater to Joan Jett on the lead ship of the Fleet Week Parade. Hazel.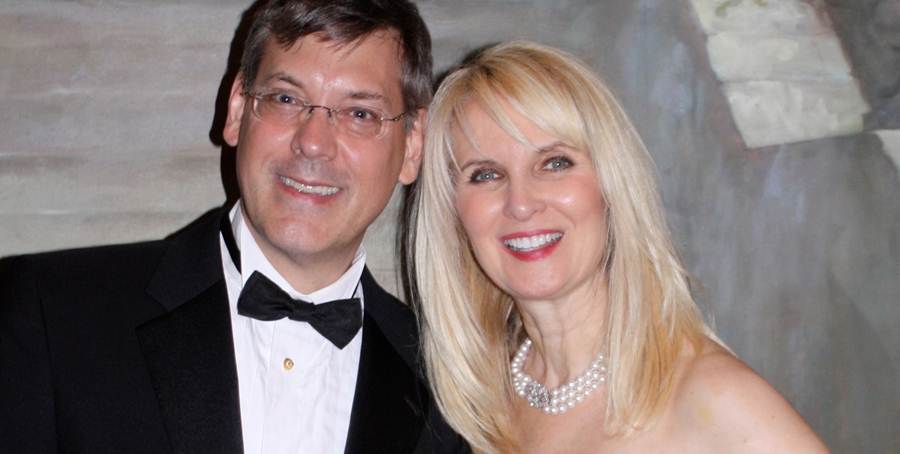 The author with the TV personality Sara Herbert Galloway. Photo: herbertcollection.com.
Supporting our troops who put their lives on the line to protect our nation is important, even for a liberal/progressive like myself. Giving them a spot to rest in the middle of our wonderful city is a particularly noble effort. I look forward to next year's Military Ball, supporting the Soldiers', Sailors' and Airmen's Club, and getting together with a wonderful crowd of people I am proud to call my friends.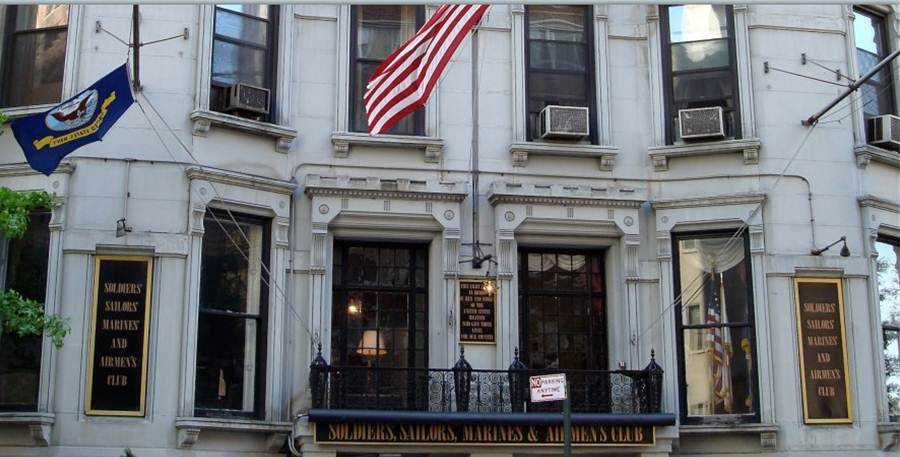 The Club provides convenient and affordable accommodations in mid-town Manhattan, walking
distance from public transportation. Photo: Soldiers', Sailors' and Airmen's Club.
Calling all HuffPost superfans!
Sign up for membership to become a founding member and help shape HuffPost's next chapter