WASHINGTON ― The intelligence community plans to release an unclassified report early next week, detailing its findings on Russian cyberattacks aimed at disrupting the 2016 presidential election.
Last month, President Barack Obama ordered a full review of foreign hacking efforts aimed at interfering with U.S. elections dating back to 2008, asking that it be completed before he leaves office. Intelligence officials plan to brief lawmakers on the full classified version of its findings next week, in addition to testifying at public hearings, outgoing Director of National Intelligence James Clapper said Thursday.
The report will build on an Oct. 7 joint statement from the Office of the Director of National Intelligence and the Department of Homeland Security, which concluded that the Russian government had directed a widely publicized hack of the Democratic National Committee's emails.
"We stand more resolutely on the strength of that statement" than ever before, Clapper testified before the Senate Armed Services Committee on Thursday.
Clapper declined to preview the contents of the forthcoming report, which was prepared by the CIA, FBI and National Security Agency. However, he told lawmakers that intelligence agencies had identified "multiple motives" for Moscow's interference in the election.
The DNI chief, who is generally tight-lipped in public hearings, said he plans to "push the envelope as much as I can on the unclassified version" of the report, because "the public should know as much of this as possible."
Leaks from CIA and FBI officials show that both agencies believe Russia's interference in the election was aimed, in part, at helping President-elect Donald Trump win.
Russian meddling in the election, Clapper said, was a multifaceted effort involving propaganda and disinformation in addition to cyberattacks. The intelligence community does not believe that Moscow changed vote tallies. It is outside the intelligence community's purview to assess the overall effect Russia's efforts had on the outcome of the election, Clapper said.
The hearing, which is likely Clapper's last before the committee, comes amid growing tensions between the intelligence community and Trump. The president-elect, who favors closer ties with Russian President Vladimir Putin, has dismissed intelligence assessments on the hack and accused intelligence officials of building a false case against Moscow. Trump is scheduled to receive a classified briefing on Russian hacking efforts on Friday.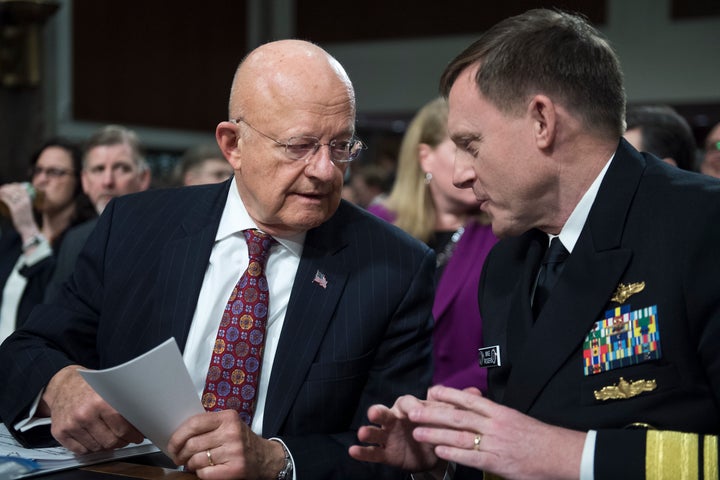 Committee chairman Sen. John McCain (R-Ariz.) urged his colleagues to "set partisanship aside" and work together to prevent and respond to future cyberattacks.
"Every American should be alarmed by Russia's attacks on our nation," McCain said Thursday. "There is no national security interest more vital to the United States of America than the ability to hold free and fair elections without foreign interference."
Senate Democrats, still bruised from what they perceive as an attack on their presidential nominee, used the hearing as a chance to batter their Republican counterparts. "Who benefits from a president-elect trashing the intelligence community?" asked Sen. Claire McCaskill (D-Mo.).
"There's a difference between skepticism and disparagement," Clapper responded, acknowledging past instances of intelligence failure ― most notably, the intelligence that paved the way for the 2003 invasion of Iraq. "I've received many expressions of concern from foreign counterparts about... what has been interpreted as disparagement of the U.S. intelligence community."
While a handful of GOP lawmakers, including McCain, have pushed for an aggressive investigation into the hack, several members have instead sided with Trump in brushing off the intelligence community's findings.
Sen. Tom Cotton (R-Ark.) suggested it wouldn't make sense for Putin to favor Trump, since Trump expressed more interest than Democratic nominee Hillary Clinton in building up U.S. nuclear and ballistic missile capabilities. Cotton added that ascribing motives to the actions of foreign adversaries is "among the hardest tasks" of the intelligence community.
Sen. Thom Tillis (R-N.C.) downplayed the significance of foreign interference in the U.S. election, noting that the U.S. has "been involved in one way or another in 81 different elections since World War II."
McCain told reporters on Wednesday that he is working with ranking Senate Foreign Relations Committee member Ben Cardin (D-Md.) on new sanctions legislation targeting Russia.
The Obama administration imposed its own economic sanctions last week and expelled 35 Russian officials from the U.S. in response to the cyberattack.
Clapper said on Thursday that he supports sanctions and beefing up defensive cyber capabilities as an initial response.
Retaliatory attacks, he added, would carry the risk of counter-retaliation. And cyber deterrence would be difficult to accomplish because unlike nuclear weapons, you cannot "see, feel, touch [or] measure" cyber capabilities, he said.
Popular in the Community