 When Secretary of State Hillary Clinton went to Capitol Hill last week to testify before Congress about the terrorist attack in Benghazi, Libya, it was an opportunity many legislators had been clamoring for.
"The American people deserve answers, and we still are no closer to the truth," said Rep. Ileana Ros-Lehtinen (R-Fla.) on Fox News shortly before Clinton appeared before the House Foreign Affairs Committee.
The former chairwoman of that House committee, Ros-Lehtinen had spent much of the previous few months aggressively challenging the administration's official line on the attacks, appearing on any television or radio station that would have her. "We have been combing through classified and unclassified documents and have tough questions about State Department threat assessments and decision-making on Benghazi," the congresswoman said in a statement after Clinton delayed her testimony in December. "This requires a public appearance by the Secretary of State herself."
Then, last week, Ros-Lehtinen's chance to ask these questions arrived, in the form of a five-minute allotment of time. The five minutes were nearly up before Clinton could say a word.
Sadly, it was one of the better showings of a day in which lawmakers' questions were the star, and Clinton's answers were largely an afterthought.
A number of observers have already noted that the questioning period seemed to have less to do with what Clinton might say and much more to do with legislators' opportunity to deliver oxygen-consuming lectures. ("The hearings served as a reminder of why they're called hearings, and not learnings," Jon Stewart said on "The Daily Show.") Now, a somewhat scientific analysis by The Huffington Post offers data to back this up.
At the Jan. 23 hearings before two congressional panels, Clinton faced some 150 questions from 48 House and Senate members, split almost evenly between Democrats and Republicans. Nearly half of those queries fit into a small handful of broad categories: What happened to memos or other warnings about the security situation before the attack? -- 25 questions, from 10 different lawmakers. Why had the administration put a mission in Benghazi in the first place? -- 20 questions, from 10 lawmakers. When exactly did the administration know that the Libya attack was terrorism and not part of a broader regional protest about the video? -- 22 questions, from eight lawmakers. (The repetition of questions did not produce notably different answers from Clinton.)
Nearly every question was asked more than once. Many were packed together in a tight bundle, as part of the legislator's opening remarks. Half of the legislators -- 18 of the Democrats and six of the Republicans -- never engaged in a sustained back-and-forth with the witness. Two spoke so long that they left no time at all for Clinton to respond to their many queries: Ros-Lehtinen and Rep. Steve Chabot (R-Ohio). A third, Rep. Michael McCaul (R-Texas), threw out an extra question after his time had expired. Two more used up all their time without asking a single question of substance: Del. Eni Faleomavaega (D-American Samoa) and Rep. Ami Bera (D-Calif.).
Indeed, while Republicans tended to chew up their time lecturing Clinton about the Obama administration's callous indifference to the situation in Benghazi, Democrats offered little better. Several opened their remarks with drawn-out soliloquies on Clinton's legacy, and a few never emerged from that rabbit hole of sycophancy.
Bera's only question was how long it would have taken Clinton to read all 1.4 million cables that come into the State Department a year, while Reps. Ted Deutch (D-Fla.) and William Keating (D-Mass.) wondered if Clinton would talk about how important it is that the department have more funding. Freshman Reps. Joseph P. Kennedy (D-Mass.) and Grace Meng (D-N.Y.) used one of their two questions each to ask Clinton to "share some important lessons learned from the time that you've spent in this post" (Kennedy) and to offer "any advice for a fellow New Yorker finding her way in this town" (Meng). Rep. Juan Vargas (D-Calif.) asked just one question and then concluded his remarks by comparing Clinton to John F. Kennedy.
A few additional findings:
Some of the other questions in heavy rotation: What actions did the administration take on the night of the attack? -- six questions from five different legislators. What impact did congressional budget cuts have on security in Benghazi? -- 12 questions from nine legislators. Why was United Nations Ambassador Susan Rice selected to speak about the attack on the Sunday shows? -- three questions from three legislators.
Plenty of questions were asked despite having already been asked and answered earlier in the day. Sens. Ron Johnson (R-Wis.) and John McCain (R-Ariz.) and Reps. McCaul and Jeff Duncan (R-S.C.) all inquired into whether Clinton had seen the cables warning of security risks in Benghazi. (The answer in response to Sen. Bob Corker (R-Tenn.), who had opened the floor earlier that morning, was "no.") And after Clinton told Ros-Lehtinen that no one had been fired at State because of congressionally mandated regulations that control such actions, two more lawmakers -- Reps. Matt Salmon (R-Ariz.) and Tom Marino (R-Penn.) -- asked the same question.
And then there were the questions that dipped into conspiracy. Sen. Rand Paul (R-Ky.) asked Clinton whether Ambassador Chris Stevens, who was killed in the attack, might have been orchestrating the sale of weapons from Libya to the rebels in Syria. Rep. Dana Rohrabacher (R-Calif.) raised a series of questions based on the mistaken notion that there was a live video feed of the attack as it was ongoing. Clinton's rejection of that premise didn't prevent another congressman, Rep. Adam Kinzinger (R-Ill.), from asking about the video feed later in the afternoon.
One set of queries came from a retired Foreign Service officer's a letter to the editor of his local newspaper. Rep. Joe Wilson (R-S.C.) asked the three questions.
The number of questions Salmon had asked before he said he would turn to "a couple of other questions": 0
The number of questions Kinzinger had asked before he proposed turning to "another question I have": 0
The number of questions Kinzinger asked immediately after that: 0
As for Ros-Lehtinen? When her time was up, not having heard more than a cursory reply to her many questions, she asked that Clinton have her office respond later in writing. Then Ros-Lehtinen took to Twitter to trumpet the achievement:
"2day @HFACRepublicans hearing, I asked the tough Q's + demanded answers on #Benghazi from SecState Clinton."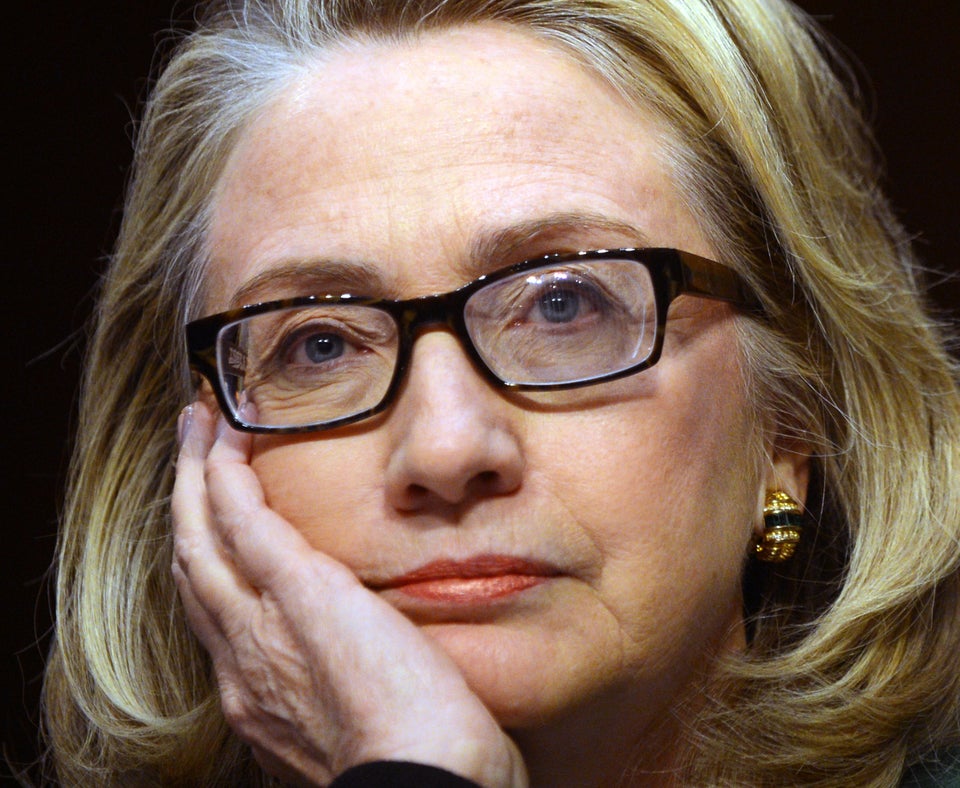 Hillary Clinton Benghazi Testimony - The Faces
Popular in the Community