 WASHINGTON -- The multi-million dollar lobbying campaign to fix the national debt opened a new front this week, when a group of retired foreign policy experts -- many with longstanding ties to private equity billionaire Peter G. Peterson -- launched an effort to influence the debate over defense spending and debt reduction.
The Coalition for Fiscal and National Security is chaired by retired Adm. Michael Mullen, and includes 14 other former high-ranking government officials. Four former secretaries of state -- Henry Kissinger, Madeleine Albright, George Shultz, and James A. Baker -- are in the group, with three former defense secretaries and three former secretaries of the treasury.
The coalition is funded by Peterson's family foundation and boasts a lineup of recognizable luminaries well out of the prime of their careers (the average age of coalition members is 79). All but one of the 15 coalition members has a personal financial stake in companies that stand to be affected by the group's advocacy, raising the possibility of conflicts of interest.
The coalition is the latest Peterson-funded group advocating cuts to retirement and health care benefits. Peterson, a longtime proponent of cutting Social Security and Medicare in order to finance deficit reduction and low corporate tax rates, has spent nearly a half-billion dollars in the past five years spreading his austerity agenda by funding groups that include the Committee for a Responsible Federal Budget, the Campaign To Fix the Debt, the Moment of Truth, and the Concord Coalition.
The Coalition for Fiscal and National Security advocates increasing government spending on cutting-edge military technology, boosting funding of non-military diplomatic outreach projects and lowering overall defense spending. Although short on specifics, the group identified potential sources of spending cuts as Defense Department employee health care and retirement benefits, and the military procurement process.
But as the former officials prepare to push their recommendations, their personal financial ties to defense contractors and lucrative consulting businesses cast a shadow over their work.
At least nine of the 15 members of the Coalition for Fiscal and National Security are deeply invested in companies with huge Pentagon contracts to build, in many cases, precisely the types of high-tech weapons that coalition members support. Two-thirds of the group, or 10 members, have lucrative consulting practices, advising companies how to do business with domestic and foreign government officials.
Of the 15 retired officials, only one has yet to leverage his public service for private gain: Mullen, the group's chair, who retired from the Navy in 2011.
For Scott Amey, general counsel to the nonprofit watchdog group The Project on Government Oversight, the potential for conflicts of interest among coalition members is troubling.
"These people have a great wealth of knowledge as far as operations and [defense] spending, but I have great concerns over the fact that most of them are operating in the military complex," Amey told HuffPost. Given their personal financial interests, he said, "their thoughts on these subjects aren't necessarily what may be good for the general public, but are going to be biased towards what is going to protect defense companies and their bottom lines."
Several members of the Coalition for Fiscal and National Security have spent the bulk of their post-government careers profiting from Defense Department spending.
One is Frank Carlucci, who served as secretary of defense under President Ronald Reagan. After leaving government, Carlucci made a fortune as chairman of The Carlyle Group, a Washington-based private equity firm specializing in aerospace and defense companies. Carlucci's other business interests include defense contractors BAE Systems, United Defense Industries and General Dynamics. He recently founded The Frontier Group, a Carlyle spinoff investment firm heavily focused on the defense industry.
Another coalition member, Paul O'Neill, treasury secretary under former President George W. Bush, joined Pete Peterson at his private equity firm, the Blackstone Group in 2003, immediately after leaving the cabinet. Today, O'Neill sits on the board of TRW Automotive, the last vestige of defense contractor TRW. Charges that TRW padded its bills, and later, that it knowingly sold the Pentagon faulty parts, have cost its parent company, Northrup Grumman, hundreds of millions of dollars to settle.
Peterson also has close personal ties to Sam Nunn, a former Democratic senator from Georgia who co-chairs Peterson's original debt reduction group, the Concord Coalition. Nunn is also a director at one of the world's largest defense contractors, General Electric, which has won over $27 billion worth of Pentagon contracts since 1996. Nunn himself was paid more than $300,000 last year for his service to GE and took most of it in GE stock. In addition to his work at the company, Nunn is on the board of directors at two oil companies with ongoing Pentagon contracts, Hess Corp. and Chevron.
Nunn's fellow Democrat in the coalition, Ike Skelton, the former House Armed Services Committee chairman, received more campaign contributions from the defense electronics industry than anyone else in Congress when he last ran for office in 2010. Over the course of his career in Congress, the defense industry contributed more than $1.5 million to help keep Skelton in office. Following his 2010 defeat, Skelton joined Husch Blackwell, a law and lobbying firm specializing in government contracts, where he is currently a partner. Skelton also sits on the board of EADS North America, a major defense contractor, and simultaneously advises the Department of Defense as a member of the Pentagon's Legal Policy Board.
Another former defense appropriator in the coalition is retired Sen. John Warner (R-Va.), who served three stints as chairman of the Senate Armed Services Committee. Now a senior adviser at the lobbying and law firm Hogan Lovells, Warner focuses on defense, government contracting and federal regulations. In 2010, he joined the board of Aurora Flight Sciences, a defense aerospace company that manufactures unmanned aircraft, known as drones. As soon as Warner joined the Aurora board, the company hired his firm, Hogan Lovells, to lobby Congress for it.
Matt Rhoades, director of legislative affairs at the progressive Truman National Security Project, advised against drawing hasty conclusions about the coalition's recommendations. Mullen, the coalition's chair, "gave this country more than 40 years of public service, and reached the top of his field, and you can make similar statements across this group," Rhoades told HuffPost. Rhoades said he wasn't in a position to comment on each individual's involvement, adding, "I would caution against casually questioning the personal intentions of some of our most decorated public servants."
Peterson Foundation spokesman Patrick Dorton also focused on the coalition members' vaunted careers in government, calling the group "patriots who have spent their lives working to strengthen America's national security." Coalition members "recognize that debt is the greatest threat to our national security and America needs sound fiscal and defense policies that reflect the realities of the 21st century," Dorton said.
The coalition recommends spending more, not less, for the State Department to bolster what it calls the "non-defense dimensions of our national security" and "diplomatic assets."
There is ample room for coalition members to profit in this. Of the 15 former officials on the Coalition for Fiscal and National Security, 10 are currently involved with strategic consulting firms -- the kinds of agencies where former cabinet secretaries leverage their Rolodexes, and their prestige, to open doors for well-paying clients.
Kissinger and Albright each founded large international advisory firms -- Kissinger Associates and Albright Stonebridge Group -- after they left government. Meanwhile, former Secretary of State James A. Baker is listed as an expert in "cross-border transactions" at lobbying and law firm Baker Botts.
If a long-term debt deal includes more government spending on diplomatic assets, it's a safe bet that the companies hoping to provide those services will seek out former secretaries of state to help facilitate connections.
This should come as good news to former Defense Secretary Robert Gates, who counts former Secretary of State Condoleezza Rice as a partner in his consulting firm, as well as former National Security Adviser Stephen Hadley. The firm, RiceHadleyGates, advises corporations facing "national security and foreign policy challenges."
Other coalition members may not have been in a president's cabinet, but carry big names and clout nevertheless. Former National Security Adviser Zbigniew Brzezinski has a consulting business, Z.B. Inc., which appears on his public speaking bio. Former Federal Reserve Chairman Paul Volcker's company, Paul A. Volcker, is registered in New York.
The remaining two members of the coalition are former Secretary of Defense Harold Brown and former National Security Advisor Sandy Berger. Brown is a corporate director for Evergreen Oil and Philip Morris International, where he chairs the tobacco company's regulatory affairs committee. Berger is Albright's business partner at Albright Stonebridge.
These consulting firms all keep tight lids on client lists, and some have reportedly forbidden clients from discussing the relationship. But in a rare instance of openness in 2007, the CEO of accounting giant Marsh, Brian Storms, accidentally offered a glimpse into the value that high-ranking government officials bring to their clients, even decades after they've left public service. Explaining why he kept Albright's firm on retainer, he told a reporter, "To be blunt, the access that Madeleine Albright gives Marsh through her global contacts is unprecedented."
CORRECTION: An earlier version of this story suggested incorrectly that former Secretary of State James A. Baker helped found the firm Baker Botts.
Before You Go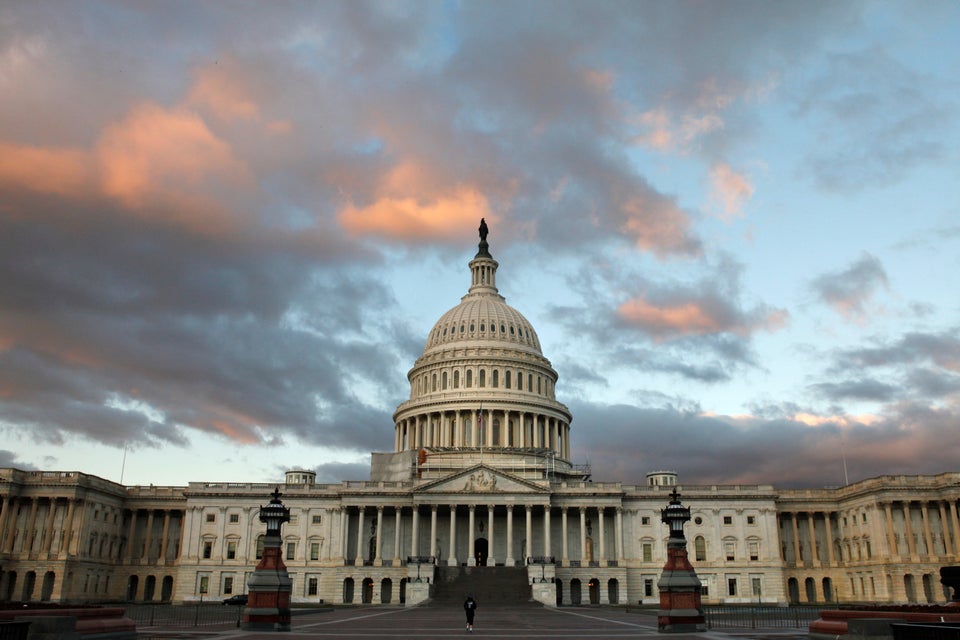 Do These Things, Don't Cut Entitlements
Popular in the Community