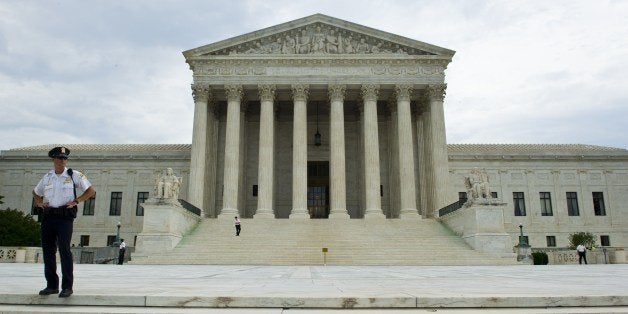 Just days before the expected announcement of the Supreme Court's ruling in Sebelius v. Hobby Lobby Stores, a new HuffPost/YouGov poll finds Americans are divided over whether to require owners of private businesses to pay for their employees' contraceptives.
At issue in the Hobby Lobby case is the so-called "contraception mandate" in the Affordable Care Act, which requires for-profit companies' health insurance plans to cover all forms of contraception approved by the Food and Drug Administration. Attorneys for the owners of Hobby Lobby Stores, Inc., a crafts supply chain, argue that the contraception mandate violates the company's First Amendment right to religious freedom by forcing it to cover all forms of birth control or pay large fines. Hobby Lobby's owners say they are morally opposed to the use of intrauterine devices and emergency contraception, both of which they believe cause abortions.
The HuffPost/YouGov poll finds that 44 percent of Americans side with Hobby Lobby, saying that private businesses whose owners object to birth control on religious grounds should not have to provide health care plans that cover the costs of birth control, while 40 percent feel that religious owners of for-profit businesses should have to cover the costs of contraceptives for employees.
Americans are almost evenly split over whether hospitals and colleges with religious affiliations should have to provide health care plans that cover the cost of contraceptives for their employees, with 43 percent believing they should be required to and 42 percent saying they should not be.
Early last year, the Obama administration announced that religiously affiliated non-profits, including schools and hospitals, that insure themselves would be exempt from the contraception mandate. In cases where the employer is exempt, the costs of employees' contraceptives shifts to third-party insurers.
Asked about the contraception mandate more broadly, 46 percent of respondents said they support requiring employers to provide health care plans that cover the costs of contraceptives for their employees. Thirty-six percent of respondents opposed the mandate. Men were significantly more likely than women to oppose the contraception mandate.
The poll also found uncertainty about whether it is possible for some forms of contraception to cause abortions when used as prescribed by doctors, as the owners of Hobby Lobby contend -- a claim that's been disproved by medical studies. One-third of respondents were unsure if there are forms of contraception that cause abortions, while 46 percent said there are and 21 percent said there are not.
The HuffPost/YouGov poll was conducted June 20-23 among 1,000 U.S. adults using a sample selected from YouGov's opt-in online panel to match the demographics and other characteristics of the adult U.S. population. Factors considered include age, race, gender, education, employment, income, marital status, number of children, voter registration, time and location of Internet access, interest in politics, religion and church attendance.
The Huffington Post has teamed up with YouGov to conduct daily opinion polls. You can learn more about this project and take part in YouGov's nationally representative opinion polling. Data from all HuffPost/YouGov polls can be found here.
REAL LIFE. REAL NEWS. REAL VOICES.
Help us tell more of the stories that matter from voices that too often remain unheard.
BEFORE YOU GO
PHOTO GALLERY
Supreme Court Justices Get Out Of The Office