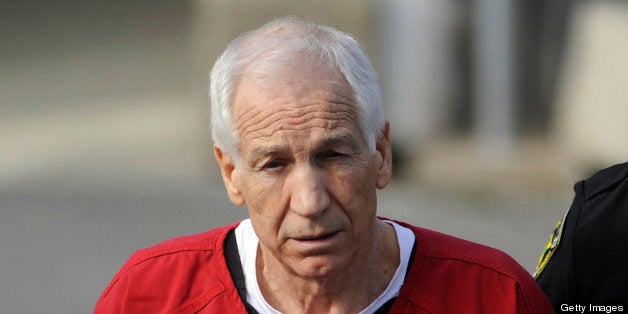 Opponents of proposed state legislation that would ban licensed therapists from offering so-called gay "conversion therapy" to minors are holding a press conference on Monday in an effort to rebrand the legislation the "Jerry Sandusky Victimization Act."
New Jersey's legislation, introduced in 2012 after California became the first state to forbid licensed therapists from attempting to "cure" gay youth by making them straight, has been winding its way through the New Jersey Legislature. In April, a New Jersey Senate panel approved the bill, and in May, a second day of public testimony is expected at the State House.
But on Monday, Greg Quinlan and John Tomicki, representing the recently created "Citizens Against the Jerry Sandusky Victimization Act," plan to gather at the New Jersey State House to "announce major developments in the fight to stop this destructive legislation," according to a recent press release from the group.
The legislation, the press release continues, "threatens to further harm victims of sexual abuse from Pedophiles such as Jerry Sandusky, who seek to resolve unwanted same-sex attractions with the help of licensed mental health providers."
Tomicki, who also serves as the executive director of the League of American Families, a group that advocates for conservative social policies, declined to go into details about the "major developments."
"It relates to certain testimony that was given that seems to be inaccurate," said Tomicki, who is currently in Philadelphia monitoring developments in the trial of an abortion doctor charged with murder.
When asked which legislative testimony on the bill was inaccurate, Tomicki responded, "I forget the gentleman's name right now."
He also declined to explain why the group is comparing the legislation to the harm caused by Jerry Sandusky, a former Penn State football coach currently serving 30 to 60 years in prison for sexually abusing boys. "I would rather answer that at the press conference," he said.
Like politicians in California, and New York -- which recently introduced its own bill banning the practice -- Timothy J. Eustace, the New Jersey assemblyman who authored the bill, has described it as a measure intended to protect children from a therapy that several groups, including the American Psychological Association and the World Health Organization have described as ineffective and potentially harmful. Conversion therapy has been disavowed by every major mental health professional organization.
Eustace seemed at a loss temporarily when asked by The Huffington Post for comment on the planned press conference. "Wow," he said after a moment. "I don't understand the connection between pederasty and parents abusing their children."
REAL LIFE. REAL NEWS. REAL VOICES.
Help us tell more of the stories that matter from voices that too often remain unheard.