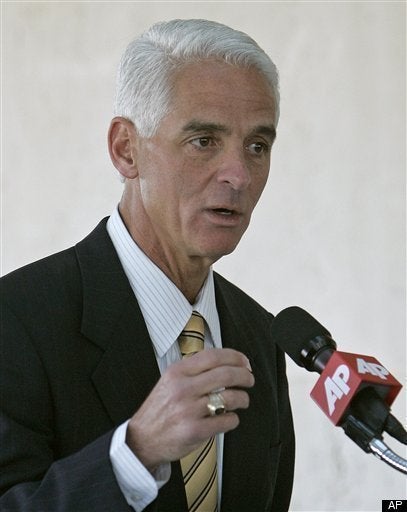 TALLAHASSEE, Fla. (AP) -- Florida Gov. Charlie Crist on Thursday vetoed the most far-reaching education bill of its kind in the nation, legislation that would have made it easier to fire teachers and linked their pay to student test scores.
The veto put him at odds with Republican legislative leaders and former Gov. Jeb Bush, who worked hard for the bill's passage and touted it in national media interviews.
Crist denied the veto was a signal he's about to drop out of the Republican U.S. Senate primary, where he badly trails in the polls, and instead campaign for that seat as an independent.
He said the veto was not about politics but about the state's children though he acknowledged an outpouring of opposition by teachers, parents and local school officials around the state had an affect. Phone calls and e-mail ran 65,259 against to 3,090 for the bill.
Crist once favored the legislation and said he still supports the concept of pay for performance and holding teachers accountable.
He said he began having second thoughts about how the bill would achieve those goals when a friend back home in St. Petersburg called him and questioned how his special needs child could be fairly tested.
"It touched my heart, frankly," Crist said. "His son's teacher came to him and was crying about how she might be evaluated."
Crist cited several other problems with details of the bill and the way his fellow Republicans, who control both legislative chambers, rushed it through.
He compared it to GOP criticism that the Democratic Congress had rammed through President Barack Obama's health care overhaul.
"A month later, the very same thing happens here in education," Crist said.
The bill was sponsored by Sen. John Thrasher, chairman of the Florida Republican Party.
Thrasher, of St. Augustine, said he'll keep pushing for such a measure although probably not this year as only 15 days remain in the session.
"Major legislation like this sometimes takes years to pass," Thrasher said. "I'm confident this is an idea that's going to sweep across America."
Bush, who led efforts to improve school performance through testing, school grading and other accountabity measures, criticized his successor in a statement.
"Gov. Crist has jeopardized the ability of Florida to build on the progress of the last decade, which includes raising student achievement across the board, narrowing the achievement gap for poor and minority students, and improving graduation rates," Bush said.
Florida was among of several states pushing to enact laws creating performance pay programs in hopes of winning part of $4.35 billion in federal grant money from Obama's "Race to the Top" program. The grants are designed to encourage states to embrace innovative programs that improve student achievement and turn around failing schools.
Tennessee and Delaware received $600 million in the first round in part because of merit pay programs supported by their teachers unions.
Some states, including Georgia and Florida, have struggled to get such programs passed because of union opposition. Other states considering statewide performance pay programs include Oklahoma, Louisiana, Colorado and Minnesota.
Florida's statewide teachers union, the Florida Education Association, argued lawmakers and state education officials had ignored its suggestions for improving the proposals.
"We hope that those who back this sweeping transformation of our public schools will finally come to teachers and parents, as well as school boards, superintendents and school administrators," union president Andy Ford said.
Crist, meanwhile, announced he was forming a task force to include the union and other stakeholders in drafting Florida's application in June for the second round of the grants.
The bill, which conservative academics and politicians called transformative, would have eliminated tenure for newly hired teachers and required school districts to establish merit pay plans for teachers and administrators.
Advocates said the legislation would help attract and retain better teachers with pay raises while weeding out the bad ones.
Opponents said the tenure and rectification provisions were unprecedented. They argued the lack of job security and testing that can be skewed by outside factors such as students' home lives would have discouraged good teachers from working in Florida.
Performance evaluations, based on how much improvement students showed on standardized tests, would have been used to determine who got merit raises. Poor evaluations could have cost teachers their jobs through denial of recertification.
School districts also would have been prohibited from using experience and advanced degrees in setting pay scales, now a common practice.
The bill would have set aside 5 percent annually of each district's classroom spending -- about $900 million statewide -- to cover merit pay, test development and related expenses. Districts that failed to comply with the bill would have lost that money.
Crist cited that provision and other directives in the bill as a key reason for his veto. He said it violated the principle of local control and possibly the Florida Constitution.
"Some of these directives are quite overriding such as not allowing multiyear contracts, choosing arbitrary percentages for calculating a teacher's effectiveness and permanently decertifying an excellent teacher in Florida who simply needed improvement in two out of the last five years," Crist said.
The union also said the bill would have violated constitutional collective bargaining rights.
It passed on near party-line votes. No Democrats supported the bill, although some Republicans in each chamber voted against it. An override would require a two-thirds majority in both houses, which is highly unlikely.
Associated Press Writer Dorie Turner in Atlanta contributed to this report.
Popular in the Community