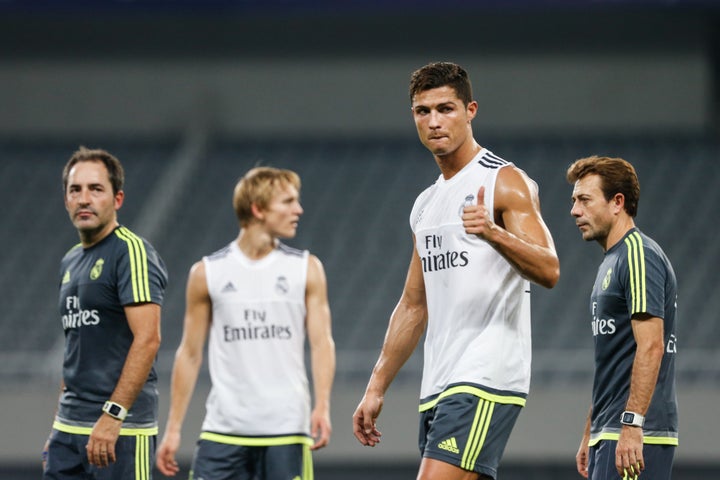 "It doesn't worry me at all," he continued. "I do my profession, my job, I give my all for my club ... the rest doesn't matter to me. I don't care what happens on the outside."  
Ronaldo wanted to talk about his new range of headphones launching in the United States and quickly grew annoyed by Oppenheimer's questions about FIFA's ongoing scandal. Oppenheimer couldn't believe that Ronaldo had no opinion on FIFA, so he pressed onwards, which resulted in Ronaldo listing off what he and his teammates talk about in the locker room. 
AO (Spanish): But, don't tell me that you guys don't speak about it in the locker room.

CR (Spanish): You want to know the truth? We don't speak about it at all.

AO (Spanish): Not at all?

CR (Spanish): Not at all. We talk about other things.

AO (Spanish): What do you guys talk about?

CR (Spanish): About music, about women, about fashion, about shoes, about suitcases/bags, about jewelry, about haircuts ... any more (you want me to list?)

AO (Spanish): You know, I don't believe you ... it's difficult to believe it. The whole world is talking about it. 

CR (Spanish): Yes, but personally, I don't talk about it.
What's Ronaldo to do when an interviewer doesn't believe his answers? Walk away. 
Before walking out of the interview, Ronaldo angrily quipped, "I can't speak like that. This is bullshit. Speak about FIFA, I don't care about FIFA. And Qatar ... I don't give a f**k. What you want me to do? Speak about product, he speaks about FIFA ... come on."  
It's not hard to see why Ronaldo is frustrated. In his mind, he was brought in to talk about headphones he's trying to sell. Instead, he was ambushed with questions about a topic that doesn't really affect his day-to-day life. Regardless of what happens to or within FIFA, the three-time World Footballer of the Year will be just fine. 
While Oppenheimer was clearly disappointed in Ronaldo's responses -- it'd certainly be good to see Ronaldo use his influential platform to speak out for reform in his sport -- his parsing should've ended as soon as Ronaldo explained the locker room's hot topics usually include women, shoes and haircuts. Ronaldo's interests and what he and his teammates discuss are based in vanity, not politics.
We're all wondering what Ronaldo thinks about FIFA, but for now, we know this: His teammates really, really like to go shopping.  
PHOTO GALLERY
Amazing Sports Photos
Calling all HuffPost superfans!
Sign up for membership to become a founding member and help shape HuffPost's next chapter