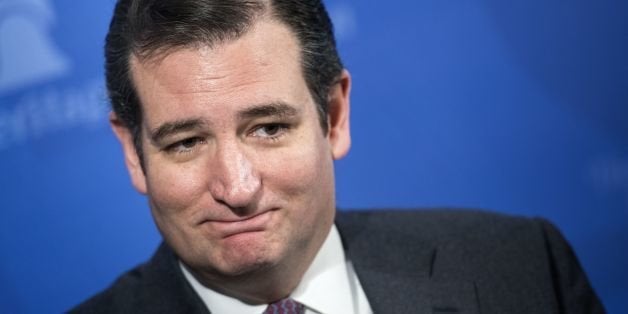 In a last-minute gift to Democrats on the eve of the midterm elections, Sen. Ted Cruz (R-Texas) has announced his plan to push for Senate Republicans to declare a rightist war against Democrats if the GOP wins control of the Senate. Set aside the campaign pitches of Senate Minority Leader Mitch McConnell (R-Ky.), Colorado Senate candidate Rep. Cory Gardner (R), Iowa Senate candidate Joni Ernst (R), Georgia GOP Senate candidate David Perdue and Alaska GOP Senate candidate Dan Sullivan, who promise to end gridlock in Washington and govern for "all of the people." Cruz says they are all wrong. Cruz wants a political war against Democrats. Cruz is the real voice of what will happen if Republicans take control of the Senate.
Cruz promises more confrontation in the Senate, more gridlock in Washington and more partisanship in Congress. In recent comments that were bannered on the front page of The Washington Post and reported in media throughout the nation, Cruz issued his call to confrontation from the right, promising that he will lead this fight for Senate Republicans to continue the very aggressive ideological partisanship that voters want ended.
Cruz has made a major blunder in the closing days of the campaign. McConnell, who has spearheaded obstruction in the Senate, has been trying to claim he would restore the Senate as a functional institution. But what voters will get if Republicans win the Senate is the confrontation, obstruction, taxpayer-financed political investigations and partisanship promised by Cruz, not the facade of goodwill and good government claimed by McConnell, Ernst, Gardner, Perdue and Sullivan.
REAL LIFE. REAL NEWS. REAL VOICES.
Help us tell more of the stories that matter from voices that too often remain unheard.