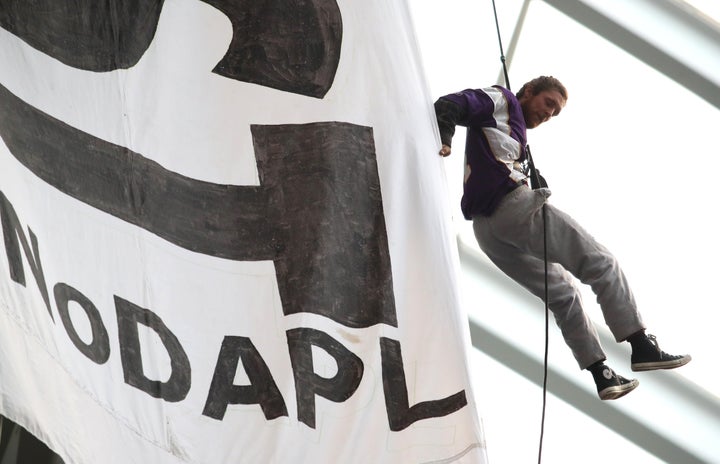 Spectators at a Minnesota Vikings football game in Minneapolis were treated to an unexpected aerial act when a pair of Dakota Access Pipeline protesters hung from the rafters to unfurl a banner reading: "Divest."
The message was for U.S. Bank ― sponsor of the Vikings' U.S. Bank Stadium ― which pipeline opponents accuse of being a key financial backer of the controversial project. The two unfurled the banner in the second quarter and were busted when they touched back down to earth at the end of the game, the Minneapolis Star Tribune reported.
The football action continued without interruption, even as the two protesters — one wearing a Brett Favre Vikings jersey — dangled from the rafters. The banner, which included the U.S. Bank logo and "#NoDAPL," hung over the crowd for the rest of the game.
Fans, however, were cleared from eight rows of seats beneath the protesters as a precaution.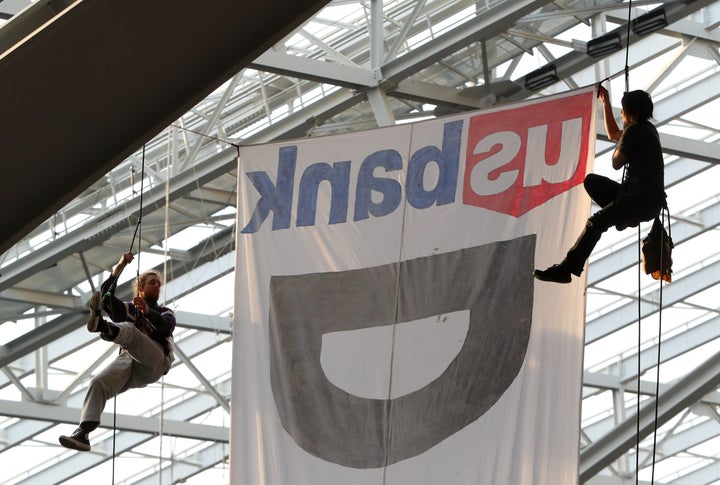 As the protesters dangled in the air, organizers of the action sent a release to news outlets quoting one of the climbers as saying: "We are here in solidarity with water protectors from Standing Rock to urge U.S. Bank to divest from the Dakota Access Pipeline. The pipeline's route violates treaty rights of the Standing Rock Sioux Tribe and poses a significant threat to drinking water and the health of the Missouri River."
The organizers contend that U.S. Bank has tens of millions of dollars in credit lines active with the pipeline's parent company.
There was no immediate response from U.S. Bank.
SMG, the operators of the stadium, issued a statement saying that the protesters had climbed over a guardrail to carry out the stunt. 
The Minneapolis Police Department identified the climbers as Karl Mayo, 32, and Sen Holiday, 26. They were charged with burglary and trespassing, and a third person was charged with obstructing the legal process, WCCO-TV reported.
Pipeline protesters have targeted banks before. Last month, Minneapolis protesters blocked Wells Fargo Bank employees from going to work. On another occasion last month, protesters briefly padlocked doors to a Wells Fargo branch in the city.
Construction of the pipeline is currently on hold. In the wake of a large-scale onsite protest by Native Americans and supporters, the U.S. Army Corps of Engineers in early December denied a permit for the section of the pipeline planned to run beneath the Missouri River in North Dakota. But pipeline protesters are worried about President-elect Donald Trump, who has said he supports the pipeline — and owns stock in companies involved in the project.
The $3.7 billion Dakota Access Pipeline is planned to run almost 1,200 miles from North Dakota's oil-rich Bakken Formation to Illinois, moving as many as 470,000 gallons of crude oil a day.
Calling all HuffPost superfans!
Sign up for membership to become a founding member and help shape HuffPost's next chapter